SPECIAL REPORTS
---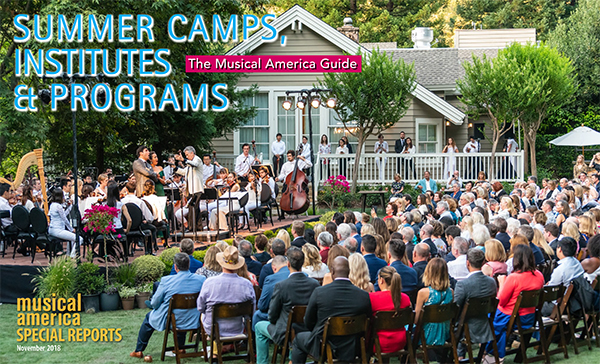 2019 Guide to Summer Camps, Institutes & Programs
The largest Summer Guide yet
The 2019 Guide contains nearly 200 national and international listings. Some combine learning from the pros by day with listening to them perform by night. Others put the talent-in-training on stage and charge admission.
The programs come in all shapes and sizes. Some take place over a weekend, others last all summer. At the Salzburg Summer Music Academy, 1,000 students work with a faculty of 70; at the Bang on a Can Summer Festival, the count is 40 teachers to 11 students; at NYO Jazz, it's 22 to 10; at Tanglewood it's 155 to 75. Some are free, some are decidedly not.
Virtually all of the pre-professional institutes require an audition of some kind, while those for the very young steer clear of a competitive atmosphere. The listings in the Guide provide many options for musical self-improvement, with the added summertime bonuses of fun, friendship, and warm weather.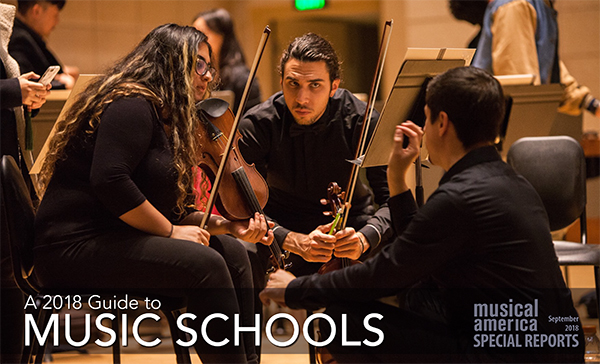 2018-19 Guide to Music Schools
The new Guide contains key information — scholarships, faculty, audition requirements, just to name a few — on 50-plus top music schools, all in an easy-to-use format.
Two trends emerge in the Guide: Schools are now offering more and deeper areas of concentration, such as in Performing Arts Health, Lied Interpretation for Pianists, or a masters degree in Contemporary Chamber Music; and schools are injecting real-world relevance in the performing arts. Examples: Office of Entrepreneurship and Career Development at the Jacobs School of Music at Indiana University and the entrepreneurship grants and start-up funding for musical projects provided by the Curtis Institute.
What do the two trends mean? Schools are fully cognizant of the need to equip students to put their years of training to work as well as to develop expertise in the performing arts. Sounds like a winning combination.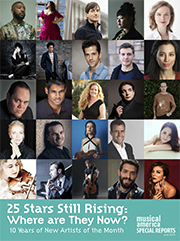 25 Stars Still Rising: Where are they Now?
10 Years of New Artists of the Month
Nearly 10 years ago, Musical America launched a feature called New Artist of the Month. The criterion for being chosen was (and still is) that the performer/composer/conductor either be a relative newcomer or someone long toiling in the field without the recognition he or she deserved. The only other criterion was that he or she had been witnessed in action by one of our contributors, who felt this was a talent worth watching.
Now, nearly 115 months later, we've accumulated a list of more than 100 not-so-new-but-still-rising artists. Following is an update of 25 of our proudest picks, arranged oldest to newest.
| | |
| --- | --- |
| Read the articles below or | |
•
Baritone Adam Plachetka, February 2009
•
Conductor Lionel Bringuier, April 2009
•
Pianist Di Wu, May 2009
•
Composer Mason Bates, June 2009
•
Cellist/Composer Joshua Roman, August 2009
•
Violinist Caroline Goulding, Decmeber 2009
•
Pianist Tamara Stefanovich, March 2010
•
Baritone Quinn Kelsey, May 2010
•
Choreographer Kyle Abraham, June 2010
•
Soprano Leah Crocetto, August 2010
•
Tenor Sean Panikkar, November 2010
•
Dancer Robert Fairchild, January 2011
•
Composer Du Yun, May 2011
•
Pianist Daniil Trifonov, August 2011
•
Conductor Ward Stare, November 2011
•
Soprano Corinne Winters, January 2012
•
Violinist Tessa Lark, August 2012
•
Violinist Patricia Kopatchinskaja, December 2013
•
Conductor Omer Meir Wellber, June 2014
•
Conductor Speranza Scappucci, November 2014
•
Conductor Christopher Allen, July 2015
•
Conductor Mirga Gražinyte-Tyla, September 2015
•
Composer Rene Orth, November 2015
•
Composer Michael Gilbertson, March 2016
•
Cellist Sheku Kanneh-Mason, January 2017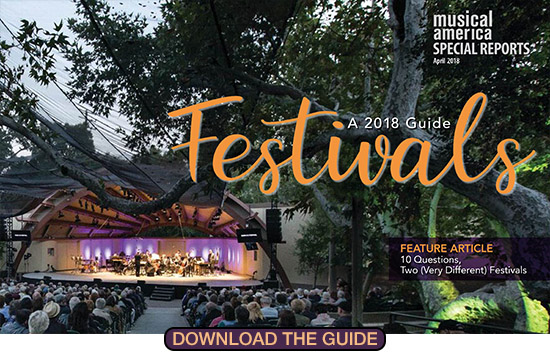 2018 Guide to Top Festivals
Our fifth annual Guide to Summer Festivals is our biggest yet—plus our usual free access to the 1400 listings in the Musical America database. The details for the festivals include dates, locations, booking details, artistic directors, programming, guest artists, ticket prices and much more.
Musical America contributor George Loomis also
interviewed officials at two highly regarded events—Ravenna and Ojai—and asked them one set of questions
, just for the purposes of compare and contrast. The two couldn't be more different: one takes place over a weekend, the over a two-month period; one is in the U.S., the other in Europe; one is rural, the other urban; one's in a valley, the other by the sea; one focuses on contemporary fare, the other on traditional; one houses its artists in homes, the other in hotels; Ojai's venues are primarily outdoor and strictly 20th century, Ravenna's are mostly indoor and date as far back as the sixth century. It's a fascinating study of contrasts.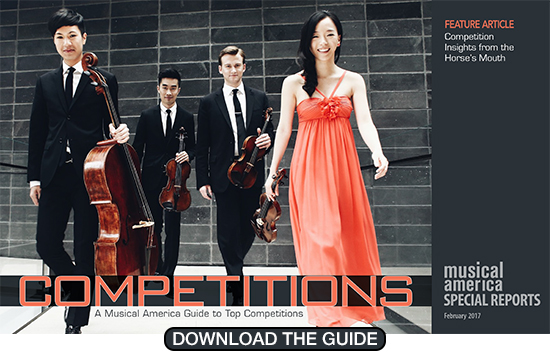 2018 Guide to Top Competitions
This Guide is our biggest to date and we've added more information about the competitions―everything from their Twitter handles to the names of the jury members, entry fees, cash prizes (as well as management, performances, and recordings), deadlines, frequency, disciplines, eligibility, and the dates of the semi-finals and finals. So, whatever the discipline, you (or your students) are bound to find the right competition at the right time and the right place.
We also interviewed Benjamin Woodroffe
, secretary general of the World Federation of International Music Competitions (WFIMC), for his insights into the latest trends in competitions. Woodroffe discusses how the larger competitions are not only choosing the best and the brightest contestants, but also booking them, training them, and managing them.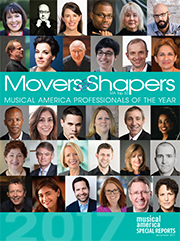 The MA 30 Professionals of the Year:
Movers & Shapers
The Musical America Worldwide audience voted for the movers & shapers and here they are: 30 Professionals of the Year who are shaping the performing arts landscape for the future. From Carnegie Hall to the Crazy Horse Memorial in South Dakota, from Omaha Performing Arts to the Really Spicy Opera of the Twin Cities, these are the people redefining and driving the performing arts towards a future shaped by their vision.
| | |
| --- | --- |
| Read the articles below or | |
| | | | |
| --- | --- | --- | --- |
| • | Douglas Beck, Director, Artist Training Programs, Weill Music Institute, Carnegie Hall | • | Bob Becker, Founding Member, Nexus; Composer/Arranger |
| • | Sarah Burman, Director of Operations and Education, South Dakota Symphony Orchestra | • | Annie Burridge, General Director & CEO, Austin Opera |
| • | Carla Dirlikov Canales, Founder, CEO, & Artistic Director, The Canales Project | • | Basil Considine, Founder and Artistic Director, Really Spicy Opera |
| • | Paul Crewes, Artistic Director, Wallis Annenberg Center for the Performing Arts | • | Will Crutchfield, General and Artistic Director, Teatro Nuovo |
| • | Margo Drakos, Co-founder and CEO, ArtistYear | • | Elena Dubinets, Vice President of Artistic Planning, Seattle Symphony |
| • | Peggy Kriha Dye, Artistic Director, Opera Columbus | • | Cori Ellison, Opera Dramaturg, Teacher |
| • | Andrea D. Fessler, Founder and Executive Director, Premier Performances of Hong Kong | • | Bernhard Fleischer, Managing Director, Bernhard Fleischer Moving Images |
| • | Noreen Green, Artistic Director and Conductor, Los Angeles Jewish Symphony | • | Sean Michael Gross, Executive VP and Chief Strategy Officer, 21C Media Group |
| • | Neeta Helms, Founder/President, Classical Movements | • | Jim Hirsch, Chief Executive Officer, Chicago Sinfonietta |
| • | Cerise Jacobs, Co-Founder, Librettist, White Snake Projects | • | Peter Jarvis, Salesman, Reuning & Son Violins; Faculty member, New England Conservatory Prep |
| • | Alex Laing, Principal Clarinet, Phoenix Symphony; Founder, The Leading Tone | • | Tania León, Composer, Conductor; Founding Artistic Director, Composers Now |
| • | Mark Lowry, Co-Founder, Editor, and Chief Theater Critic, Theater Jones | • | Quinton Morris, Assoc. Prof. of Violin, Director of Chamber and Instrumental Music, Seattle University; Director, Key to Change Studio |
| • | Eugene Rogers, Associate Director of Choirs, Associate Professor of Conducting, University of Michigan | • | Alex Ross, Music Critic, The New Yorker; Author, The Rest Is Noise, Listen to This |
| • | Marna Seltzer, Director, Princeton University Concerts | • | Yuval Sharon, Founder/Artistic Director, The Industry |
| • | Joan Squires, President, Omaha Performing Arts | • | Nancy Umanoff, Executive Director, Mark Morris Dance Group |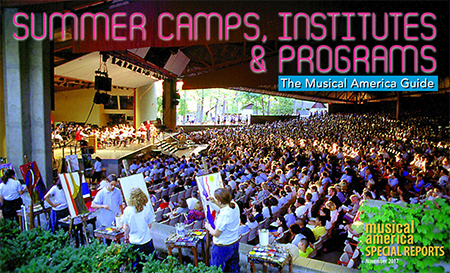 2018 Guide to Summer Camps, Institutes & Programs
The inaugural Guide to Summer Camps, Institutes & Programs includes key information about more than 170 programs and is designed for ages seven to 70—teachers and parents looking for a summer arts program for their charges, high school students en route to the conservatory and those on their way to a professional career. The Guide is also directed to those for whom the arts is an avocation, looking to hone or rekindle their chops over a summer vacation.
We've included both foreign and domestic programs, the tiny programs (Cellos at Belle Serre in Castres, France, with an enrollment of ten) and the huge programs (University of North Carolina at Greensboro Summer Music Camp, with 1,900).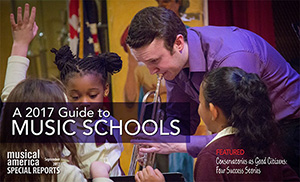 2017-18 Guide to Music Schools
The new Guide to Music Schools puts critical, in-depth information about more than 50 music schools and conservatories at your fingertips: audition requirements, post-graduate assistance programs, size of the student body, musical degrees offered, number of full time and adjunct faculty, tuition and number of scholarships awarded—as well as all the needed contact information and particulars.
Special Feature: The efforts by music schools and conservatories to keep pace with an ever-evolving job market by engaging in the community is explored in a feature article, Conservatories as Good Citizens: Four Success Stories. Author Brian Wise, producers of the Chicago Symphony Orchestra's national weekly radio broadcasts, focuses on how music schools are infiltrating their surrounding community to help equip students with the needed tools for success.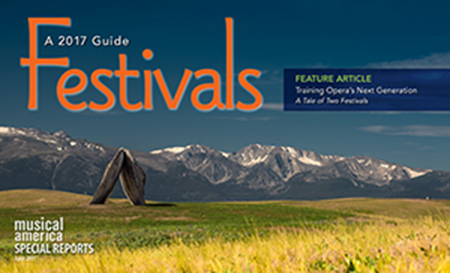 2017 Guide to Top Festivals
The 2017 Guide is our fourth annual Festivals guide and the largest to date. We provide in-depth information about these summer musical oases: locations, ticket prices, dates, disciplines, artistic directors, and—for our managers and artists—booking cycles and contacts.
Special Feature: In a special feature article, we examine two summertime young-artist programs, one domestic and one foreign: Glimmerglass and the Aix-en-Provence Festival's Académie. They share only two characteristics: their focus on opera and their sterling reputations. Otherwise they are very different. Glimmerglass is far smaller and also younger, but they have the same goal: training the artists of tomorrow by enabling them to work under and play—in every sense—with the pros of today.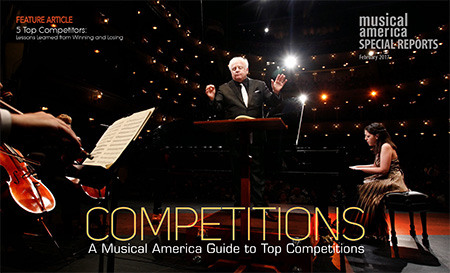 2017 Guide to Top Competitions
Competitions may be controversial, grueling and, in the end, heart-breaking, but there's no denying that winning one can launch a major career. Culled from the hundreds of competitions in our database, we've come up with a select list; in it you'll find information on frequency, deadlines, disciplines, semifinal and finals dates, eligibility, awards options (such as performances, management, and recordings), and much more.
Special Feature: In a special feature article, we asked five top competitors about what they've learned, both as winners and losers, through their experiences. "I always imagine myself being as nervous as possible and still playing well," said Austin Larson, winner of the International Horn Competition of America—just one nugget among many uncovered in our interviews.
| | |
| --- | --- |
| Read the articles below or | |
| | | | |
| --- | --- | --- | --- |
| • | Zuill Bailey, Artistic Director, El Paso Pro-Musica | • | Fred Bronstein, Dean, Peabody Institute |
| • | Jane Covner, Associate, JAG Entertainment | • | David B. Devan, General Director and President, Opera Philadelphia |
| • | Helen Eaton, Chief Executive Officer, Settlement Music School | • | Alan Fletcher, President and CEO, Aspen Music Festival and School |
| • | Adrian Fung, Vice President, Innovation, Toronto Symphony Orchestra | • | James Ginsburg, President, Cedille Chicago |
| • | Ed Harsh, President and CEO, New Music USA | • | Thomas Knific, Head of Jazz Studies, College of Fine Arts, Western Michigan University |
| • | Christopher Koelsch, President and CEO, Los Angeles Opera | • | Missy Mazzoli and Ellen Reid, Luna Composition Lab |
| • | Benjamin Mitchell, Founder and President, Kaleidoscope Chamber Orchestra | • | Beth Morrison, Creative Producer, Beth Morrison Projects |
| • | Kristin Olson and Nadir Aslam, Founders, Mount Sinai Concerts for Patients | • | Bill Palant, Founder and Managing Director, Étude Arts |
| • | Jonathan Palant, Founder/Conductor, Dallas Street Choir | • | Troy Peters, Music Director, Youth Orchestras of San Antonio (YOSA) |
| • | Paola Prestini, Executive/Creative Director, National Sawdust | • | Roberto Prosseda, Pianist |
| • | William Ransom, Artistic Director, Emory Chamber Music Society of Atlanta | • | Richard Scerbo, Director, National Orchestral Institute + Festival |
| • | Paul Schwendener, Executive Director, All-Star Orchestra | • | Josh Shaw, Artistic Director, Pacific Opera Project |
| • | Chad Smith, Chief Operating Officer, Los Angeles Philharmonic | • | Nick Squire, Recording Engineer, Boston Symphony Orchestra |
| • | Melvin Stecher and Norman Horowitz, Executive Directors, New York International Piano Competition | • | Christian Thompson, Artistic Advisor, Orchestre National de Lyon |
| • | Stephen Wadsworth, Director of Opera Studies, The Juilliard School | • | Katie Wyatt, Executive Director, Kidznotes |
The Move to Mobile:

Ticketing, Programming & Marketing in the Arts

Your audiences are mobile and are using their devices before, during(!) and after performances, according to research in this Special Report. Is your mobile marketing, ticketing and programming meeting your customers' needs?
| | |
| --- | --- |
| Read the articles below or | |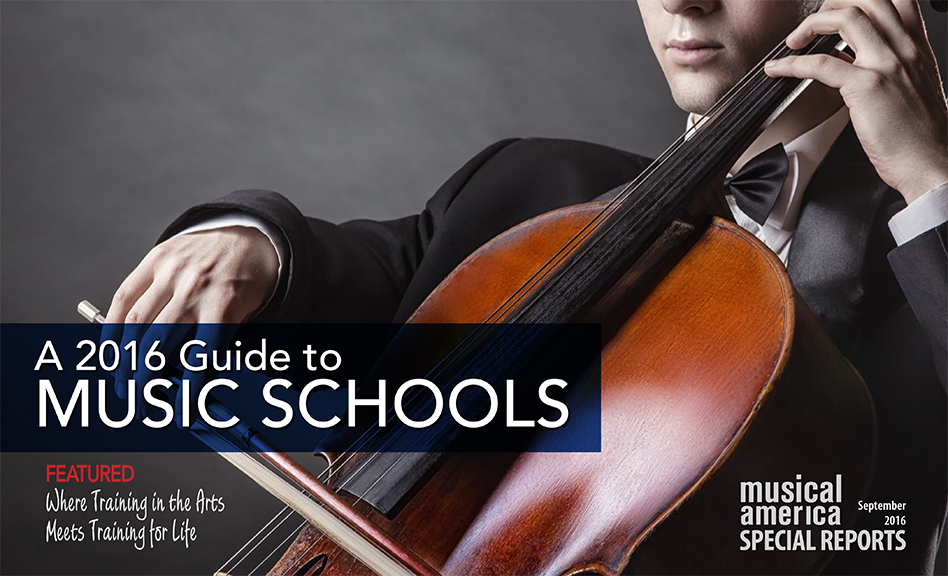 2016-17 Guide to Music Schools
We've chosen to highlight 45 music schools from our database of 1,210 music schools. We asked each of our picks for additional details, such as: audition requirements, post-graduate assistance programs, number of full time and adjunct faculty and number of scholarships awarded.
Special Feature: Musical America explores
career-guidance offerings at schools, both before and after graduation. In our feature story, Where Training in the Arts Meets Training for Life, author Ian VanderMeulen speaks with officials at five schools that we felt were particularly well-attuned to job market opportunities and challenges: Curtis Institute, London's Guildhall School, Indiana University's Jacobs School of Music, Juilliard and San Francisco Conservatory.
Audience Development

Growing Audiences: 7 Success Stories

As the digital entertainment options continue to explode, arts organizations are devising ever-more ingenious solutions for growing audiences and staying relevant.

Here are how seven arts organizations are using new thinking, new programs and new media.
| | |
| --- | --- |
| Read the articles below or | |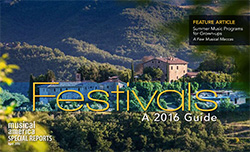 2016 Festivals Guide
Special Feature: Our feature story reviews summer music programs that enable "grown-up" individuals to practice a favorite avocation, make friends, and, in many cases, enjoy the scenery. At the Tuscany Project, you can join a gospel choir while spending a week on the Greek Island of Kefalonia, among other of the Project's locations; or pull your ?ute out of moth balls and head to Baltimore for the BSO Academy. Enjoy.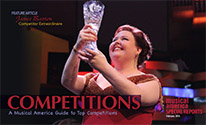 2016 Guide to Competitions
We've combed through our database of 500-plus listings of national and international competitions to come up with a special list, chosen either by virtue of their prize monies, their prestige, their unusual nature, or a some combination of these attributes. You'll find information on frequency, deadlines, disciplines, semifinals and finals dates, eligibility, awards options (such as performances, management and recordings), and much more.
The MA 30 Professionals of the Year:

The Influencers

We recently asked the MA community to nominate 30 people who are making a difference in our business, either by virtue of their position, their creativity, and/or their dedication—folks about whom you could say, "When they speak, we listen."

You answered, with hundreds of nominees. Please join us in celebrating the Musical America 30: The Influencers.
| | |
| --- | --- |
| Read the articles below or | |
| | | | |
| --- | --- | --- | --- |
| • | Mei-Ann Chen, music director, Chicago Sinfonietta and Memphis Symphony Orchestra | • | Janet Cowperthwaite, managing director, Kronos Quartet/Kronos Performing Arts Association |
| • | Adam Crane, vice president for external affairs, St. Louis Symphony Orchestra | • | Geoffrey John Davies, founder & CEO, The Violin Channel |
| • | Afa Sadykhly Dworkin, president & artistic director, Sphinx Organization | • | Ruth Felt, founder & president, San Francisco Performances |
| • | Leila Getz, founder & artistic director, Vancouver Recital Society | • | Yehuda Gilad, music director, The Colburn Orchestra |
| • | Michael Heaston, director, Domingo-Cafritz Young Artist Program | • | Jonathan Herman, executive director, National Guild for Community Arts Education |
| • | David Katz, founder & chief judge, The American Prize | • | Dr. Tim Lautzenheiser, vice president of education, Conn-Selmer |
| • | Alecia Lawyer, founder, artistic director & principal oboist, River Oaks Chamber Orchestra | • | Charlotte Lee, president & founder, Primo Artists |
| • | Jim Limbacher, managing director & president, St. Paul Chamber Orchestra | • | Bob Lord, CEO, PARMA Recordings |
| • | Cheryl Mendelson, CEO, Harris Theater for Music and Dance, Chicago | • | Jerald Miller, managing director, Nu Jazz Agency |
| • | Rocío Molina, flamenco dance artist | • | Francisco J. Núñez, founder & artistic director, Young People's Chorus of New York City |
| • | Jordan Peimer, executive director, ArtPower!, University of California, San Diego | • | Amit Peled, cellist & professor, Peabody Conservatory |
| • | Scott Reed, president & CEO, Music Academy of the West | • | Lois Reitzes, director of arts and cultural programming, WABE-FM, Atlanta |
| • | James Nyoraku Schlefer, artistic director, Kyo-Shin-An Arts | • | David Srebnik, classical music program director, Sirius XM |
| • | Xun Sun, music director & conductor, Orchestra of Southern Utah | • | Pierre van der Westhuizen, president/CEO, Cleveland International Piano Competition |
| • | Diane Wittry, music director, Allentown Symphony Orchestra, Ridgewood Symphony Orchestra | • | Yolanda Wyns, music program director, Harlem School of the Arts |
---
Publishing 2.0:

The Move Toward Digital

The move toward delivery and use of digital music scores (and music notation software) has gained enormous speed since our first Special Report on the subject last year.

Discover what major organizations and innovators are doing.
| | |
| --- | --- |
| Read the articles below or | |
---
A Guide to Music Schools

Welcome to Musical America's 2015 Guide to Music Schools. The editors have selected top schools from the 1,223 educational institutions in our database and contacted each to gather key information, such as admissions and audition requirements, financial and tuition information, post-graduate assistance programs, and number of full time and adjunct faculty.
| | |
| --- | --- |
| Below: View the Guide online and access the database or | |
---
Digital Streaming: Reaching a Larger Audience through Digital Means

The promise has been there for a while: streaming your live performances to a vastly expanded worldwide audience. But only recently have all the elements come together, such as Internet speed, ecommerce tools, reduced video creation costs and audience comfort with the digital streaming medium.

Is it time to take a serious leap into live digital streaming? Musical America asked the bellwethers how they did it and interviewed experts to discover the best ways to get started (and where the pitfalls are).
| | |
| --- | --- |
| Read the articles below or | |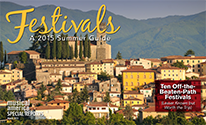 Festivals: 2015 Summer Guide
With our annual Special Report on Festivals, we continue a Musical America tradition dating back at least 50 years—perhaps longer—of reporting on the year's upcoming festivals. It would be interesting to compare our reporting from those days with this report; many of the mature destinations—Tanglewood, Aspen, Marlboro—are still very much alive and kicking, changing with the tides but true to their core missions.
| | |
| --- | --- |
| • | Baroque opera in the medieval walled city of Barga, Italy (Opera Barga) |
| • | Al fresco dance by up-and-coming troupes in the Berkshires (Inside/Outside) |
| • | An expanded drumming workshop in Setúbal, Portugal (Setúbal Music Festival) |
| • | Chamber music on a 17th-century estate in West Cork, Ireland (West Cork Chamber Music Festival) |
| • | Shostakovich in the Saxon Mountains (International Shostakovich Days Gohrisch) |
| • | Sondheim in the Catskills (Phoenicia Festival of the Voice) |
| • | And our personal favorite, Buddhist monks in Norbulingka, Tibet (Shoton Festival). |
The Guide to Top Competitions

The top competitions worldwide and key information for each: eligibility, deadlines, prizes, categories, locations, juries and more.

Also, we asked author, pianist, and well-travelled jury member Stuart Isacoff to write about his own experiences behind the closed doors of jury deliberations and to discuss some of the different ways competitions are judged.
| | |
| --- | --- |
| Below: View the Guide online and access the database or | |
The MA 30 Professionals of the Year:

Profiles in Courage

We recently asked the worldwide performing arts community to nominate 30 people who have "taken a risk, spoken out where others were silent—all to the measurable benefit of their arts organizations and the field."

You answered, with hundreds of nominees. For the Musical

America editors, it was a labor of love. We combed through the nominees (not an easy task; all were deserving) and based our 30 final choices on those who can show measureable results, uniqueness, persistence in the face of resistance or hardend tradition, and inventiveness.

These are the risk-takers and innovators. Please join us in celebrating the Musical America 30: Profiles In Courage.
| | |
| --- | --- |
| Read the articles below or | |
| | | | |
| --- | --- | --- | --- |
| • | Peter Alward, managing director, Salzburg Easter Festival | • | Alexander Lombard, president & CEO, Lake George Music Festival |
| • | Martin Anderson, founder & CEO, Toccata Classics | • | Ellen McSweeney, musician & blogger, NewMusicBox |
| • | Steven Blier, artistic director, New York Festival of Song | • | Michael Morgan, music director, Oakland East Bay Symphony |
| • | Misty Copeland, Soloist, American Ballet Theatre | • | Mattias Naske, intendant, Vienna Konzerthaus |
| • | Aaron Dworkin, founder & president, Sphinx Organization | • | Sara Nealy, executive director, Festival Opera |
| • | Hobart Earle, music director, Odessa Philharmonic Orchestra | • | Nicole Paiement, founder & artistic director, Opera Parallele |
| • | Susan Feder, program officer arts & cultural heritage, The Andrew W. Mellon Foundation | • | Michael Pastreich, president & CEO, Florida Orchestra |
| • | Anthony Fogg, artistic administrator, Boston Symphony Orchestra | • | Matthew Peacockk, founder & CEO, Streetwise Opera |
| • | Michael Fox, director of operations, Hale Center Theatre | • | Joanne Polk, pianist, teacher, recording artist |
| • | Edmund and Patricia Frederick, co-founders, The Frederick Piano Historic Collection | • | Eve Queler, conductor, impresaria |
| • | Amelia Freedman, founder and artistic director, Nash Ensemble | • | Mark Sforzini, artistic & executive director, St. Petersburg Opera Company |
| • | Wu Han, co-director, Chamber Music Society of Lincoln Center | • | Robert Spano, music director, Atlanta Symphony Orchestra & Aspen Music Festival |
| • | Yin-Chu Jou, artistic director, Friendship Ambassadors Foundation | • | Becky Starobin, president, Bridge Records |
| • | Johanna Keller, director arts journalism, S.I. Newhouse School of Public Communications | • | Stanford Thompson, founder & artistic director, Play On, Philly! / chairman, El Sistema USA |
| • | Carol Lazier, president, San Diego Opera | • | Karen Zorn, president, Longy School of Music |
Ticketing: The Latest in Successful Ticket Sales

It's about data, timing and (of course) social media.
| | |
| --- | --- |
| Read the articles below or | |
Community Engagement: 5 Cool Case Studies

Many arts organizations have realized if they want younger and/or more clientele, they'll have to go out into their communities and get them. In Cool Case Studies, we focus on five organizations doing just that, in ways we think are particularly inventive.
| | |
| --- | --- |
| Read the articles below or | |
A Guide to Music Schools

For those still unsure of where they'll land in September 2015, Musical America's editors have compiled a guide of 51 top music schools and conservatories around the world, selected from the 1,278 listed in the Musical America Directory.
| | |
| --- | --- |
| Below: View the Guide online and access the database or | |
Music Publishing: Copyright DeMystified

Musical America's latest Special Report, Music Publishing: Copyright Demystified, untangles the many components of the "bundle of rights" protecting and fostering the very core of the arts world: The Work. After all, the proper use of artistic works is one of the bedrocks of the business as well as for fostering creativity. It also keeps everyone on the right side of the law.
| | |
| --- | --- |
| Read the articles below or | |
Festivals: A 2014 Summer Guide

The Musical America editors have taken a slightly different approach than in our past Summer Festivals previews: the information has been provided by the festivals themselves in response to questionnaires emailed to festivals painstakingly culled from the more than 1,500 North American and international events in the MA database.
| | |
| --- | --- |
| Read the articles and access the databases below or | |
The Moment: Turning Points in

5 Extraordinary Careers

For some exceptional performers and business notables, success has followed a path filled with wrong turns, lucky breaks, crises of the psyche—or all of the above.

Here are the stories of five of those extraordinary careers.
| | |
| --- | --- |
| Read the articles below or | |
Movers & Shakers: 30 Key Influencers in the Performing Arts

After intense reflection and (mostly civilized) debate, Musical America is proud to present the Movers & Shakers of the Performing Arts Industry.

Directors, presenters, marketers, executives, administrators--these are the luminaries, both in front and behind the scenes, who relentlessly strive to innovate and expand the performing arts while keeping their organizations healthy.
| | |
| --- | --- |
| Read the articles below or | |
| | | | |
| --- | --- | --- | --- |
| • | Brent Assink, Exec. Dir., San Franciso Symphony | • | Jenny Bilfield, President and CEO, WPAS |
| • | David Foster, President and CEO, Opus 3 Artists | • | Jonathan Friend, Artistic Admin, Metropolitan Opera |
| • | Roland Geyer, Intendant, Theater an der Wien | • | John Gilhooly, Director, Wigmore Hall |
| • | David Gockley, General Dir, San Francisco Opera | • | Darren Henley, Managing Director, Classic FM |
| • | Kristin Lancino, Executive Director, IMG Artists | • | Stéphane Lissner, GM and Art. Dir., Teatro alla Scala |
| • | Timothy O'Leary, Gen. Dir., Opera Theater St. Louis | • | Joseph Polisi, Pres./Trustee, The Juilliard School |
| • | Helga Rabl-Stadler, President, Salzburg Festival | • | Jesse Rosen, Pres./CEO, League of Amer. Orchs |
| • | Deborah Rutter, Pres., Chicago Symph Orch Assn | • | Marc Scorca, Pres and CEO, OPERA America |
| • | Janis Susskind, Managing Dir., Boosey & Hawkes | • | Matías Tarnopolsky, Director, Cal Performances |
| • | Peter Taub, Director of Performance Programs, Museum of Contemporary Art Chicago | • | Limor Tomer, General Manager, Concerts and Lectures, Metropolitan Museum of Art |
| • | Mark Volpe, Man. Dir., Boston Symphony Orchestra | • | Roger Wright, Cont. BBC Radio 3, Dir. BBC Proms |
| • | Francesca Zambello, Artistic and General Director, Glimmerglass Festival, Artistic Director, Washington National Opera | • | The Magnificent 7 |
The Recording Maze: Navigating, Coping & Cashing In

The recording landscape has been transformed by technology's relentless march forward. Still, achieving success in whatever side of the business you are on—producing, selling, distributing, even buying recordings—means navigating the recording labyrinth.
| | |
| --- | --- |
| Read the articles below or | |
Social Marketing: Blueprint for Success in the Arts

Social marketing is now a critical business tool—and requires a businesslike approach. What is your strategy and ROI? Are your efforts organized for greatest impact? What can you learn from other successful operators?
| | |
| --- | --- |
| Read the articles below or | |
Mobile Marketing: The Arts in Motion

The stunning growth of mobile—and the way audiences have embraced it—point to one thing: mobile is vibrant and lucrative and will reward performing arts organizations that target audiences through innovative, relevant marketing.
| | |
| --- | --- |
| Read the articles below or | |
Fundraising: Keys to the Cashbox

Fundraising is a performing art requiring creativity, skill, and discipline. In this Special Report, we look at successful efforts, some of the pitfalls, and how to leverage social media for ongoing fundraising success.
| | |
| --- | --- |
| Read the articles below or | |
Ticketing: The New Age

It used to be simple: sell the ticket, fill the house, earn the income, end of story. Not anymore. The sale is now the start of a far more personalized relationship with your customer. We explore the needed technology, skills and methods.
| | |
| --- | --- |
| Read the articles below or | |
2012: The Year in the Performing Arts

We took a look back at 2012 and a peek ahead at 2013. Read about the most important news stories in 2012, the year's movers and shakers, some of the best decisions made, and predictions for 2022 from some of the industry's leaders.
| | |
| --- | --- |
| Read the articles below or | |
Rising Stars in the Performing Arts

We combed the business to look for the up-and-comers, the ones with the fresh take, people who are injecting new ideas into the performing arts industry: Artist Managers, Orchestra Leaders, Presenters, Communications & Public Affairs Pros, Educators, and Radio & Recording Pros. These professionals bring something truly special to booking, presenting, promoting, educating and raising money. Musical America's Rising Stars—the ones to watch.
| | |
| --- | --- |
| Read the articles below or | |
Visas: The Journey to the U.S.

Obtaining visas for non-U.S. artists to visit the United States can be daunting and frustrating. Musical America talked with managers, presenters, lawyers and the U.S. government to find out how to speed this sometimes overwhelming process.
| | |
| --- | --- |
| Read the articles below or | |
Social Media and the Performing Arts

Experts and marketers in and out of the performing arts reveal how to tap the power of social media for effective arts marketing, boosting your ticket sales and exciting your audiences.
| | |
| --- | --- |
| Read the articles below or | |
Musicians and their Health Care

Musicians are "the elite athletes of the small muscles"—with the need to stay on top of their abilities during a long career. We looked into the unique health care needs and solutions faced by musicians and businesspeople in the performing arts.
Competitions: Behind the Scenes

Key players across competitions provide straight answers to critical questions. Judges: what do they really look for? Presenters: does winning ensure bookings? Managers: do competitions matter? Winners: does winning make a difference?
Digital Media Marketing in the Arts

Packed with actionable information and best practices—case histories, in-depth interviews, tips, best practices and deep-dive reviews of successful digital marketing campaigns in the performing arts.
---

WHO'S BLOGGING

Interviews with musicians who have successfully created their own opportunities.
---
PROFESSIONAL
GROWTH
FIND:
»MORE

NETWORK
FIND:
Updates to artist manager rosters
»MORE
RENT A PHOTO
Search Musical America's archive of photos from 1900-1992.