SPECIAL REPORTS
---
2023 Guide to Music Schools
Music education in the 21st century
It has been ten years since the first Guide to Music Schools was published, and what has become clearer as the world whizzes by is that studying music in the third decade of the 21st century is no singular pastime.
Conservatories have realized that, for today's musician, context is everything. And in looking over the last decade of listings—78 in this edition, the most we've had—it's fascinating to observe how what were once simply called "career services" departments or "entrepreneurship 101" courses have exploded into internships, bona-fide teaching jobs at the local public school, orchestra jobs, opera-company apprenticeships, and even in-school artist management services.
---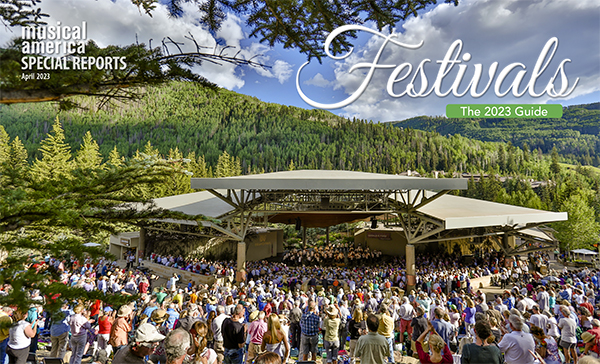 2023 Guide to Summer Festivals
Looking ahead to a summer of music
Looking over our largest-ever Guide, we are struck by the breadth of offerings, not only of repertoire, but also of vintage, genre, and practitioner—from rising artist to devoted amateur to seasoned pro and all points in between. Some festivals are also training academies, the best-known including Aspen, Tanglewood, Lucerne, and Verbier. Others are strictly geared to serve a paying public, such as Philadelphia's Mann Center or the Bravo! Vail Music Festival. Many are both, with lessons, workshops, rehearsals by day and public concerts by night. Enjoy!
---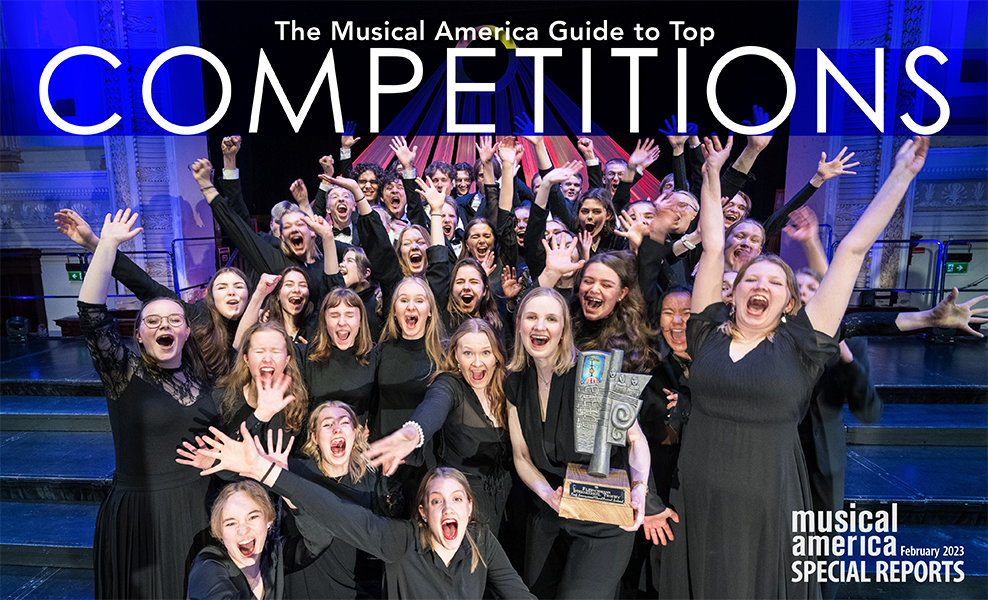 2023 Guide to Top Competitions
Everything for 100 competitions
We've gathered the many interlocking pieces of any competition—application deadlines, eligibility rules, artistic disciplines, frequency, dates, fees, jury members—to present our largest Guide to Top Competitions.
On a technical note, you'll see that many dates in the Guide reflect the near two-year pause caused by the pandemic. In some cases, the deadline for applications has passed and the judges have already made their choices (and notified them) though the live rounds, both semis and finals, have yet to take place. We are still making strides to recover.
---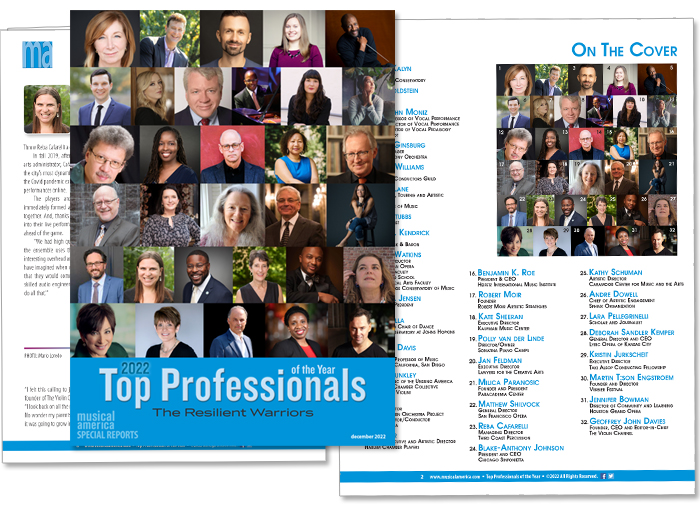 The MA 30 Professionals of the Year:
The Resilient Warriors
The 2022 Top Professionals of the Year dealt with the pandemic and its aftereffects on the performing arts through game-changing innovation or endless toil, or both.
From the Verbier Festival to the streets of London, from quickly assembled open-air concerts to countless Zoom sessions, these are the people redefining and driving the performing arts towards a future shaped by their vision and ever-changing forces.
| | |
| --- | --- |
| Read the articles below or   | |
The Musical America 2022 Top Professionals of the Year

• danah bella, Professor and Chair of Dance, Peabody Conservatory at Johns Hopkins University

• Jennifer Bowman, Director of Community and Learning, Houston Grand Opera

• Reba Cafarelli, Managing Director, Third Coast Percussion

• Geoffrey John Davies, Founder, CEO and Editor-in-Chief, The Violin Channel

• Anthony Davis, Composer; Distinguished Professor of Music, University of California, San Diego

• Andre Dowell, Chief of Artistic Engagement, Sphinx Organization

• Portia Dunkley, Founder, Music of the Unsung America, New Canon Chamber Collective / Owner, Teeny Violini

• Martin T:son Engstroem, Founder and Director, Verbier Festival

• Jan Feldman, Executive Director, Lawyers for the Creative Arts

• Kathryn Ginsburg, General Manager, Detroit Symphony Orchestra

• Brian Goldstein, Partner, GG Arts Law

• Christina Jensen, Founder and President, Jensen Artists

• Blake-Anthony Johnson, President annd CEO, Chicago Sinfonietta

• Kristin Jurkscheit, Executive Director, Taki Alsop Conducting Fellowship

• Andrea Kalyn, President, New England Conservatory

• James M. Kendrick, Attorney, Alter, Kendrick & Baron

• Andrew Lane, Vice President, Touring and Artistic Management, Curtis Institute of Music

• Polly van der Linde, Director/Owner, Sonatina Piano Camps

• Robert Moir, Founder, Robert Moir Artistic Strategies

• Justin Moniz, Assistant Professor of Vocal Performance; Associate Director of Vocal Performance & Coordinator of Vocal Pedagogy, NYU Steinhardt / Executive Director, Hawaii Performing Arts Festival

• Milica Paranosic, Founder and President, Paracademia Center

• Lara Pellegrinelli, Scholar and Journalist

• Liz Player, Founder, Executive and Artistic Director, Harlem Chamber Players

• Benjamin K. Roe, President & CEO, Heifetz International Music Institute

• Gil Rose, Artistic Director, Boston Modern Orchestra Project / Artistic Director/Conductor, Odyssey Opera

• Deborah Sandler Kemper, General Director and CEO, Lyric Opera of Kansas City

• Kathy Schuman, Artistic Director, Caramoor Center for Music and the Arts

• Kate Sheeran, Executive Director, Kaufman Music Center

• Matthew Shivlock, General Director, San Francisco Opera

• Harriet Stubbs, Concert Pianist

• Howard Watkins, Assistant Conductor, Metropolitan Opera / Vocal Arts Faculty, The Juilliard School / Graduate Vocal Arts Faculty, Bard College Conservatory of Music

• Julius P. Williams, President, International Conductors Guild
---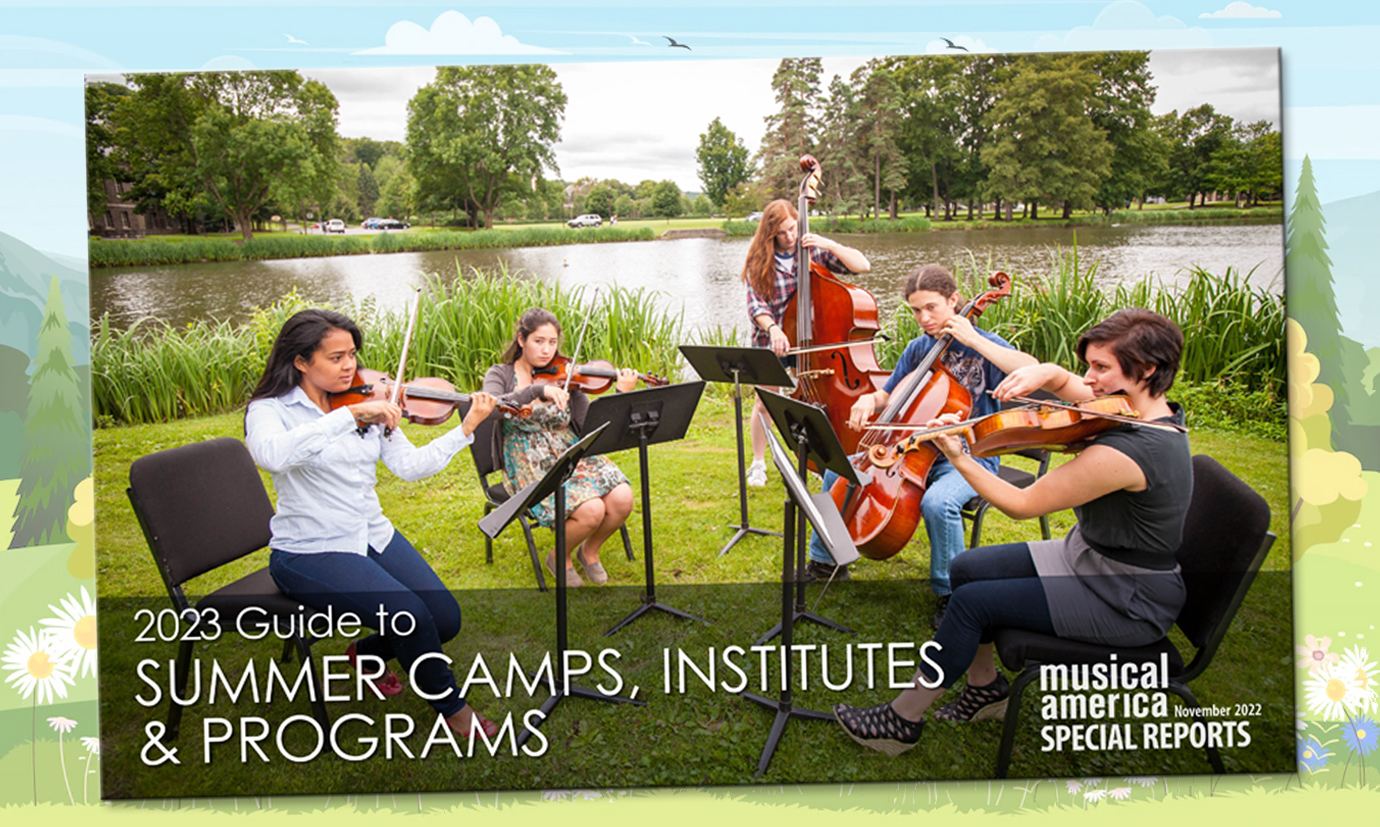 2023 Guide to Summer Camps, Programs & Institutes
Looking Ahead to the Musical Summer of 2023
It is heartening to witness the many positive indicators that the performing arts are up and running again after two years of masking, vaxing, and Zooming. There are even remnants from that challenging time that have morphed into more lasting creative endeavors: The annual Guide to Summer Camps, Institutes, & Programs has three enduring and distinct categories: U.S., International, and Virtual—this last with seven entries. This helps explain why, at 311, there are more listings in this year's Guide than ever before.
---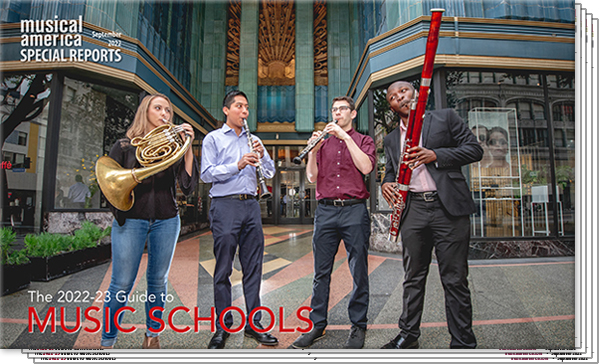 2022-23 Guide to Music Schools
Music education as the pandemic's impact recedes
We create the Guide to Music Schools each year because change is constant in the performing arts and, even more particularly, in music. If a school wants to keep its enrollment robust, it has to keep up with the times. Northeastern University, for example, offers Bachelor of Science degrees in, among others, Electrical Engineering and Music with Concentration in Music Technology, and Game Design and Music with Concentration in Music Technology.
From year to year, courses and tracks are added or dropped; career services expanded; tuition increased (usually) or dropped altogether for at least three (it used to be just one) conservatories that are fully funded; collaborations with other institutions or departments are offered for double degrees; audition requirements, teacher-to-student ratios—they all change annually and we make sure stay on top of them for the Guide.
---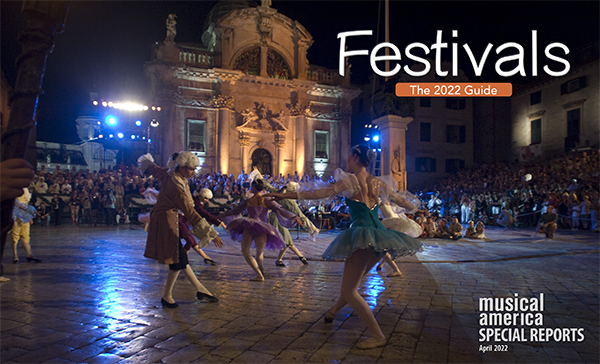 2022 Guide to Festivals
A return to summer performances
The largest Festivals Guide—details for 115 festivals
The 2022 festival season feels like a joyous welcome home party after so long. Masks on or off, audiences and artists are lining up for live and in-person musical and terpsichorean performances in picturesque settings around the world, in vineyards, mountains, valleys, lakeshores, and amphitheaters historic and modern.
As usual, we've packed the Guide with the essentials, including dates, geographic and venue information, ticket prices and purchase links, pandemic safety links as needed, artistic directors, performers, web addresses, and social media links galore. Personally, we've already got one foot out the door, heading to the mountains, valleys, and any place in between for some serious music-making and listening. Hope you are too.
---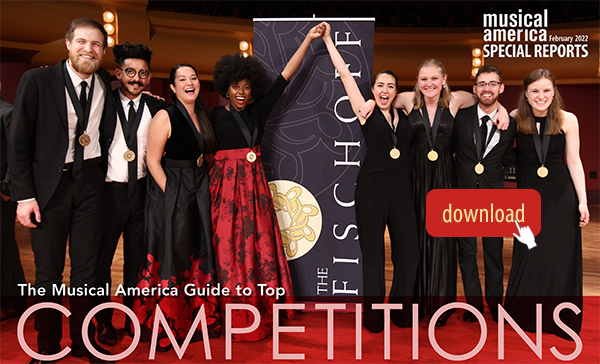 2022 Guide to Top Competitions
A light starting to shine?
Details for nearly 100 top competitions
But it is safe to say 2022 is looking more solid for competitions or, at least, for predicting and solidifying their information (be sure to check their websites for updates). Scrolling through the near-100 listings here, you'll find quite a few looming application deadlines, along with live/streamed events in locations ranging from Ljublijana, Slovenia, to Cork, Ireland, to Flint, MI.
The stakes are high, the challenges vast. But the rewards—monetary, professional, and just knowing you tried for your personal best—are huge, not just for the participants, but for a field that celebrates constant rejuvenation.
---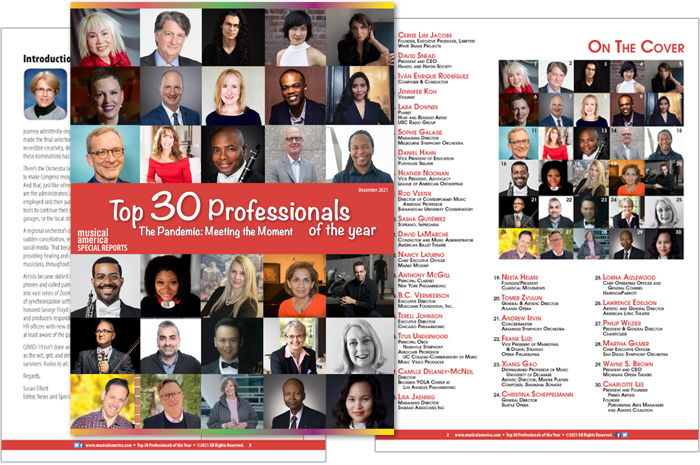 The MA 30 Professionals of the Year:
The Pandemic: Meeting the Moment
We asked the worldwide performing arts industry and the results are in:
Who rose to the challenge of the pandemic?
This year, we honor 30 individuals whose heroic efforts have helped to sustain the performing arts during one of the most difficult and often tragic times in modern history—the pandemic. Their creativity, leadership, and hard work are worthy not only of high praise, but of our collective gratitude.
| | |
| --- | --- |
| Read the articles below or   | |
| | | | |
| --- | --- | --- | --- |
| • | Lorna Aizlewood, Chief Operating Officer and General Counsel, HarrisonParrott | • | Wayne S. Brown, President and CEO, Michigan Opera Theater |
| • | Camille Delaney-McNeil, Director, Beckmen YOLA Center at Los Angeles Philharmonic | • | Lara Downes, Pianist and Host and Resident Artist, USC Radio Group |
| • | Lawrence Edelson, Artistic and General Director, American Lyric Theater | • | Sophie Galaise, Managing Director, Melbourne Symphony Orchestra |
| • | Xiang Gao, Distinguished Professor of Music, University of Delaware, and Artistic Director, Master Players | • | Martha Gilmer, Chief Executive Officer, San Diego Symphony Orchestra |
| • | Sasha Gutiérrez, Soprano, Impresaria | • | Daniel Hahn, Vice President of Education, Playhouse Square |
| • | Neeta Helms, President, Classical Movements | • | Andrew Irvin, Concertmaster, Arkansas Symphony Orchestra |
| • | Cerise Lim Jacobs, Founder, Executive Producer, Librettist, White Snake Projects | • | Lisa Jaehnig, Managing Director, Shuman Associates |
| • | Terell Johnson, Executive Director, Chicago Philharmonic | • | Jennifer Koh, Violinist |
| • | David LaMarche, Conductor and Music Administrator, American Ballet Theater | • | Nancy Laturno, Chief Executive Officer, Mainly Mozart |
| • | Charlotte Lee, President and Founder, Primo Artists / Founder, Performing Arts Managers and Agents Coalition | • | Frank Luzi, Vice President of Marketing & Digital Strategy, Opera Philadelphia |
| • | Anthony McGill, Principal Clarinet, New York Philharmonic | • | Heather Noonan, Vice President, Advocacy, League of American Orchestras |
| • | Iván Enrique Rodríguez, Director of Education and Community Engagement, The New York Philharmonic | • | Christina Scheppelmann, General Director, Seattle Opera |
| • | David Snead, President and CEO, Handel and Haydn Society | • | Titus Underwood, Principal Oboe, Nashville Symphony / Associate Professor, UC College-Conservatory of Music / Music Video Producer |
| • | B.C. Vermeersch, Executive Director, Musicians Foundation, Inc. | • | Rod Vester, Director of Contemporary Music; Assistant Professor, Shenandoah University Conservatory |
| • | Philip Wilder, President & General Director, Chanticleer | • | Tomer Zvulun, General & Artistic Director, Atlanta Opera |
2022 Guide to Summer Camps, Institutes & Programs
Plan your summer of music (finally …)
As proven by the roughly 300 individual listings in the 2022 Guide, the phrase summer "camp" no longer applies strictly to children at play, nor does "institute" imply young artists at work. You can study lied in Vienna, practice yoga in Belgium, sing your heart out in Mandarin in China, play tennis in Peoria, or learn the Taubman Method at the Golandsky Institute in California.
---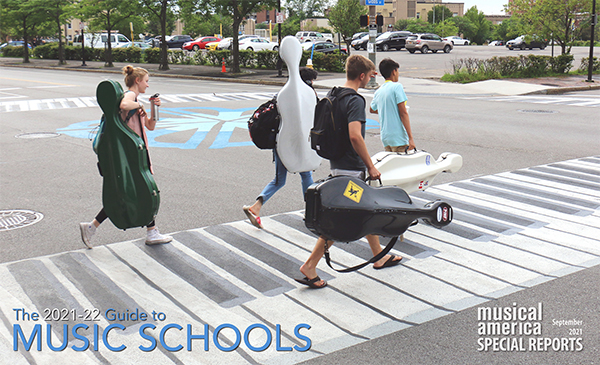 2021-22 Guide to Music Schools
Pursuing musical education in the pandemic age
Students of the arts once sought only to train to achieve artistic excellence, but now that's not enough. On the heels of the pandemic and the move to streaming, an artist must also be an audio/video producer, winning onscreen personality, social media expert, and marketing whiz.
Music schools and conservatories are attempting to meet the challenge with solutions ranging from mentoring faculty, technology, and internships and fellowships, to name a few. Pay close attention to the Guide's "Career/Post Graduate Assistance" section
---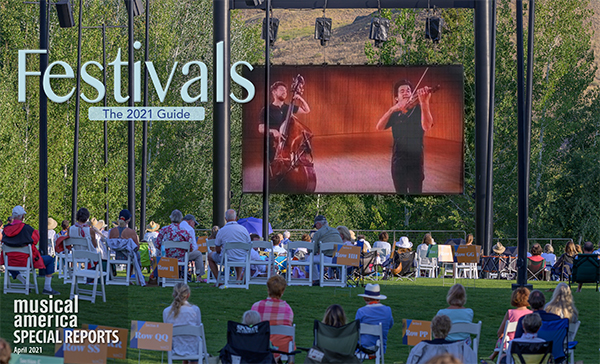 2021 Guide to Summer Festivals
Looking ahead to a season of music
Our largest Festivals Guide
Hope is in the air, vaccinations are in (many) arms, and our hardy crop of mountain, lakeside, and pastorally sited music-makers appear to be in recovery mode from a very long year. The latest Guide lists 100-plus entries, some still in the throes of program planning, others with their schedules nailed down, one or two strictly online, and most a combination of the above. We are thrilled on many levels to deliver the Guide and look forward to a summer season of music.
---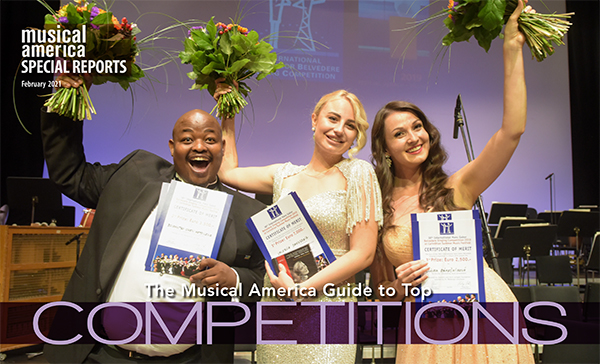 2021 Guide to Top Competitions
Competing in the time of COVID-19
Details for nearly 100 top competitions
With the arrival of the vaccines, a bit of light has emerged at the end of a long tunnel for musicians and competitions. It is a testament to competition organizers that, whether postponing deadlines, changing venues, or being forced to make any number of other alterations, these competitions have persevered. Their commitment to bringing new, exceptional talent into the limelight persists, and with that, their continued nourishment and renewal of the field.
---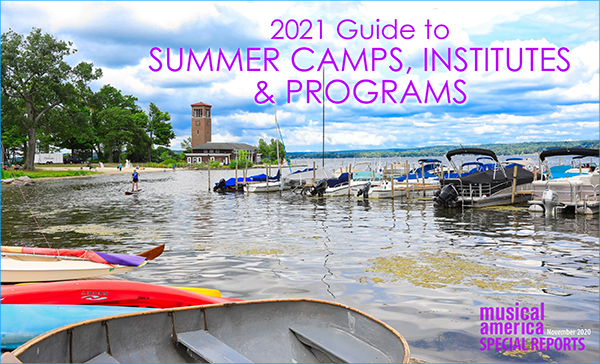 2021 Guide to Summer Camps, Institutes & Programs
Envisioning Summer 2021
Summer 2021 holds promise: by then, having waited for COVID-19 to dissipate, artists will be hungry to perform, rehearse, teach, and/or listen to live music in a shared environment. Fortunately, there are many opportunities being planned, and our annual Guide to Summer Camps, Institutes, and Programs lists nearly 300 possibilities.
---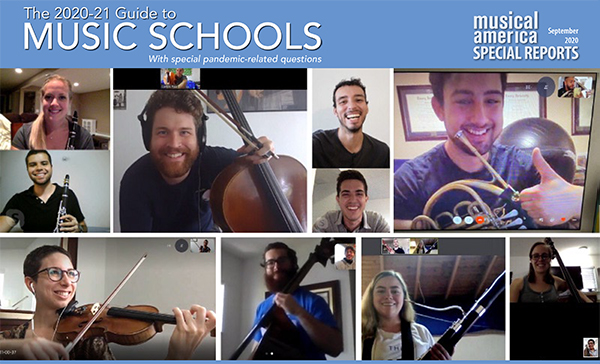 2020-21 Guide to Music Schools
⇒
Includes pandemic policies for each school
The Guide is always a substantial undertaking, even under normal circumstances.
Needless to say, we are not in normal circumstances. Looking into what is still a very cloudy crystal ball, we have added a few practical, pandemic-caused questions this year: Will you be starting in the fall as planned? Later? Will classes shift online? Will masks be required on campus? What about testing? Will classes be smaller? Any academic changes in store? Will on-campus housing be altered? Tuition change?
Consider: a new generation of musicians who are not only learning their craft, but also developing new coping skills, learning how to go with the flow, and, perhaps most importantly, become video producers par excellence.
---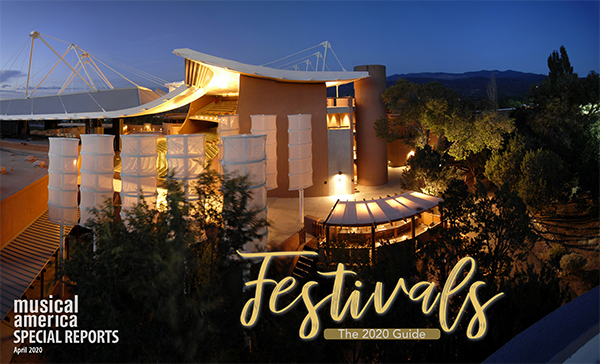 2020 Guide to Summer Festivals
Details for more than 100 events
While the 2020 Guide to Summer Festivals is packed with more than 100 festivals, this Guide is also as much an expression of hope as it is of planning in this unpredictable time.
Festivals' status and schedules are in continual flux, as you might imagine, so this Guide accurately reflects everyone's plans for the coming season. We urge you to check with the individual events to confirm; we will be updating these pages as we receive new information.
Musical America's 2020 Festival Guide offers a wealth of robust programming plans and we hope to see them come to fruition.
---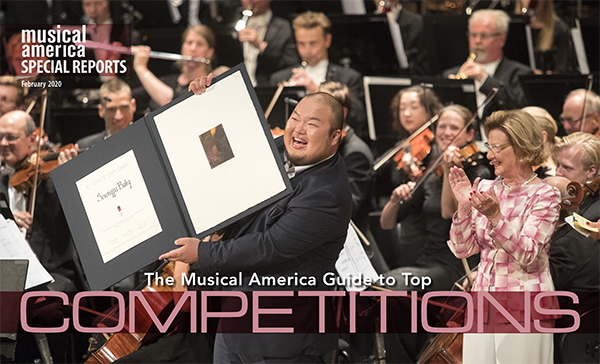 2020 Guide to Top Competitions
Details for more than 90 contests
Competitions have many moving parts—application deadlines, eligibility rules, artistic disciplines, frequency, dates, fees, jury members. We've gathered and filtered them all to present the sixth Guide to Competitions, our largest yet.
In addition, each part has subtleties and iterations. For instance, jury members may be teachers and, if so, the question arises as to whether their students will be allowed to compete (always a sharp discussion point after the winners are announced).
We run all those disparate elements through our filter to make the result as useful as possible. We hope it's helpful, both to aspiring talent and to those trying to find the bright future stars.
---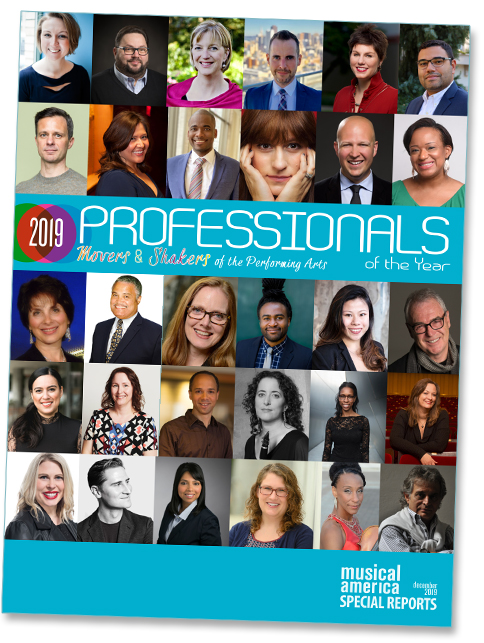 The MA 30 Professionals of the Year:
The Movers & Shakers of the Performing Arts
We polled the worldwide performing arts industry:
Who keeps the performing arts relevant?
This year's Top 30 are wonderfully diverse, ranging from artist managers to publicists, teachers, operations chiefs, impresarios and record producers.
We ask the industry each fall for the folks who deserve major kudos for all they have done and are doing to keep the performing arts vibrant. Join us in saluting the 2019 Musical America Professionals of the Year.
| | |
| --- | --- |
| Read the articles below or | |
| | | | |
| --- | --- | --- | --- |
| • | Eduardo Gabriel Álvarez Ortega, Director General and Conductor, Acapulco Philharmonic Orchestra | • | Stephanie Arrigotti, Producer/Director, Western Nevada Musical Theater Company |
| • | Patricia Barretto, President & CEO, Harris Theater for Music & Dance | • | Stephen Marc Beaudoin, Executive Director, The Washington Chorus |
| • | Kathleen van Bergen, CEO and President, Artis-Naples | • | Shana Bey, Associate Orchestra Personnel Manager, Los Angeles Philharmonic |
| • | Alexander Lloyd Blake, Founder and Artistic Director, Tonality | • | Synneve Carlino, Chief Communications Officer, Carnegie Hall |
| • | Crystal Carlson, Director of Operations, Cleveland International Piano Competition | • | Adam Cavagnaro, President and Founder, Promethean Artists |
| • | Leslie DeShazor, Violist, Teacher | • | Charles Dickerson, Executive Director and Conductor, Inner City Youth Orchestra of Los Angeles / South Side Chicago Youth Orchestra |
| • | Monica Felkel, Director of Artist Management, Young Concert Artists | • | Sarah Hoover, Associate Dean for Innovation, Interdisciplinary Partnerships and Community Initiatives, The Peabody Institute of The Johns Hopkins University |
| • | Rena Kraut, Executive Director, Cuban American Youth Orchestra | • | François Mario Labbé, President, Analekta |
| • | Marianne LaCrosse, General Manager and Education Programs Director, Music@Menlo | • | Ashley Magnus, General Director, Chicago Opera Theater |
| • | Ahmad Mayes, Director, Education & Community Engagement, Cincinnati Symphony Orchestra | • | Jazmín N. Morales, Manager, Center for Innovation and Community Impact, The Colburn School |
| • | Veronica Neo, COO and Co-Founder, Primephonic | • | Andrew Ousley, Publicist and Presenter, Unison Media / Death of Classical |
| • | Gary A. Padmore, Director of Education and Community Engagement, The New York Philharmonic | • | Melissa Smey, Associate Dean and Executive Director, Miller Theatre at Columbia University School of the Arts |
| • | Johnnia Stigall, Manager, Pre-college and Pathway Programs, Cleveland Institute of Music | • | Caen Thomason-Redus, Senior Director of Community & Learning, Detroit Symphony Orchestra |
| • | Melissa Wegner, Executive Director, Metropolitan Opera National Council Auditions | • | David Whitehill, Executive Director, Asheville Symphony Orchestra |
| • | Sarah Williams, New Works Administrator, Opera Philadelphia | • | Benjamin Woodroffe, Chair, Global Foundation for Performing Artists |
---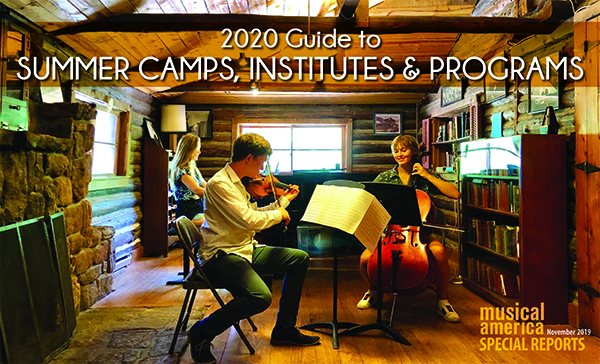 2020 Guide to Summer Camps, Institutes & Programs
We gathered all the important details you need to make decisions for your 2020 summer. From a villa in Tuscany to a log cabin in the Colorado Rockies, summer programs are popping up everywhere—and we have details on nearly 300 of them.
These relaxed, often bucolic settings also provide vast opportunities for networking and for just plain making new friends. Some of them offer regular camp activities, such as hiking and swimming; one program provides archery instruction along with master classes in string playing and chamber music. In virtually all cases, the chance to mix and mingle with the faculty is a given—meals are often served in a common dining room and the attire, except perhaps at those evening events, is strictly casual.
We hope you enjoy perusing your summertime music options, no matter your age, expertise, or geographical preference.
---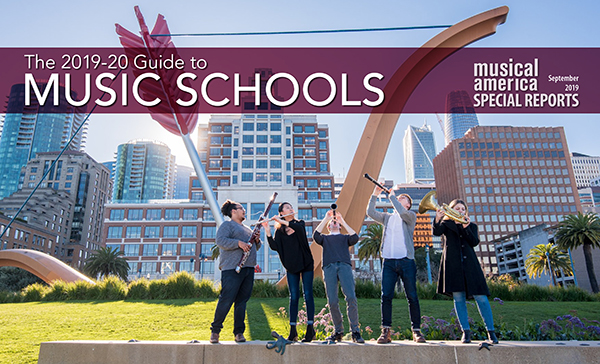 2019-20 Guide to Music Schools
For our largest Music Schools Guide, we culled about 60 institutions from our data base of nearly 1,200 schools. We focused on quality and reputation, and paid little attention to school size.
The result: the 2019-20 Guide runs the gamut from the Academy of Vocal Arts in Philadelphia (23 students) to the Jacobs School of Music at Indiana University (1,600 students).
While a school's size doesn't necessarily impact its quality, it can impact the breadth of options. Large university music programs will more likely offer, say, a double degree in trombone performance and business. However, some of the smallest schools are tuition-free, and most schools in the Guide offers some training in the music business.
For the student of the arts, it seems the field is rich in options.
---
The Move to Mobile:

Ticketing, Programming & Marketing in the Arts

Your audiences are mobile and are using their devices before, during(!) and after performances, according to research in this Special Report. Is your mobile marketing, ticketing and programming meeting your customers' needs?
| | |
| --- | --- |
| Read the articles below or | |
---
Audience Development

Growing Audiences: 7 Success Stories

As the digital entertainment options continue to explode, arts organizations are devising ever-more ingenious solutions for growing audiences and staying relevant.

Here are how seven arts organizations are using new thinking, new programs and new media.
| | |
| --- | --- |
| Read the articles below or | |
---
Publishing 2.0:

The Move Toward Digital

The move toward delivery and use of digital music scores (and music notation software) has gained enormous speed since our first Special Report on the subject last year.

Discover what major organizations and innovators are doing.
| | |
| --- | --- |
| Read the articles below or | |
---
Digital Streaming: Reaching a Larger Audience through Digital Means

The promise has been there for a while: streaming your live performances to a vastly expanded worldwide audience. But only recently have all the elements come together, such as Internet speed, ecommerce tools, reduced video creation costs and audience comfort with the digital streaming medium.

Is it time to take a serious leap into live digital streaming? Musical America asked the bellwethers how they did it and interviewed experts to discover the best ways to get started (and where the pitfalls are).
| | |
| --- | --- |
| Read the articles below or | |
---
Community Engagement: 5 Cool Case Studies

Many arts organizations have realized if they want younger and/or more clientele, they'll have to go out into their communities and get them. In Cool Case Studies, we focus on five organizations doing just that, in ways we think are particularly inventive.
| | |
| --- | --- |
| Read the articles below or | |
---
Music Publishing: Copyright DeMystified

Musical America's latest Special Report, Music Publishing: Copyright Demystified, untangles the many components of the "bundle of rights" protecting and fostering the very core of the arts world: The Work. After all, the proper use of artistic works is one of the bedrocks of the business as well as for fostering creativity. It also keeps everyone on the right side of the law.
| | |
| --- | --- |
| Read the articles below or | |
---
The Moment: Turning Points in

5 Extraordinary Careers

For some exceptional performers and business notables, success has followed a path filled with wrong turns, lucky breaks, crises of the psyche—or all of the above.

Here are the stories of five of those extraordinary careers.
| | |
| --- | --- |
| Read the articles below or | |
---
The Recording Maze: Navigating, Coping & Cashing In

The recording landscape has been transformed by technology's relentless march forward. Still, achieving success in whatever side of the business you are on—producing, selling, distributing, even buying recordings—means navigating the recording labyrinth.
| | |
| --- | --- |
| Read the articles below or | |
---
Social Marketing: Blueprint for Success in the Arts

Social marketing is now a critical business tool—and requires a businesslike approach. What is your strategy and ROI? Are your efforts organized for greatest impact? What can you learn from other successful operators?
| | |
| --- | --- |
| Read the articles below or | |
---
Mobile Marketing: The Arts in Motion

The stunning growth of mobile—and the way audiences have embraced it—point to one thing: mobile is vibrant and lucrative and will reward performing arts organizations that target audiences through innovative, relevant marketing.
| | |
| --- | --- |
| Read the articles below or | |
---
Fundraising: Keys to the Cashbox

Fundraising is a performing art requiring creativity, skill, and discipline. In this Special Report, we look at successful efforts, some of the pitfalls, and how to leverage social media for ongoing fundraising success.
| | |
| --- | --- |
| Read the articles below or | |
---
Ticketing: The New Age

It used to be simple: sell the ticket, fill the house, earn the income, end of story. Not anymore. The sale is now the start of a far more personalized relationship with your customer. We explore the needed technology, skills and methods.
| | |
| --- | --- |
| Read the articles below or | |
---
2012: The Year in the Performing Arts

We took a look back at 2012 and a peek ahead at 2013. Read about the most important news stories in 2012, the year's movers and shakers, some of the best decisions made, and predictions for 2022 from some of the industry's leaders.
| | |
| --- | --- |
| Read the articles below or | |
---
Rising Stars in the Performing Arts

We combed the business to look for the up-and-comers, the ones with the fresh take, people who are injecting new ideas into the performing arts industry: Artist Managers, Orchestra Leaders, Presenters, Communications & Public Affairs Pros, Educators, and Radio & Recording Pros. These professionals bring something truly special to booking, presenting, promoting, educating and raising money. Musical America's Rising Stars—the ones to watch.
| | |
| --- | --- |
| Read the articles below or | |
---
Visas: The Journey to the U.S.

Obtaining visas for non-U.S. artists to visit the United States can be daunting and frustrating. Musical America talked with managers, presenters, lawyers and the U.S. government to find out how to speed this sometimes overwhelming process.
| | |
| --- | --- |
| Read the articles below or | |
---
Social Media and the Performing Arts

Experts and marketers in and out of the performing arts reveal how to tap the power of social media for effective arts marketing, boosting your ticket sales and exciting your audiences.
| | |
| --- | --- |
| Read the articles below or | |
---
Musicians and their Health Care

Musicians are "the elite athletes of the small muscles"—with the need to stay on top of their abilities during a long career. We looked into the unique health care needs and solutions faced by musicians and businesspeople in the performing arts.
---
Competitions: Behind the Scenes

Key players across competitions provide straight answers to critical questions. Judges: what do they really look for? Presenters: does winning ensure bookings? Managers: do competitions matter? Winners: does winning make a difference?
---
Digital Media Marketing in the Arts

Packed with actionable information and best practices—case histories, in-depth interviews, tips, best practices and deep-dive reviews of successful digital marketing campaigns in the performing arts.

WHO'S BLOGGING

---

RENT A PHOTO
Search Musical America's archive of photos from 1900-1992.