PEOPLE MOVES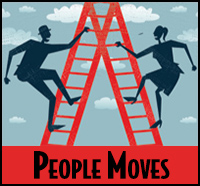 The
Lucerne Festival Academy
 has appointed a new managing director. He is
Felix Heri
, 34, current managing director of the Basel Sinfonietta; he starts on June 1, succeeding Dominik Deuber and reporting to Lucerne Festival Executive and Artistic Director Michael Haefliger, cofounder of the Academy in 2004 with Pierre Boulez. Heri will also supervise the Academy's alumni, a large and ever-growing group that traditionally plays a key part in the larger Festival's activities. Wolfgang Rihm remains artistic director of the Academy; to date, the gap left by Matthias Pintscher's abrupt exit mid-season in 2018 as the Academy Orchestra's principal conductor has not been filled.
Charles, "Charlie" Wade
is the new VP of marketing for the
Philadelphia Orchestra
, filling a position that had been vacant for about a year. His predecessor was Janice Hay, now director of marketing & communications for the Depaul University School of Music. Wade has been on staff with Philadelphia since January, having started as a consultant last fall. He joined the Inghilleri Consulting Group (ICG) in July of 2019 when he left the Seattle Symphony after five years as senior VP for marketing and business operations.
German-born arts administrator
Florian Riem
, interim secretary general of the Geneva-based
World Federation of International Music Competitions
 (WFIMC) since last August, has been given the job, now part-time. He succeeds Benjamin Woodruffe, who left last summer after five years in what was a full-time position; Woodruffe is president of the New York-based Global Foundation for the Performing Arts, which provides career guidance to rising young artists. Riem reports to President Didier Schnorhk, self-described as "the sole executive of the federation." Riem is CEO of South Korea's Tongyeong International Music Foundation and of its music festival and competition.
J.C. Barker
, a professional clarinetist, is to be the new executive director of the
Delaware Symphony Orchestra
, which self-defines as "the state's only professional symphony orchestra." Barker, who starts May 1, has for 13 years served as general manager and director of artistic administration of the Mobile (AL) Symphony, where was also principal clarinet.
The
Evansville (IN) Philharmonic
 has chosen Indian-American conductor
Roger Kalia
to be its next music director starting next fall. Kalia holds the same position with the New Hampshire Symphony. Most recently he served as associate conductor of the Pacific (CA) Symphony, where he also was director of its youth orchestra. The conductor's bio says he is co-founder and music director of the Lake George Music Festival.
Simon Woods
, who resigned as CEO of the Los Angeles Philharmonic last fall, is to be the new president and CEO of the
League of American Orchestras
 effective September 1. Woods, a Brit, is currently the interim chief of the Grand Teton Music Festival and has a wealth of experience running orchestras. He succeeds Jesse Rosen, in the job since 2008 and with the League for 22 years. Prior to the Los Angeles Philharmonic, Woods was CEO of the Seattle Symphony, where he is credited with turning its fortunes around.
The
College of Fine Arts at The University of Texas at Austin
 has named Professor
Robert Ramirez
as chair of the Department of Theatre and Dance. Ramirez, head of the Acting program in the department, has been serving as interim chair since summer 2019. Ramirez, who joined the faculty in the UT Department of Theatre and Dance in 2014 as head of the Acting program, will be the first Latinx chair of the department. Ramirez is a graduate of the Los Angeles Theatre Academy and received his M.F.A. from the Professional Theatre Training Program at the University of Delaware.
Peabody Conservatory
welcomes
Beth Willer
as director of choral studies; she will join the faculty of the Peabody Conservatory of the Johns Hopkins University as associate professor and director of choral studies in the fall 2020 semester. As founder and artistic director of Boston's Lorelei Ensemble, Willer has championed new music while fulfilling Lorelei Ensemble's mission to elevate and expand the repertoire for women's voices, collaborating with established and emerging composers from the U.S. and abroad and leading the ensemble in more than 60 world, U.S., and regional premieres since its founding.
Prescott Park Arts Festival
(PPAF) has selected
Courtney Perkins
as executive director, following an executive search process led by Arts Consulting Group (ACG). She will begin her tenure on May 15, 2020. A former attorney, Ms. Perkins dedicated her career to ensuring great art reflects the community it serves. She comes to PPAF from Chicago where she spent nearly 13 years with Chicago Sinfonietta. As the chief operating officer, she worked with the CEO managing a $2.6 million nonprofit orchestra committed to innovation, diversity, equity, and inclusion in classical music.
---
New York Mayor Bill DeBlasio has chosen
Gonzalo Casals
, who currently leads the Leslie-Lohman Museum of Art in SoHo, as the
city's new cultural affairs commissioner
. Lohman, who assumes the position on April 13, replaces Tom Finkelpearl, who left the job last October after a five-year tenure. An immigrant from Argentina who identifies as queer, Lohman has led the Leslie-Lohman, an institution devoted to the L.G.B.T.Q. civil rights movement, since 2017. Prior to that, he served as deputy and then interim director at El Museo del Barrio in East Harlem, and as vice president for education and community engagement at Friends of the High Line.
The
Philharmonia Orchestra
of London has appointed
Alexander Van Ingen
as its new chief executive, starting in September. Van Ingen is the current chief of the Academy of Ancient Music, a post he has held for three years. Before that he was executive producer for Decca Classics. The orchestra said it would be adding the post of director of artistic planning under Van Ingen.
The Washington Post
has a new classical music critic as of March 9. He is
Michael Brodeur
, a.k.a. Michael Andor Brodeur.
The Post
describes him as "a writer, critic and editor who has worked most recently at the Boston Globe." Previously he was music editor and "lead music critic" for the Boston
Phoenix
and editor of Boston's
Weekly Dig
.
David Hallberg
, star principal dancer with the Bolshoi Ballet and American Ballet Theater, is to be the new artistic director of the
Australian Ballet
. He succeeds David McAllister, who exits after two decades at the end of 2020. Hallberg's last performances as a dancer will be in 2021 with the American Ballet Theater. He starts his new job in January of that year as well.
California Institute of the Arts
(CalArts) has named
João Ribas
as executive director of the Roy and Edna Disney/CalArts Theater (REDCAT), and VP of cultural partnerships, effective June 1. Now in its 17th season, REDCAT is part of the Performing Arts Center in downtown Los Angeles, along with Walt Disney Concert Hall and Dorothy Chandler Pavilion, among other venues. It is operated by CalArts and is known for cutting-edge, multidisciplinary presentations.
UIA Talent
announced the expansion of the Classical division with the acquisition of
Francesca Condeluci
to the newly created position of director of Classical. Ms. Condeluci has spent the past six years in the vocal department at Columbia Artists Management, developing and nurturing the careers of some of the most in-demand artists in the industry. Recognized for her ability to identify great talent, Francesca was a judge at the 2019 inaugural Nicola Martinucci Competition in Lucca, Italy, and will be a guest faculty member at the Potomac Vocal Institute and Drake University.
Courtney R. Rowe
joined the
Peabody Institute
of the Johns Hopkins University as associate dean for external relations on March 2. Rowe most recently served as assistant dean for advancement for the University of Colorado Boulder College of Music and Colorado Shakespeare Festival. Prior to her work at CU Boulder, Rowe held programmatic and fundraising positions in Chicago, including at the Museum of Contemporary Art Chicago.
---
---
---
---
---
---
---
---
---
---
---
---
---
---
---
---
---
---
---
---
---
---
---
NETWORK
FIND:
Updates to artist manager rosters
»MORE

RENT A PHOTO
Search Musical America's archive of photos from 1900-1992.