Eugenia Zukerman's Verbier Vlog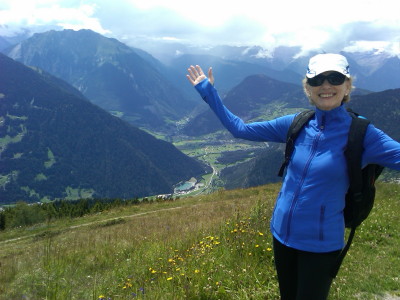 Welcome to Eugenia's Verbier Adventure! If this is your first visit to the Verbier Vlog, there's a real treat in store for you—scroll down and follow Eugenia as she prepares to participate in the 2011 Verbier Festival; interviews many of her colleagues, famous and not-so-famous; and shares conversations with many of the people who make the festival experience so wonderful.
For my part, it has been a delight to have worked with Eugenia on this project. All of us at Musical America thank her for her warm heart, eloquence and curiosity, and her generous willingness to share her story with our readers. —Most fondly, Stephanie Challener, publisher 
Eugenia's Excellent New Swiss Adventure
Like many artists today, mine is a patchwork existence. I'm a flutist, writer, television arts correspondent, arts administrator, teacher, and internet entrepreneur (classicalgenie.com). To my delight, my multi-colored quilt of a career continues to expand.
This summer I've been invited to make my debut at the prestigious Verbier Festival in Switzerland. It's an opportunity to explore new and challenging repertoire: works by Hanns Eisler, Arnold Schonberg, Andreas Jakob Romberg and Behzad Ranjbaran. Adding to the thrill, I'll be collaborating with musicians who are new to me. It's unchartered terrain and I feel like an adventurer. My Verbier Vlog will share this new and exciting experience.
Launching
On a chilly October night in 1957, when I was a tiny child, my father, an inventor and engineer, woke me and my big sister up, bundled us into coats and took us outside to look into the heavens to see a tiny spot of light arc overhead. It was the Russian spacecraft Sputnik, heralding the dawn of the space age. In the year 2000, I performed at the Kennedy Space Center at a private gathering of dignitaries moments before the 100th space shuttle launched. I then got to watch Discovery take off from the closest spot allowable – a jaw-dropping, bone-rattling, awesome experience. This past Friday I listened on the radio as space shuttle Atlantis launched, and although it was the last lift-off for the Shuttle Program, is was spine-tingling.
These launches, sending explorers out into the ether, are linked to our longings, our yearnings, our optimism. And whenever we launch or relaunch something in our lives, a sense of exploration and energy rumbles through our veins.
While it's not rocket science, and of course, infinitesimal in comparison, launching something on the internet can carry a similar sense of excitement and optimism. As the Verbier Vlog begins, I anticpate getting to the Alps, looking up at the sky, and feeling the thrill of a brand new adventure.
So Much Music, So Little Time
"There's nothing remarkable about it," Johann Sebastian Bach supposedly said "All one has to do is hit the right keys at the right time and the instrument plays itself." If only! When faced with new and difficult music to learn, some musicians say, "Yippee!" and others cry "Help!" I'm somewhere in the middle. I love a challenge, and as a veteran performer, I'm now fairly well equipped with strategies for learning a piece. The first is obvious–do the work. Study the scores and all the parts. Mark cues (colored pencils are helpful) for key changes, and other important elements. Listening to CD's can give a sense of the whole piece. That preparation precedes the rehearsals, which are the best part of the process, especially for chamber music. Working together is usually a spirited and informative experience, and most colleagues are supportive and helpful. Of course, just like hiking with a group, it's only as much fun as the least happy hiker. But generally, playing music together is also "playing" together, and, with the right energy and effort, when it comes time to step onstage, everyone in the group will hit the right keys at the right time and the performance will sparkle.
A Chat with Manny
Pianist Emanuel Ax is one of the most generous and gentle musical giants of our time, and a fine friend to many. At intermission at a concert in Tanglewood on June 29 he graciously agreed to chat with me about the Schönberg Kammerkonzert op. 9. About a dozen years ago, Manny (piano), Yo-Yo Ma (cello), Pamela Frank (violin), Paul Meyer (clarinet), and I (flute) performed this challenging chamber work together. I'll be playing it on July 17 in Verbier with an entirely different group. The audio on this video may be compromised, but Manny's playful enthusiasm and the surrounding lively backstage scene hopefully make up for the background noise.
Eugenia Works with Behzad Ranjaran on his Trio
Imagine being able to talk to Mozart, or Beethoven, or  Debussy. One of the joys of playing new music is the opportunity to work with a living composer. To hear Behzad Ranjbaran describe the enchantment of the ancient garden in Persia that inspired The Fountains of Fin, his trio for flute, violin, and cello was invaluable. He helped me understand the Persian modes and folk rhythms in the piece and what kind of timbre and nuance he'd like to hear from the flute.  Our working session together was inspiring and gave me the kind of direction that informs the way I'm continuing to practice my part. Luckily, Behzad will be in Verbier to work with the three players (myself; Ye-Eun Choi, violin; Maximilian Hornung, cello) and he'll be introducing The Fountains of Fin to the audience on July 24. It's a mysterious, exotic work, and to work on it with the composer is a privilege.
Packing and Prep for Verbier Trip
I know the look on the security person scrutinizing the luggage scanner—he/she sees a box in my carryon with some short cylindrical pipes. Are they dangerous? In today's world, most security folks have been trained to know a flute when they see one. Generally they look at me with a knowing nod. And occasionally I am asked, "What kind of flute do you play?" or "Did you ever hear Jethro Tull?" Many advocacy groups have worked hard to make traveling with musical instruments easier. There are still nightmare stories, but for the most part, going to the airport armed with information is the musician's best defense. If you're curious check out one of the most recent posts.
For my trip to Verbier, my hand luggage will include two flutes and lots of electronic equipment, with the usual batteries etc. I fly to Zurich, and retrieve my substantial sized suitcase, and catch a train (one change in Lucerne) to Martigny, where I'll be picked up and driven to Verbier. I've tried to pack light, but I didn't exactly succeed. I'm not a weight lifter, and if I'm struggling to make connections, I'm counting on a porter if I can find one, or the kindness of strangers. My travel time from JFK to Verbier will be from 10PM New York time to approximately 6 or 7pm Swiss time the next day. And I will have a rehearsal that evening. Here's to short security lines, and on time arrivals!
High Up with a Bass Player
I'm here at last, in the heart of the Alps! My trip was long, but who can have jetlag when surrounded by breathtaking views, bright sun, and blue skies? Verbier is filled with excitement as the festival opens its eighteenth season. There is music, opera, song, and dance. There are superstars and celebrities. But to me, one of the most important elements of this festival is the more than 150 young musicians from different countries, with different backgrounds who are here, playing together in the chamber orchestra, or the festival orchestra, going to master classes, meeting the great masters.You see them walking back from rehearsals, bright-eyed and energized. Like the bass player, Brendan Kane, they audition to come here, and they want to keep coming back. If they represent the future of classical music, the future is filled with promise.
Kenny Morrison, publicist
As publicist Kenny Morrison (who assists Dvora Lewis, the festival's press agent for Britain and the English speaking world) told me, Verbier is a magnet for journalists. There is such great demand from reporters that the festival provides a press center for them here at the festival, offering all kinds of assistance, from help with arranging interviews, to counsel about obtaining various rights for broadcast, to internet access. There are so many superstars of the music world to interview, but another huge draw here is the festival itself. The musical offerings are not only artistically sumptuous, but the festival is run as efficiently as a Swiss train and as graciously and grandly as an elegant party. Then there's the charming village of Verbier, which winds up a steep mountain, 1500 meters above sea level. The town's houses are of course built in typical Swiss chalet style, and it's easy to wander off into the 400 km of hiking trails. Intrepid trekkers can follow the tracks of the chamois (Swiss goats) through this magical mountain world. For thrill seekers, there's climbing, paragliding down to the valley, and 200 km of mountain bike routes. A mountain railway will take you up to the peak of Mont Fort where you can see from the Matterhorn to Mont Blanc. Then there's golf and a modern sports center where you'll find saunas, tennis, squash, and swimming. If I were a journalist I'd be thrilled to get an assignment in Verbier. Wait I minute – I am a journalist, and I did! But with rehearsals, concerts and vlogging, when will I have time to take the railway or to hike up a peak? I guess I'll just have to come back next summer!
Dress Rehearsal for Schoenberg
What happens when you put two Russians, one Ukranian, one Swede, and one American together to make music? Answer: A crazy mix of language. And what happens if most of them haven't met each other before? Answer: they bond very quickly, especially when they have to perform two very difficult pieces in less than 48 hours and they only have two rehearsals and a rushed dress rehearsal. But when they are as talented, professional, and convivial as my colleagues, the process was as intense as it was fun. To work with Dimitry Sitkovetsky, violinist; Frans Helmerson, cellist; Alexander Bedenko, clarinetist; and Elena Bashkirova, pianist was a delight. Most of us had just arrived in Verbier and although we each had learned our own parts (omit learned herelearned), creating a cohesive ensemble was, as it always is, the challenge. When the repertoire is as complex and gnarly as these two pieces –Arnold Schönberg's Kammerkonzert op. 9, and Hanns Eisler's Fourteen Ways of Describing the Rain – all bets were off as to what the result would be. Our hours together were incredibly productive and determined and playful. We were confident about the Eisler, but at the dress rehearsal, a portion of which is captured in this video, we all had our doubts that the Schönberg would come together in time. It was 10 a.m. The concert was at 11a.m. Could we pull this off? Answer: somehow we did. And it was good. Make that really good. The performance was spirited and energetic and very together, and the ovation we got was incredibly gratifying. Backstage hugs and kisses, exchanges of phone numbers and addresses were typed into handhelds, and off we each went, our separate ways, some staying on in Verbier for more concerts (like me) and others off to catch planes. Meeting new colleagues, making music in a spontaneous way in an intimate setting like the Eglise in Verbier–that's one of the attraction of a summer festival for the players, and, so it seems, for the audience too.
David Garrett, classical violinist and superstar
Walk through the streets of Verbier this summer and you might bump into top classical stars like Joshua Bell, Evgeny Kissin, Gidon Kremer, Anne-Sophie Mutter, Rene Pape, Bryn Terfel… and one who is tops in classical and other genres. David Garrett, popular crossover artist, studied violin with Itzhak Perlman (among others) and composition with Eric Ewazen. He's one of the few artists who's been able to intertwine Michael Jackson's "Smooth Criminal" with Mozart's Turkish March, and to hot-wire Beethoven, Vivaldi, Paganini and company with enormous success. Garrett is a champion of the belief that classical music and rock can share chords without compromising musical standards. As a result of his sold-out crossover shows he says he's begun to see more young people at his classical concerts. His traditional violin performances are superb, as was his Beethoven Concerto here a few days ago with the Verbier Festival Chamber Orchestra. His upcoming festival recital of Brahms, Mozart and Beethoven sonatas is completely sold out. He seems unfazed by his fame and more interested in having a large fan base in which to kindle enthusiasm for classical music. At age 30, he's a multifaceted superstar who's comfortable with all kinds of music, and with himself.
Martin Engstroem, founder/director
Martin T:son Engstroem, Artistic and Executive director of the Verbier Festival, was born in Stockholm and began his career as an organizer of a series of concerts for young Swedish musicians at the National Museum in Stockholm. As a teenager he also arranged concerts in his home town for Dietrich Fischer-Dieskau, Wolfgang Sawallisch, Antal Dorati and others. He then worked in management in London and Paris, where he helped develop new talents like Barbara Hendricks, Neil Schicoff and Han-Na Chang. After moving to Switzerland where he took many holidays in Verbier with his family, he started to put together what in 1994 became the Verbier Festival. A tall, charming and dedicated man, he is the magnet that attracted his many famous musician friends to join him in his desire to make a world class festival on top of a very steep mountain, in a village which was noted for its skiing but not for its cultural events. As he says, most European music festivals were set in cities, but here in Verbier he thought people might like to spend their vacations in a mountain setting where they could listen to music and masterclasses and enjoy the beauties of the countryside. In the festival's first summer, 17 concerts were presented, one a day, and this summer there will be 58 concerts in 17 days, including ballet and opera, as well as many free events. Not only have the number of attendees multiplied, but a survey showed that 75% of festival visitors return. Noted for its adventurous programming, the festival can thank Martin for his creative ideas and his ability to implement them. A beloved figure in Verbier, he can be seen strolling in and out of rehearsals, attending as many concerts as humanly possible, and hugging almost everyone he sees. Martin Engstroem sets the tone for this unique festival and has made it one of the most prestigious and popular summer music destinations in the world.
Post Concert Chat with Dimitry Sitkovetsky
Dimitry Sitkovetsky is a violinist, conductor, arranger, chamber musician and festival director. He's a soloist with the world's leading orchestras, and currently the music director of the Greensboro Symphony Orchestra in North Carolina as well as a frequent guest conductor of orchestras around the world. He has been artistic director of major festivals, and he's one of the most popular and in-demand chamber players. A brilliant and creative man, he was born in Russia and has lived in Europe and the United States, and now makes his home in London with his wife Susan, and is daughter Julia. He's quoted as saying, "The miraculous process of music-making unites people and elevates the individual. It makes the participants reach heights of enlightenment that most of them will never be able to reach individually." His tireless drive to get the music right is coupled with a wonderful sense of humor. Working with Dima was so much fun, an experience filled with light.
A Delicacy — Lamb from Verbier
The "eat local" movement is growing in America, but eating local has been the Swiss way for centuries. Here in Verbier, the Chalet Gourmand has been in the center of the village for over fifty years. A beautifully designed charcuterie, it offers beef, sausage, pork, lamb, dried meats, as well as prepared foods, wine, olive oils, and spices. The chef/owner of the shop is a charming man named Hervé Chenet, who is friendly, knowledgeable, and helpful. The store is so clean it sparkles, and its design is modern, sleek and artful. Chalet Gourmand is renowned in the Valais for the quality of its meat and for its excellent service. Here in Verbier, most restaurants, cafes, and bars serve traditional Swiss food like fondue, raclette and rösti. Vegetables are plentiful, salads are voluptuous, and everything tastes fresh. Local wines are delightful, like the fendant, the classic light, crisp, dry white wine of the Valais, or the dole, a light, easy red. And of course, there are also restaurants serving international cuisines. Chocolate, did I mention chocolate? It's everywhere and so is cheese. You won't go hungry in Verbier, but unless you take strenuous daily hikes, you will definitely have to go to the gym when you get home.
Rehearsing Romberg
Most flute quintets of the 17th and 18th centuries were written for flute and string quartet. But a few adventurous composers used flute, one violin, two violas and cello. The ensemble sound with two violas has a warmth and weight that add texture. The Romberg quintet is a charming work with an operatic flair. Beethoven, Hadyn and other composers of the time used folk songs in their compositions. In the Larghetto of this quintet, Romberg quotes, and writes variations, on the then popular English folk song now known as "God Save the Queen" and in America, "My Country 'tis of Thee." This was fodder for fun in rehearsal – Lawrence Power is English, so he and I kept standing up each time we got to the tune. My colleagues were again a tremendously talented international group — violinist Alissa Margulis is German born, of Russian parents; violist Nobuko Imai is Japanese; violist Lawrence Power is English; cellist Maximilian Hornung, is German. Our performance was on the evening of July 21, when the sun had just come out after days of rain. I think our playing was spirited and jolly well done.
Julian Rachlin, violinist/violist
Violinist/violist Julian Rachlin is a rising young star in the international music world. His ability to play both violin and viola with equal virtuosity is remarkable, as is his charm and his intelligence. Besides the many concerts he performs worldwide, he has also started a music festival in Dubrovnik called Julian Rachlin and Friends. The festival presents a series of chamber concerts that take place in the spectacular Rector's Palace and attract a host of internationally renowned musicians. Regular soloists include cellist Mischa Maisky, pianist Itamar Golan, and violinist Janine Jansen. Krzysztof Penderecki has premiered pieces at the festival as composer in residence, and actor/director John Malkovich has taken part as the narrator of a concept piece. Here in Verbier, in the middle of a performance of the Schumann piano trio op. 110, Julian's bow fell apart. As the audience gasped, he quickly ran backstage, found another, and finished the movement with total aplomb. Grace under pressure, and passion in his playing – Julian Rachlin is a formidable talent.
Trio Discusses Fountains of Fin
One of the great pleasures about playing chamber music in Verbier is working with some of the most gifted young artists. For Fountains of Fin, the trio by Behzad Ranjbaran, I worked with two of the most promising rising stars: violinist Ye-Eun Choi, born in Korea, made her debut with the Seoul Philhamonic at the age of 10. Since then she's played with major orchestras such as the Montreal Symphony and the NHK Symphony Orchestra. A student of Anne-Sophie Mutter, she is a most expressive and virtuosic player. Maximilian Hornung is a cellist from Germany who, at 25, has already made his mark on a number of presitigous festivals, such as Lucerne, Ludwigsburg, and Ravinia, performing with such luminaries as Lynn Harrell, Mischa Maisky, Lisa Batiashvili, and Christian Tetzlaff. A former member of the Verbier Festival Academy, he's making his debut as a soloist in Verbier this summer. Rehearsing with these two bright young musicians was illuminating and exciting, and their ideas and insights about Fountains of Fin were stimulating. We also really had a great time together, and I think the world of these two amazingly talented young colleagues.
Rehearsing with Behzad
Imagine being able to talk to Mozart, or Beethoven, or Debussy. One of the joys of playing new music is the opportunity to work with a living composer. To hear Behzad Ranjbaran describe the enchantment of the ancient garden in Persia that inspired The Fountains of Fin, his trio for flute, violin, and cello, was invaluable. He helped the three of us understand the Persian modes and folk rhythms in the piece and what kind of timbre and nuance he'd like to hear from the flute. Our working session together with him was inspiring and gave us the kind of direction that informed the way Ye-Eun Choi, violinist; Maximilian Hornung, cellist; and I performed the piece. Behzad introduced The Fountains of Fin to the audience on July 24 and I think our performance was inspired and deeply emotional. The response was truly gratifying to all three of us and, of course, to the composer.
Lulu, from La Chaumière, Discusses the "Fromages et Vins" and Other Specialités du Valais
Yan Bakowski, director, tourist bureau
It's 8:30 a.m. and the tourist bureau at the Place Central is already in high gear. Besides all the brochures describing places to go in the Valais, things to see, sports to try, vineyards to visit, there is a friendly staff at the ready, prepared to answer all kinds of questions. The Verbier Festival has a table there, too, manned by volunteers who have many copies of "Le Festival au quotidien," a daily brochure filled with excellent articles about artists, events, program notes, and even a daily weather report. The director of the Bureau, Yan Bakowski is often walking around, meeting with tourists, giving them advice and suggestions. He hails from Brooklyn, New York, but speaks French and loves living here. If there is a town green in Verbier, it's the Place Central, and if there's a place to find out everything you need to know to have a spectacular day, whether it's sunny or stormy, the Bureau de Tourisme is your first destination. Your second destination may be a renowned cheese and wine store, La Chaumière — scroll down to meet Lulu, the grandaughter of the man who first opened the store in 1960.
Hotel Vanessa's Maître d'Hôtel
"O bed! O bed! delicious bed! That heaven upon earth to the weary head," opined the 19th century writer Thomas Hood. And for the 21st century traveling musician, a comfortable bed at the end of a long journey is truly delicious. Those of us who are constantly on the road are grateful when we get a room that's simply nice and clean. But when the accommodation is extraordinary, we want to hug the hotelier. Here in Verbier, there are wonderful chalets, inns, and hotels everywhere, and one of the longtime favorites of artists who come to the festival is the Vanessa. Renovated in 2009, it has all sorts of attractive features, like sauna and Jacuzzi and wifi. All the rooms are spacious and, given that the hotel is in the center of town, remarkably quiet. But what makes artists feel at home here is the staff's down-to-earth attitude and its willingness to help out with everything from a late night bowl of soup after the restaurant has closed, to a ride to a rehearsal at a moment's notice. There's a piano in the lobby, and you might hear one of the stars of the festival practicing his/her concerto for that evening. Sometimes string ensembles from the Verbier Festival Academy rehearse in the lobby, and guests are used to hearing the sounds of flutes and fiddles coming from the hotel rooms. No one complains. Everyone is happy here. Maître d'hôtel Andrea Panizzolo and the entire staff at the Hotel Vanessa deserve hugs!
An Enthusiastic Listener
"Good things happen when you meet strangers." Thus spake Yo-Yo Ma. And at the Verbier Festival, this has certainly been true for me. At an exciting recital by two great Welsh artists –Bryn Terfel, bass baritone and pianist Llŷr Williams, I found myself seated next to an engaging young woman who had just traveled to Verbier from New York City. On vacation before launching into studies for a masters degree in journalism back in the States, she was enthralled by the concert, and had many astute comments about the music. I was surprised to find out that she hadn't been to many chamber music concerts. Here to visit a friend, take in the surroundings and attend the festival, Amital Isaac is an enthusiastic audience member, and, given her great enjoyment of this fabulous performance, I bet I'll bump into her again at another concert. I hope so!
Frans Helmerson's Master Class
Why the Cellist Loves Verbier
The distinguised Swedish cellist Frans Helmerson plays with many well-known orchestras and is critically acclaimed for his performances and recordings. His love of chamber music has made him a popular guest at major international festivals such as Prades, Ravinia, and here in Verbier. For many years he was the director of the Umea-Korsholm International Chamber Music Festival. He holds teaching positions in Cologne and Madrid, and gives master classes wherever he goes. To watch and hear him work with young cellists is to see musical teaching at its most nurturing and inspiring. I taped the video here on the last day of his series of classes at the 2011 Verbier festival. At the end of it, his eight devoted students gathered around him for photos and hugs. Their warmth, affection and gratitude lit up the room.
A Young Violinist Loves Verbier: Will Happeniemie—Happy to be in Verbier
Sponsorship has helped bring gifted young artists like violinist Will Happeniemie and (in the video below) clarinetist Alexander Bedenko to Verbier.
And if you, or a young artist you know, aspire to be in the Verbier Festival Academy, here (below) is Robert Smith, Artistic Administrator, the man for whom you may audition.
Supporting the Festival
Corporate sponsorship is vital to the financial health of a music festival. As Andrea Schneider, director of events and sponsoring, says, Bank Julius Baer's affiliation with the Verbier Festival is founded on shared values and shared goals—a robust future for the young talents of today, and for the audiences of tomorrow. Bank Julius Baer has a large presence at the Verbier Festival. Not only are they featured in much of the printed materials about the festival, but they have a hospitality tent at the Salle des Combins (the large performance venue) during the festival. Many of the executives and staff members from Bank Julius Baer are enthusiastic concert attendees. The connection between the Verbier Festival and Bank Julius Baer is synergetic, and to be applauded.
Renaud and Gautier Capuçon
The brothers Capuçon began playing their instruments before kindergarten. The cellist Gautier is 30 and the violinist Renaud is 25. Each is a consummate artist and wildly popular, particularly in Europe. They have both been to the Verbier Festival many times, and they keep coming back. Here, at a sold-out chamber music concert in the Salles des Combins on July 22, Gautier played Robert Schumann's Fantasiestücke op. 73, and Renaud played Beethoven's G major sonata, each with one of the greatest pianists of our time, their friend, the great Martha Argerich. It was music making at its most sensitive, fresh, and exciting. I've heard the brothers refer to themselves as "a couple of French guys." They're as down-to-earth as that sounds, and as delightful and formidably talented as can be.