PEOPLE MOVES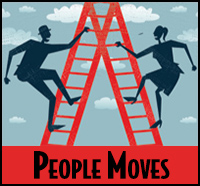 September 2021
The Greater Philadelphia Cultural Alliance
has named
Patricia Wilson Aden
as its new president and CEO as of January 2022. She will succeed Priscilla M. Luce, who has been in the role since the previous leader, Maud Lyon, retired on July 31, 2020. Aden, current president and CEO of the Blues Foundation in Memphis, TN, is no stranger to the Philadelphia arts scene, having been president and CEO of the city's African American Museum for eight years. She also held positions as president of the Preservation Alliance for Greater Philadelphia and director of the National Trust for Historic Preservation's mid-Atlantic regional office.
The
Portland (OR) Opera
has named an interim music director in composer
Damien Geter
whose works fuse various styles and bear titles such as
An African American Requiem
,
The Justice Symphony
, and
Neo-Soul
. Geter has been Portland Opera's co-artistic advisor since July 2020 and artistic advisor for the social justice focused Resonance Ensemble; he is also a singer and actor and holds a master's degree in conducting from Indiana State University.
As of Sept. 1, 2022, dramaturg, curator, and theater manager
Matthias Pees
will become the new director of
Berliner Festspiele
. He succeeds Thomas Oberender, in the position since 2012 and leaving at his own request. The 51-year-old Pees, a native of Georgsmarienhütte, brings an impressive résumé to his new assignment. He has served as both artistic and managing director of the international production house Künstlerhaus Mousonturm in Frankfurt/Main (2013–22), leading dramaturg at Wiener Festwochen (2010–13), founder and co-managing director of the international production agency prod.art.br. in São Paulo (2004–10), program dramaturg at Ruhrfestspiele Recklinghausen (2003–04), theater dramaturg at schauspielhannover (2000–03) and at Volksbühne am Rosa-Luxemburg-Platz (1995–2000). He has also worked as an arts journalist and theater critic.
Universal Music Publishing Group
(UMPG) has named
Natasha Baldwin
to the newly created position of Executive VP, Classics and Screen. The London-based Baldwin will be responsible for leading the company's global classical and screen composer businesses, and will be a direct report to Jody Gerson, UMPG chairman and CEO, and Marc Cimino, UMPG COO. She is following Jim Kendrick, who is retiring after ten years leading UMPG Classical.
Toledo Opera
has named not one but two artistic directors to succeed James Meena, who left as general director and principal conductor last year to take the same post with Opera Carolina, in Charlotte, NC. Toledo's
James Norman
, employed by the company since 2012, has been promoted from director of artistic administration and production to co-artistic director with
Kevin Bylsma
, a voice coach and longtime lecturer in opera at Bowling Green State University. Bylsma has been with Toledo Opera on and off since 1997, originally as a rehearsal pianist and chorus preparer. Both will be working with Executive Director Suzanne Rorick and all three will be involved with season planning. Music preparation will fall mostly to Bylsma, production to Norman, and together the duo will make casting, design, and direction decisions.
Debra Lew Harder
, a classical music host and producer for Temple University's WRTI-FM in Philadelphia, as well as a concert pianist and a medical doctor, is to be the new host of the
Metropolitan Opera radio broadcasts
, starting when the season opens on September 27. She succeeds Mary Jo Heath, who retired in May after five years in the job. The Met cites its broadcasts as the "longest running classical music program in American radio," dating back to 1931. Lew Harder is the fifth host, preceded by Heath, Margaret Juntwait, Peter Allen, and Milton Cross.
Sean Michael Gross
is to be the new director of
Warner Classics U.K.
, reporting to Alain Landeron, president of Warner Classics and Erato, based in Paris. Gross succeeds Patrick Lemanski, who left last year and is now consulting for Naïve records. Gross's most recent position was director of global strategy and innovation at London-based Askonas Holt artist management, a position for which he relocated from New York in 2018. He stepped down from AH last January as the pandemic swept through the business and crippled artists and their managers' income.
The Public Theater of San Antonio has selected Claudia de Vasco as executive artistic director, following an executive search process led by Arts Consulting Group (ACG). She began her tenure on September 13, 2021. Most recently, Ms. de Vasco served as the head of cultural integration for BrickHouse Talent Agency in Los Angeles. While there, she identified hurdles for diversity within Hollywood and devised practical solutions to improve diversity, equity, and inclusion in the industry and agency. Ms. de Vasco also designed and launched a ground-breaking agency division by ideating with other entertainment industry change-makers.
Chamber Music Society of Palm Beach
has named
Ahmad Mayes
its new executive director. Mayes previously served as director of education and community engagement with the Cincinnati Symphony Orchestra. While there, he oversaw a wide range of field leading programs including Concerts for Young People, school and community partnerships, musician training, and nation-wide DE&I collaborations as director of education and community engagement.
Alvin Ailey American Dance Theater
has selected
Francesca Harper
as artistic director of Ailey II, following an executive search process led by Arts Consulting Group (ACG). She began her tenure on September 7, 2021. Ms. Harper has choreographed works for both of the Ailey professional companies, Dance Theater of Harlem, Hubbard Street II, and La Bale Da Cidade, among others. She has also choreographed works commissioned by The Metropolitan Museum of Art, New Jersey Symphony Orchestra, and her own company, The Francesca Harper Project. Ms. Harper has been a principal dancer with Frankfurt Ballet and a featured performer in Broadway shows. Sought after for her expertise and experience as a consultant for major film and stage productions, Ms. Harper is currently engaged as executive producer with Sony Pictures on a series in development.
Arts Consulting Group
(ACG) announced that
Menon Dwarka
has joined the firm as senior vice president to lead and expand ACG's services to Canadian organizations. Based in Toronto and New York, his expertise is focused on supporting opportunities for more diverse management teams, boards of directors, programming, and accessible cultural facilities that better serve the changing demographics of North America.
Breckenridge Creative Arts
(BCA), a multidisciplinary nonprofit organization responsible for the successful management of a series of programs, properties, and partnerships that collectively animate and populate a cultural corridor in the heart of downtown Breckenridge, announces today that
Tamara Nuzzaci Park
has been named president and chief executive officer. Park was appointed acting president in May 2021 and served as the executive director of Breckenridge Music (Breck Music) for the past six years.

RENT A PHOTO
Search Musical America's archive of photos from 1900-1992.