100 YEARS AGO...IN MUSICAL AMERICA (93)
RICHARD STRAUSS A "SMUGGLER"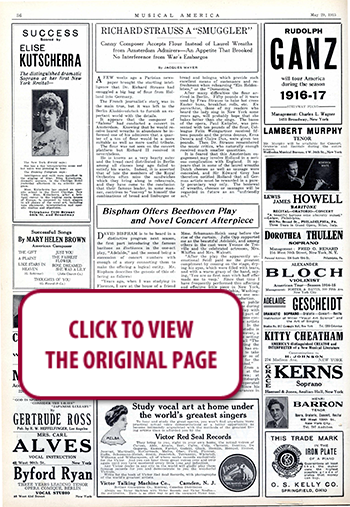 ---
Canny Composer Accepts Flour Instead of Laurel Wreaths from Amsterdam Admirers—An Appetite That Brooked No Interference from War's Embargos
---
A FEW
weeks ago a Parisian newspaper brought the startling intelligence that Dr. Richard Strauss had smuggled a big bag of flour from Holland into Germany. The French journalist's story was in the main true, but it was left to the Berlin
Kladderadatsch
to furnish an expectant world with the details.
It appears that the composer of "Salome" had conducted a concert in Amsterdam. Knowing that he would receive laurel wreaths in abundance he informed one of his admirers that a quarter of a ton of flour would be a more suitable as well as more useful tribute.
The flour was not seen on the concert platform but Richard II received it nevertheless.
He is known as a very hearty eater and the bread card distributed in Berlin among all classes long ago failed to satisfy his wants. Indeed, it is asserted that of late the members of the Royal Orchestra often miss the sandwiches which they bring along to rehearsals, and they have come to the conclusion that their famous leader, in some manner, contrives to "convey" to himself the combinations of bread and limburger or bread and bologna which provide such excellent means of sustenance and refreshment when rehearsing "Ein Heldenleben," or the "Domestica."
After many difficulties the flour arrived in Berlin. Fifty pounds of it were used by Frau Strauss to bake hot cross Easter buns, breakfast rolls, etc. En parenthèse, those of my readers who heard the lady sing in New York some years ago, will probably hope that she bakes better than she sings. The basso of the opera, Paul Knüpfer, was presented with ten pounds of the flour, Colleague Felix Weingartner received fifteen pounds and the prima donnas, Erna Denera and Claire Dux, were given ten pounds. Then Dr. Strauss remembered the music critics, who naturally enough received much smaller quantities.
It is feared that this Amsterdam engagement may involve Holland in a serious complication with England. It appears that in some of the laurel wreaths Dutch cheeses as well as sausage were concealed, and Sir Edward Grey has therefore notified Holland that all German artists must be rewarded in a purely pecuniary way only. The bestowal of wreaths, cheeses or sausages will be regarded in future as an "unfriendly act."

RENT A PHOTO
Search Musical America's archive of photos from 1900-1992.