100 YEARS AGO...IN MUSICAL AMERICA (43)
HOW A TYPICAL AMERICAN GIRL FITS INTO ENVIRONMENT OF GRAND OPERA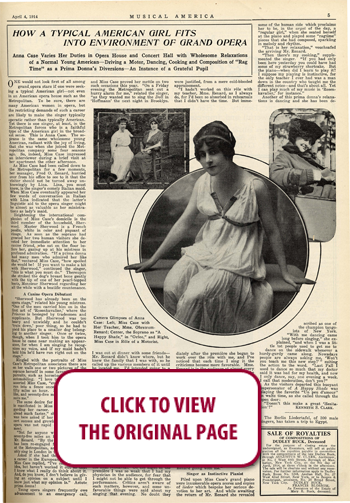 ---
Anna Case Varies Her Duties in Opera House and Concert Hall with Wholesome Relaxations of a Normal Young American—Driving a Motor, Dancing, Cooking and Composition of "Rag Time" as a Prima Donna's Diversions—An Instance of a Grateful Pupil
---
---
O
NE would not look first of all among grand opera stars if one were seeking a typical American girl—not even in an American opera house such as the Metropolitan. To be sure, there are many American women in opera, but the restricting demands of such a career are likely to make the singer typically operatic rather than typically American. Yet there is one singer, at least, in the Metropolitan forces who is a faithful type of the American girl in the broadest sense. This is Anna Case. The soprano is the same wholesome young American, radiant with the joy of living, that she was when she joined the Metropolitan company some four seasons ago. So, indeed, Miss Case impressed an interviewer during a brief visit at her apartment the other afternoon.
As Miss Case had been called down to the Metropolitan for a few moments, her manager, Fred O. Renard, hurried over from his office to see to it that the visitor should not be turned away unknowingly by Lina. Lina, you must know, is the singer's comely Italian maid. When Miss Case eventually appeared her few words of conversation in Italian with Lina indicated that the latter's linguistic aid to the opera singer might be almost as valuable as her ministrations as lady's maid.
Heightening the international complexion of Miss Case's domicile is the third member of the household, Sherwood. Master Sherwood is a French poodle, white in color and piquant of visage. As soon as the soprano had greeted her two human visitors she devoted her immediate attention to her canine friend, who sat on the floor before her, gazing up at his mistress in profound admiration. "If a prima donna had many men who admired her like that," ventured Miss Case," how spoiled she would be! If you want to make a hit with Sherwood," continued the singer, "this is what you must do." Thereupon she stroked the dog's breast bone gently with the tip of one of her pearl-topped boots, Monsieur Sherwood regarding her all the while with a beatific countenance.
A Canine Opera Débutant
"Sherwood has already been on the opera stage," related his young mistress. "One of the men carried him on in the first act of 'Rosenkavalier,' where the Princess is besieged by tradesmen and supplicants. But Sherwood was too heavy and unwieldy and he couldn't 'train down,' poor thing, so he had to yield his place to a smaller dog belonging to another singer. Once or twice, though, when I took him to the opera house he came near making an appearance, for when I am singing he recognizes my voice and if my maid hadn't held him he'd have run right out on the stage."
Mingled with the portraits of Miss Case's Metropolitan associates there are on her walls one or two pictures of the soprano herself in some favorite outdoor pursuits, such as horseback riding and automobiling. "I love to drive a car," asserted Miss Case, "even though I did run into a fence once at the rate of fifty miles an hour. Speed is what I like, and seventy-five miles an hour just suits me."
The same desire for rapid locomotion is manifested in Miss Case's ideas regarding her career. "I want to get ahead much faster," she asserted. She was here asked if her remarkable concert success and growing recognition in opera was not rapid enough advancement.
"Not for anyone who wants to go seventy-five miles an hour," interposed Mr. Renard. "By the way, Miss Case has been re-engaged for another year at the Metropolitan, and she will probably sing in London in the Spring."
Asked if she had thought of trying a career in the European opera houses, Miss Case replied, "I've considered the idea, but haven't worked it out so that I know what I really do think about it. And, do you know, I don't believe in giving an opinion on a subject until I know just what my opinion is." Astute prima donna!
Young opera singers frequently owe advancement to an emergency call, and Miss Case proved her mettle on two such occasions this year. "On a Friday evening the Metropolitan sent out a hurry alarm for me," related the singer, " as they wanted me to sing the Doll in 'Hoffmann' the next night in Brooklyn. 1 was out at dinner with some friends—Mr. Renard didn't know where, but he knew the family that I was with, so he called up the various members of it until he located me. I'd intended going to a little dance, but I gave this up, and at eleven one of the men from the opera house came up and ran over the music with me. I had never sung the Doll, but I went on the next night without a rehearsal."
"And she got away with it all right," interjected Mr. Renard.
A Novel Prompt Book
"I had a similar experience in Philadelphia when I sang Xenia in 'Boris,''' added the young artist. "I'd never sung Xenia's music, as I'd played Teodor. I knew the music of the song from hearing Miss Sparkes sing it, but I didn't know the words, so I had them written out and placed them in front of me in the picture frame on the table—so that task was accomplished all right."
Actually heroic was Miss Case's debut in the exacting role of Sophie in "Der Rosenkavalier." "I'd been ill a short time before the première," she related, "and simply dragged myself out of bed for the final rehearsal. On the night of the première I was so weak that I had my physician in the audience, for fear that I might not be able to get through the performance. Critics aren't aware of such matters, however, and some unfavorable things were said about my singing that evening. No doubt they were justified, from a mere cold-blooded appraisement.
"I hadn't worked on this rôle with my teacher, Mme. Renard, as I always do, for I'd been so absorbed in rehearsals that I didn't have the time. But immediately after the première she began to work over the rôle with me, and I've noticed that each time I sing it the criticisms become more favorable. Mme. Renard is in the audience at almost every performance. The next morning she calls me up and says: 'You'd better come over and see me—why did you sing such and such a line that way?' Then we work over the line until it is more perfect. She has a wonderful memory, for every little point in my performance, and a genius for treating each phrase so that the greatest amount of tonal beauty can be brought out."
As Mr. Renard had departed for a moment to fetch the picture of Miss Case's Ombra Felice impersonation that adorns this page, the soprano took occasion to express frankly her gratefulness to Mme. Ohrstrom-Renard. In these days of ungrateful pupils it was refreshingly characteristic of Miss Case to hear her declare: "Before I came to Mme. Renard I was nothing, and I owe everything to her." Some time before the writer had heard her reply to an American singer who was urging her to go to Europe for more experience. "Well, if I ever did I would insist upon Mme. Renard going with, me."
Singer as Instinctive Pianist
Piled upon Miss Case's grand piano were innumerable opera scores and copies of lieder which bespoke her serious devotion to her art. And while awaiting the return of Mr. Renard she revealed some of the human side which proclaims her to be, in the argot of the day, a " regular girl," when she seated herself at the piano and played some "ragtime" pieces that she had composed, sparkling in melody and rhythm.
"That is her relaxation," vouchsafed the arriving Mr. Renard.
"Then there's my cooking," supplemented the singer. "If you had only been here yesterday you could have had some of my strawberry shortcake. But the piano—when did I learn to play it? I suppose my playing is instinctive, for the only teacher I ever had was a man down in the country who taught me the different notes—and that's about all. Yet I can play much of my music in 'Rosenkavalier,' for instance."
Another of this prima donna's relaxations is dancing and she has been described as one of the champion tangoists of New York. "With me dancing came long before singing," she explained, "and when I was a little tot people used to get me to dance on the sidewalk whenever a hurdy-gurdy came along. Nowadays people are always asking me, 'Won't you teach me this new step?'" suiting the action to the word. "Last Fall I used to dance so much that my doctor said it was bad for my health, and now I only dance, say, one •evening a week. I call that moderation, don't you?"
As the visitors departed this buoyant impersonator of A Happy Shade was playing the favorite "Un peu d'amour" in waltz time, as she called through the open door: "Doesn't this make a great 'Hesitation'!"

RENT A PHOTO
Search Musical America's archive of photos from 1900-1992.