100 YEARS AGO IN MUSICAL AMERICA (309)
Strauss and Weingartner Face Operatic Battle in Vienna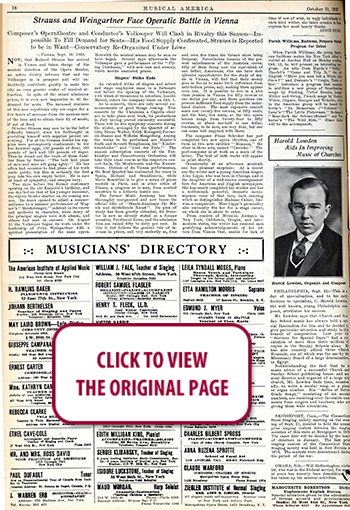 Composer's Operntheatre and Conductor's Volksoper Will Clash in Rivalry this Season—Impossible To Fill Demand for Seats—His Food Supply Confiscated, Strauss is Reported to be in Want—Conservatory Re-Organized Under Löwe
---
NOW
, that Richard Strauss has arrived in Vienna and taken charge of the musical direction of the Opera theater, an active rivalry between that and the Volksoper is in prospect and will undoubtedly contribute greatly to make this city an even greater center of musical attraction. In spite of the raised admission prices, it is even now impossible to fill the demand for seats. The harassed denizens of this now republican city are eager for a few hours of surcease from the anxious care of the time and to obtain their fill of music, if not of food.
Director Strauss may now be in the latter difficulty himself, since his forethought in providing himself with supplies proved unavailing. For at the German border his supplies were peremptorily confiscated: to wit, five hundred eggs, 150 pounds of flour, 100 pounds of lard and 120 pounds of sugar. Thus he found out the truth of those familiar lines by Burns: "The best laid plans of men and mice aft gang agley." He has often had occasion to find plans of his work made public, but this is certainly the first peep into his own empty larder. He is sure at least of sympathy, and escapes envy.
Two days before the former customary opening on the old Emperor's birthday, and one clay before that of his younger successor, the Opera theater started on its coming season. Its doors opened to admit a summer-audience to a summer performance of Wagner's "Meistersinger," indolent in its course mediocre in character, since many of the principal singers were still absent, and others had sent in excuses. On August 31 the Volksoper began its work under the leader ship of Felix Weingartner with a spirited presentation of the same opera.
Herewith the musical season may be said to have begun. Several days afterwards the Volksoper gave a performance of the "Flying Dutchman," with new cast and scenery, which merits unstinted praise.
Singers' Strike Ends
An extended strike of singers and actors and stage employees came to a fortunate end before the opening of the Volksoper, with which it threatened to interfere. Lucille Marcel enters the company there on Oct. 1.
As to concerts, there are only several announcements of good things coming. Two concerts by the Ukrainian a Capella choir are to take p1ace next week, its productions in July having proved eminently successful. There will be five symphony concerts during the winter, arranged by the Quartet of artists, Bruno Walter, Erich Korngold, Ferruccio Busoni and Wilhelm Mengelberg. Among the works to be performed are Mahler's Sixth and Seventh Symphonies, his "Kindertotenlieder" and "Lied der Erde." The annual subscription concerts of the Tonkünstler and Concertverein Orchestras will take their usual course at the respective concert halls, the Musikverein and the Konzerthaus. Outside of its Vienna performances, the Rosé Quartet has contracted for tours in Spain, Holland and Scandinavia, while Moriz Rosenthal is to give a series of piano recitals in Paris, and in other cities of France, a progress as is seen, from neutral countries to a hitherto hostile one.
The former Music Academy has been thoroughly reorganized and now bears the official title of "Staats-Akademie für Musik und darstellende Kunst." Its plan of and study has been greatly extended, its Director is now as already stated on a former occasion, Ferdinand Löwe, and the admission fees are raised fifty to sixty per cent. In this it but follows the general rule of increase in prices, and very modestly so, four and even five times the former rates being frequent. Nevertheless because of the present valuelessness of the Austrian crown, fifty of them being now the equivalent of one dollar, Americans, who can have such splendid opportunities for the study of music in Vienna, will find that their money goes so far as to make little difference from ante-bellum prices, nay, making them appear even less. It is possible to live in a first class pension in Vienna for fifty crowns or one dollar per day, and these pensions can procure sufficient food supply from the underhand dealers. The most expensive concert seats cost twenty-five crowns, or fifty cents, and the best, box seats, at the two opera houses range from twenty-four to fifty crowns, or about one-half to one dollar. Garments, to be sure, are very dear, but one can come well supplied with these.
The composer Franz Schreker has just completed two new opera librettos, one of them in two acts entitled "Memnon," the other in three acts, named "Irrelohe." The poet-composer is at work on a score of the latter. The text of both works will appear in print shortly.
Occasionally at an afternoon musicale one has pleasant surprises: At a recent one the writer met a young American singer, Alice Lippe, who was born in Chicago and is the daughter of a well-known correspondent here for American and English newspapers. She has nearly completed her studies and has a well-trained, powerful, dramatic mezzo-soprano voice of that rare, dark coloring which so distinguishes Madame Cahier, likewise a compatriot. Miss Lippe's personality also eminently fits her for a stage career, on which she is about to enter.
From readers of MUSICAL AMERICA in New York, California, Oregon, and intermediate states, the writer has received such gratifying acknowledgements of her letters from Vienna that, unable for lack of time if not of wish, to reply individually to each kind writer, she takes occasion to express her most hearty thanks. —ADDIE FUNK.

RENT A PHOTO
Search Musical America's archive of photos from 1900-1992.