---
Musical America Names Salzburg Fest as Festival of the Year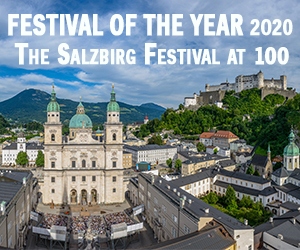 Celebrating its centennial next summer, the Salzburg Festival has been chosen Festival of the Year for the 2020 Musical America International Directory of the Performing Arts. Only once before has an institution, rather than an artist, been chosen for MA's "Of the Year" honor, and that was in 2000, when Carnegie Hall was deemed "Concert Hall of the Century."
Also to be recognized in December at the annual awards ceremony in Carnegie Hall are the Danish String Quartet, Ensemble of the Year; Sharon Isbin, Instrumentalist of the Year; Peter Mattei, Vocalist of the Year; and Joan Tower, Composer of the Year.
Each is the subject of a feature story in the annual Directory of the Performing Arts, set for December print publication, with much of it already posted on MusicalAmerica.com
Widely regarded as the preeminent arts festival in the world, the Salzburg Festival was launched in 1920 as "a project for freedom," in the words of Festival President Helga Rabl-Stadler. Intended to bring hope and cultural stability to post WWI Europe, Festival Founders, she says in the Directory tribute article, sought to combat "crises—the crisis of meaning and loss of values, the crisis of identity of the individual human being as well as entire nations."

The festival today comprises some 200 opera, concert, and drama performances, jam-packed into six weeks and 16 venues. Boasting performances by some of the top names in the field—Riccardo Muti, Anne-Sophie Mutter, Simon Rattle, Anna Netrebko, to name a few—it attracts thousands of guests every year, from 80 countries, half of them from outside of Europe.
Ensemble of the Year, the Danish String Quartet--Frederik Øland (violin); Rune Tonsgaard Sørensen (violin); Asbjørn Nørgaard (viola); Fredrik Schøyen Sjölin (cello)—made its debut in 2002 and by 2006 had been named Artist-in-Residence by Danish Radio. Its first recordings, of the Nielsen string quartets, garnered high praise from critics. Having demonstrated its special affinity for Scandinavian composers early on (and winning the Carl Nielsen Prize in 2011), the group has since broadened its repertoire and reputation, and this season embarks upon its greatest challenge to date, the complete Beethoven cycle, honoring the composer's 250th year. DSQ also plans to crisscross the U.S. as part of three different tours.
Sharon Isbin is the first guitarist to be named Musical America's Instrumentalist of the Year. Celebrating her virtuosity as a musician, the designation also recognizes her wide range of commissions for the instrument, adding to the repertoire works by John Corigliano, Lukas Foss, Tan Dun, Joan Tower, Aaron Jay Kernis, Ned Rorem, the late Christopher Rouse, among others. She is also the first guitarist to record as a soloist with the New York Philharmonic, and her breadth of stylistic range is reflected in some of her performing and recording collaborators—Antonio Carlos Jobim, jazz guitarist Larry Coryell, folk singer Joan Baez, country fiddler Mark O'Connor, and rock guitarists Steve Vai and Steve Morse. She has also sought to bring her instrument to a wide public, writes Allan Kozinn in his tribute article, "updating the ways classical guitarists present themselves and their instrument."
Vocalist of the Year Swedish baritone Peter Mattei made his Metropolitan Opera debut in 2002 singing the Count in Mozart's The Marriage of Figaro. A consistently solid and assured presence on stage, he is as adept at bringing out the comic side of that ineffectual lord of the manor as he is the arrogant side of Don Giovanni, the role that first brought him to international prominence. Other notable roles have included Amfortas in Parsifal, and his sexy if slightly dangerous characterization of Figaro in Rossini's The Barber of Seville. Opening two days after Christmas, Berg's Wozzeck, his tenth Met Opera role, will showcase his ability to find beauty while delving into the dark side. "The more you work with this music, the more beauty you find in it," he tells Heidi Waleson in her tribute piece.
Long before women composers grabbed the public by the lapels, Composer of the Year Joan Tower was busy working in the trenches, a pioneer in a oft-neglected field. In 1990, she became the first woman to receive the prestigious Grawemeyer Award, for Silver Ladders, and earlier this year the League of American Orchestras honored her with its Gold Baton award. Also a teacher and a pianist, she founded the Da Capo Chamber Players in 1969, among the very first contemporary music ensembles to gain any traction. She has been composer-in-residence with major ensembles, boasting a vast and varied list of commissions. One of them, Made in America, was performed in the early 2000s by more than 65 orchestras in all 50 states. Her six Fanfares for the Uncommon Woman have been performed worldwide by over 500 ensembles.
---

WHO'S BLOGGING

Interviews with musicians who have successfully created their own opportunities.
PROFESSIONAL
GROWTH
FIND:
»MORE

NETWORK
FIND:
Updates to artist manager rosters
»MORE
RENT A PHOTO
Search Musical America's archive of photos from 1900-1992.