---
Westminster Choir College Faculty Cry Foul Play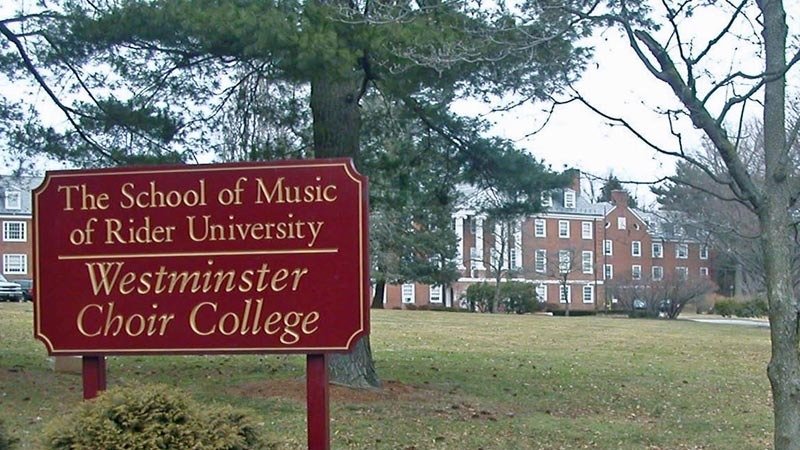 The struggle to maintain Westminster Choir College's Princeton, NJ, location—not to mention its student body, faculty, reputation, and highly prestigious choruses—continues unabated. Rider University, which merged with Westminster in 1992, but does not in fact actually own the college, according to the latter's supporters, announced that it would be incorporating Westminster into Rider's Lawrenceville camus starting in fall of this year, with full absorption achieved by fall 2020. The announcement came after the University failed to sell the school's prestigious Princeton location to a Chinese firm.
Rider appears to be in a big hurry to accomplish its mission, despite—or perhaps because of—multiple court filings against the move. A statement from the Westminster faculty, issued today, reports the following:
"There is no evidence of an actual, achievable plan for incorporating Westminster into Rider's Lawrenceville campus, nor is it possible to meet our peculiar building needs in eleven months. Westminster has 160 pianos, 21 organs, the largest collection of handbells on the planet, three harpsichords, four keyboard labs, five recital spaces. No spaces on the Rider campus are appropriate for professional-level, classical singing.
"No appropriate spaces exist for rehearsals by our world-famous ensembles, including the Symphonic Choir….The Cullen Center, opened just four years ago and housing the most modern choral rehearsal facility in the United States, was built with $15 million of taxpayer and donated funds. No such facility exists at Rider.
"Further, there is no place for the collections of Talbott Library, one of the finest music libraries in all of academia. There are no plans to replace the sixty practice rooms Westminster students require to achieve success in our programs."
Faculty further claim that Rider's attempted sale of Westminster over the last three years has decimated enrollment by as much as 60 percent and drained the college's resources. "The [Rider University] leadership's claim that Westminster is a substantial drain on University resources was not true prior to the 2017–2019 attempt to sell it, a fact publicly acknowledged by Rider's president in national and local media."
Faculty cite a $2 million-plus surplus at Westminster in 2016, with surpluses for the previous two years, plus "a full complement of students."
"If allowed to proceed, moving Westminster and selling the property will cause the death of the institution and irreparable harm to the Princeton community."
A "respectful" protest is planned for 12:45 p.m. Tuesday September 24 at Rider's campus in Lawrenceville.

WHO'S BLOGGING


RENT A PHOTO
Search Musical America's archive of photos from 1900-1992.