---
Four Digital Campaigns That Worked (#3):
The Jerome L. Greene Performance Space—
'Battle of the Boroughs'

The Greene Space, as it is known, is conducting a battle of the bands from across New York City. The presenter wants to drive participation and audience dialogue for the competition—as well as sell tickets for the events. In addition, the competition's goal is to discover new talent.

Methods: Mobile, online and in-person voting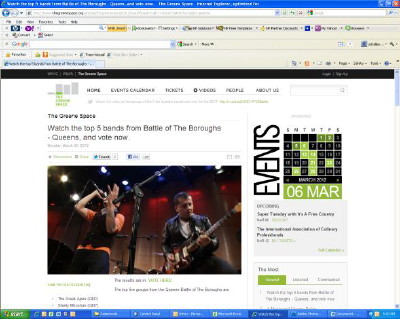 Vote early and often—well, not too often.

Effort: Eight to 12 bands from each New York City borough are chosen from 400 DVDs submitted by unmanaged bands; each Borough has its own battle and the winner from each competes in the "Ultimate Battle." An in-house audience chooses an "audience favorite." Those votes are combined with the online votes from the video webcast audiences to determine the "Ultimate Winner." Citywide bragging rights are earned.

When: December, 2011 to June, 2012

What Works: Audience members can only vote twice for their chosen band: once on their computer through the program SurveyMonkey and once on their mobile phones by texting to the mobile phone code on The Greene Space website.

Cost: Undisclosed/offset by corporate sponsorship

Results: Each event is sold out at least a week in advance and combined social media platforms have experienced a 187 percent uptick in traffic. "Our YouTube views over the past year are upwards of 60,000," said Executive Producer Indira Etwaroo.

It has also given The Greene Space an opportunity to partner with other cultural organizations such as the Queens Council on the Arts and the Brooklyn Museum. The twelve current arts organization in partnership on this project share their snail mail and e-mail lists and help with old-fashioned boots-on-the-ground postcard distribution. In return, The Greene Space includes their logo in all of its printed and online promotional material. "The viral reach has been extraordinary," noted Etwaroo.

Year two also saw the introduction of corporate sponsorship which helps offset a 15% increase in the cost of the Battle of the Boroughs.

Lessons Learned: It is essential to keep an authentic two-way conversation going. "There has been a lot of thinking about how to humanize the conversation . . . to ask our audience 'what is important and meaningful to you?' We solicit their comments on Facebook. We've learned that 'process is content,' and that people like to see behind the scenes—it's fun for them. So we try to bring the audience in to our set-ups through behind the scenes video," said Etwaroo.


---
Other campaigns from Special Reports' Four Digital Campaigns That Worked

#1: Attracting Donations— Composer/Soloist Tracy Silverman

#2: Increasing Fan Base & Participation—Pianist Jim Brickman

#4: In-Concert Information: The New World Center WALLCAST Concerts
---

WHO'S BLOGGING


RENT A PHOTO
Search Musical America's archive of photos from 1900-1992.