---
Four Digital Campaigns That Worked (#4):
The New World Center WALLCAST Concerts

The New World Center, Miami, FL, has a 7,000 square foot projection wall located in Soundscape, a 2.5-acre outdoor urban space designed to accommodate public viewing of WALLCAST events. Concerts, video art and films are shown free-of-charge to audiences. Through in-concert information, New World Symphony wants to reach, educate and engage the potential seasonal audience of 20,000 for over a dozen WALLCAST events.

Method: Mobile, including texting and a mobile-optimized site

Effort: The NWS "Mobile Program:" A projected welcome on the wall and on the marquis—and shortly thereafter in the conductor's opening remarks to the outside audience—encourages the audience to text "WALLCAST" to number 91011. "The participating audience members receive a link on their smartphones, opening a browser," said Michael Frisco, NWS's Director of Marketing. A navigation bar across the bottom of the screen displays choices: Program (including Composers), About NWS, Support and More are key areas.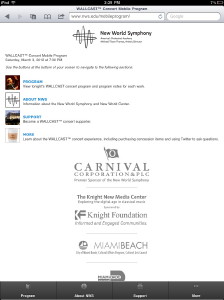 Program opens a program page, very similar to what you would receive from an usher at an indoor concert. As a subheading, "Composer" opens a program note section so that the listener can know more about what s/he is hearing
About NWS gives information about the New World Symphony, its program, and the new venue
Support is how to reach the gathered masses and encourage them to contribute. Frisco describes this function as working "just like Red Cross relief. Prospective donors send 'NWS' to 501501 and an automatic $10 donation is made right then and there. And of course, if you want to donate more than $10 there is a link for how to do that too."
More is especially interesting because it functions as a "virtual usher," according to Frisco. The viewer asks a question by using the hashtag "WALLCAST" and sending a Tweet. A staff member is standing by to answer questions via Twitter. Questions have ranged from the predictable "where can I locate a bathroom," to the thoughtful "is the cadenza improvised or written out?"
When: Initiated October 2011 and ongoing

Cost: None—handled in-house

Results: Reached 20% of the audience by press time and "more each concert," said Frisco.

Lessons Learned: Said Frisco, "The nature of this facility is pushing all of us—many very veteran orchestra administrators—to experience things that we have never experienced before. We wanted to take advantage of each WALLCAST concert to test new ideas and continue to grow and improve in reaching our audience."


---
Other campaigns from Special Reports' Four Digital Campaigns That Worked

#1: Attracting Donations— Composer/Soloist Tracy Silverman

#2: Increasing Fan Base & Participation—Pianist Jim Brickman

#3: Selling Tickets, Discovering New Talent—The Jerome L. Greene Performance Space / 'Battle of the Boroughs'
---

WHO'S BLOGGING


RENT A PHOTO
Search Musical America's archive of photos from 1900-1992.