---
MA Top 30 Professional: Julius P. Williams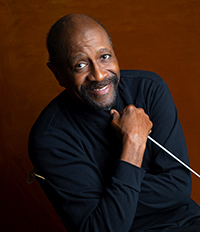 The Conductors Guild has made some significant changes since January 2019 when Dr. Julius P. Williams became its first African-American president.
For one, the group, founded in 1975, changed its name to the International Conductors Guild, reflecting a membership that now stretches far beyond the U.S. After deep discussions about diversity, equity, and inclusion, it expanded the size of its board. And, since conductors were especially hard hit by the Covid pandemic shutdowns, the Guild completely redesigned the way it connected with its members.
Dr. Williams personally felt their pain. A composition professor at the Berklee College of Music and artistic director and conductor of the Berklee Contemporary Symphony Orchestra, he is also an active guest conductor.
"When the pandemic hit, I was preparing for concerts with the Hartford Symphony," he said. "We rehearsed for three days … then they told us to go home. The college closed. I thought to myself, 'Conductors don't have anything to conduct. What are we going to do?'"
The Guild usually holds one three-day conference a year. Shifting to online meetings, it presented three conferences that first pandemic year. Working with his Guild colleagues, Dr. Williams organized an online series titled Podium Talks featuring conductors including Marin Alsop, JoAnn Falletta, and Iván Fischer. One session focused on Black conductors, another offered a virtual tour of the Library of Congress's Music Library.
The Guild vastly expanded its mentoring program. "Nobody knows what it's like to be out there by themselves more than a conductor," Dr. Williams said with a rueful laugh. "When I took over, I tried to make sure we connected not only with conductors at the major orchestras, but with those in small communities and towns. That seems to be working much better. We have so many younger conductors now."
SOCIAL LINKS

WHO'S BLOGGING


RENT A PHOTO
Search Musical America's archive of photos from 1900-1992.