---
MA Top 30 Professional of the Year: Terell Johnson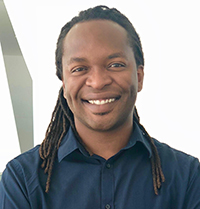 One day after his appointment as executive director of the Chicago Philharmonic on July 1, Terell Johnson attended a recording session by his new band in its home venue, the Harris Theater. Coming on the heels of the double pandemic of the last year-and-a-half—COVID-19 and a heightened awareness, with cause, of social injustice—the relevance of the repertoire was stunning. Recorded for streaming from the Harris Theater website, Redemption, as it is titled, is a collection of spirituals and gospel songs by singer/ composer Adrian Dunn in memory of George Floyd and other Black men killed by police.
Also featuring an arrangement of "Lift Every Voice and Sing" by Dunn and the Adrian Dunn Singers, and the 2019 violin concerto Glory, by Marcus Norris, the performance epitomized for Johnson the projects he had in mind for the orchestra's future. "It was a remarkable experience and a testament to the Philharmonic's ambition to transform the classical music landscape into an everexpanding inclusive space," Johnson said, noting that the concert was the first he'd seen in which all participants "looked like me."
Not that Johnson is new to pushing for change in classical music. Before his appointment, he chaired the equity, diversity, inclusion, and belonging committee at Miami's New World Symphony (NWS), also serving as director of business development and community engagement. Last April, he moderated "Being Black in America," a panel discussion with pianist Awadagin Pratt and Human Rights Watch U.S. Executive Director Nicole Austin-Hillery, joined by NWS fellows.
Now Johnson leads a group that stands apart in a different way: The Chicago Philharmonic, with origins that date to 1979, is a self-governed orchestra that operates without a union contract and holds no formal auditions. Instead, Artistic Director and Principal Conductor Scott Speck maintains a group of some 200 professionals to contact as needed. Johnson called this unique governance model, along with the group's eclectic musical vision, "our super power…it's what inspired me to join the team."
Life during the pandemic got even more interesting for Johnson when he was accepted into the LEAD fellowship, a twoyear program grooming leaders of color offered by the Sphinx Organization. Said Donna Milanovich, who preceded Johnson as the Chicago Philharmonic's executive director, "I can think of no better leader," for the orchestra. "His business acumen and love of the transformative power of music is sure to take [it] to new heights."
SOCIAL LINKS

WHO'S BLOGGING


RENT A PHOTO
Search Musical America's archive of photos from 1900-1992.