---
MA Top 30 Professional of the Year: Veronica Neo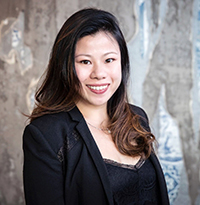 COO and Co-Founder
Primephonic
Veronica Neo is the COO and co-founder of Primephonic, a streaming platform designed to bring classical music into the digital age. Born in Singapore, she has degrees in fashion management and business administration and started out working for a luxury smartphone start-up in Geneva.
"I attended a symphonic concert at the Victoria Hall and saw a beautiful program advertisement from Pentatone with two call-to-action buttons: 'Download on iTunes' and 'Stream on Spotify'," she recalls. "A single thought seized me at that moment: Classical music needs a digital future. That became my personal call-to-action."
As a classical music lover, Neo was never satisfied with listening on Spotify. "It is difficult, if not impossible, to find what you are looking for, recommendations are typically not very inspiring, and the audio quality insufficient for the delicate sound of classical music," she says.
With that in mind, Primephonic, which Neo co-founded with Simon Eder and Dirk Jan Vinkin 2014, set out to create an easy-to-use streaming service specializing in classical music, with daily recommendations that cater to the connoisseur as well as classical music newbies. The company has also initiated some radical programming ideas. For example, during International Women's Month, Neo instigated a complete takeover of the platform whereby every featured album was music composed or performed by a woman.
Since launching the streaming service in 2018, Primephonic has grown from a team of seven to a team of 35 hailing from 20 different countries with offices in Amsterdam and New York. Within the last year, hundreds of thousands of users have downloaded the app, and as of August 2019 it was available in 154 countries. "It's not enough to just be as good as the mainstream players such as Spotify and Apple Music," she reckons. "We have to be even better, creating 'classical wow' moments for our users with a fraction of the resources the big players have."
With CD stores gone and download sites disappearing, Neo sees a "streaming-only" world ahead. "For classical music to stay relevant for the streaming only generation, the genre must fix its streaming problem. That is our mission."

WHO'S BLOGGING


RENT A PHOTO
Search Musical America's archive of photos from 1900-1992.