---
New Artist of the Month: Soprano Salome Jicia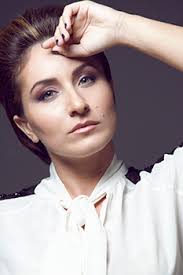 MILAN--In 2016, the Rossini Opera Festival in Pesaro opened its annual edition with director Damiano Michieletto's new production of La donna del lago. It was lavishly cast: Juan Diego Flórez (Uberto), Michael Spyres (Rodrigo), Varhudi Abrahamyan (Malcom), Ruth Iniesta (Albina), and Salome Jicia (Elena).
Salome Who?
Conductor Michele Mariotti had decided to take a chance on a relatively unknown Georgian soprano named Salome Jicia, after hearing her the summer before when she was enrolled in the Rossini Academy.
His gamble paid off, with Jicia quickly winning over the critics (including this one) with her raw, powerful singing and expressive, dramatic intensity. With stunning high notes to match, and a way of streaming through razor-sharp coloratura runs with apparent ease, she was every bit a star in the making.
Her career has bloomed since, with highlights including two roles at Covent Garden (Mozart's Mitiradte re di Ponto [Sifare] in 2017 and Così fan tutte [Fiordiligi] this year) and La traviata at Deutsche Opera Berlin (Violetta) in 2017. In May she was the prima donna (Alaide) in the Maggio Musicale's production of Bellini's La straniera, and coming up she has debuts at Rome's Teatro dell'Opera with Don Giovanni (Donna Elvira), Brussels' La Monnaie with Verdi's Giovanna d'Arco (Giovanna), and Bergamo's Donizetti Festival with the long overdue world premiere of Ange de Nisida (La comtesse Sylvia se Linarès). Next month she returns to ROF, for the title role in Rossini's Semiramide conducted by Mariotti and directed by Graham Vick.
"My career started after La donna del lago," said Salome, 33, in a recent phone interview. "Before that I had only sung in three staged productions." The production was a trial by fire, with Jica overwhelmed not only by her colleagues' stature but also the complexity of Michieletto's lush staging, which reflected the romantic spirit of Walter Scott's original novel on a grand scale. Her performance impressed influential Italian agent Alessandro Ariosi enough to sign her immediately. Thereafter, he has done much to build her career, Jicia says, by opening doors and helping her make judicious repertoire choices.
Participating in the previous year's Rossini Academy—a series of masterclasses leading to an annual production of Il viaggio a Reims at ROF—gave her a grasp of Rossini style, and a foot in the door. Academy founder and director, the late conductor Alberto Zedda, was sufficiently impressed as to invite her to sing Semiramide in Moscow, and to encourage Mariotti to check her out. A subsequent audition in Pesaro led to the soprano's La donna…break, followed by a fruitful long-term collaboration with Mariotti.
"[Zedda] was in his late 80s but had an incredible energy that beats most young singers," recalls Jicia. "He had a whole other sense of how to bring the recitative to life. The pauses were sometimes shorter, sometimes longer; the pace of the text varied from page to page." Jicia's engaging way with text was evident in La donna del lago. "I love Rossini's recitatives," she confirms. "They are so full of expression and color. You can't skate over them; you really have to sing them."
Below: Jicia performs Mathilde's aria "Sombre forêt" from the 2018 production of Giullaume Tell by Damiano Michieletto at the Teatro Massimo, Palermo.
Jicia speaks solid Italian, which she first learned by watching classic Italian films. Why, I wonder, do so many Georgian singers, for example sopranos Nino Machaidze and mezzos Anita Rachvelishvili and Nino Surguladze, pursue careers in Italy? "[In Georgia] we are passionate about singing," Jicia replies. "For us Italy is opera."
Though now happily based in Tbilisi with her husband, an ex-actor, Jicia has endured difficult times in her home country. In 1991, Georgia's declaration of independence from Russia sparked violent conflicts, forcing her family to relocate from Zugdidi to her current city—a distance of about 200 miles. There, she lived with her mother, grandmother, and three sisters in a small house, bought by an uncle who owned a flower shop in Moscow and sent the family a monthly allowance. "We had lost our home and friends. There wasn't much food. There were no lights in the house, and it was very difficult to work," Jicia says.
Yet one expense could not be spared. "For my mother, studying was very important. She wasn't a musician but loved art. She had instinct, a good ear." With her uncle's allowance, Jicia was sent to piano lessons with the best teachers in town, and she practiced six or seven hours a day. "I didn't have a childhood. I would stay at home, read books, and play," she says.
When her mother got a job as a cleaner in the local opera theater, Jicia was allowed to sit in on rehearsals. "It was a very special period for me: I was falling in love with music." Jicia would make a good advertisment for any opera outreach scheme. "I always say that once you enter the theater you never leave," she says.
Subsequently, Jicia won a place in the conservatory piano course, and began taking singing lessons on the side with her earnings from running the theatre's cloakroom. "I opened my mouth and the voice was there," she. "Then I had to get on with the hard work of refining the voice."
"Playing the piano helped. I had already learned to search for colors, so that allowed me to think less about the voice and more about where I wanted to go with it," she continues. "When you are singing, you cannot just think about your breathing. That's the mistake many young people make. You have to begin with the music and the technique will follow."
Participating in Renata Scotto's Rome masterclass was another watershed moment. The legendary soprano urged caution, and suggested Jicia apply for the Rossini Academy. "I turned up wanting to sing Butterfly, but Renata was really good and told me, 'You have to be careful. You are young.'" She now regards Scotto as mentor. "She was the first important maestra in my life," she says. "She doesn't say much; she will use a few words and use gestures. If you are intelligent you understand immediately what she wants."
Latterly, singing Bellini has darkened Jicia's voice and made it more flexible. Bellini will remain a focus in the near future, and Jicia hints that Norma might be in the cards (she cannot reveal where). Within a year or two, she predicts, she may be ready to sing her beloved Puccini, starting with Mimì.
There is another landmark for which Jicia is reaching. "It is my dream to sing opera in America," she says. Technically, she has already done so, with Cagliari's Teatro Lirico in a production of Da Ponte's l'Ape Musicale ("The Musical Bee") as part of a symposium at Columbia University last fall. New York's dynamism enthralls Jicia. "When I arrived in the city I found its rhythm so exciting. It gives you a new energy."
Expect to see her Stateside, sooner rather than later.

WHO'S BLOGGING


RENT A PHOTO
Search Musical America's archive of photos from 1900-1992.