---
MA 30 The Innovators: Missy Mazzoli and Ellen Reid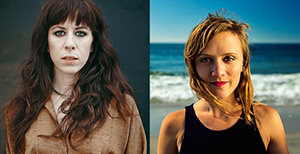 Founders, Luna Composition Lab
Among composers, women are still in the minority. To address the ssue, in 2016 composers Missy Mazzoli and Ellen Reid launched the Luna Composition Lab. There are other opportunities for women composers in or at the cusp of the profession, but Luna is designed for the young—eighth graders through rising college freshman.
"We believe this is a problem that begins early in one's career: Young women in their teens have few female composer role models, and are, in both direct and subtle ways, discouraged from entering the field," says Mazzoli. Working with the Kaufman Music Center's Face the Music, a well-regarded youth orchestra that focuses on new works, Luna Lab is a one-year, by-application program that provides opportunities for performance, recording, and one-on-one mentorship and lessons with established women composers. Mazzoli and Reid have also recruited composers Reena Esmail and Kristin Kuster, to provide additional counsel and expertise. Together, they hope to close the compositional gender gap.
Mazzoli has received wide acclaim, including that for her most recent piece Breaking the Waves, based on the Lars von Trier film and given its world premiere in 2016 by Opera Philadelphia. She also directs an all-female ensemble, Victoire, and is on the faculty of the Mannes School of Music at the New School.
Reid—a former teacher with a strong commitment to education—is currently artist-in-residence at National Sawdust. One of her most recent projects is "Rooftops," part of a mobile opera called Hopscotch, produced in 2015 in Los Angeles by avant-garde production company The Industry. In an article in The New Yorker, Alex Ross described it as "a combination of road trip, architecture tour, contemporary-music festival, and waking dream."
This year's recently announced Luna Composition Lab fellows range in age from 13 to 17 and are based in New York City, Connecticut, and Massachusetts. They are Violet Barnum (age 13), Sofia Belimova (16) and Michelle David (17). Honorable mentions went to Robin MacDonald (16) and Caroline Bragg (13). In announcing the winners, Mazzoli and Reid said in a statement, "We are fully impressed by the depth and skill conveyed through these young composers' works.… [They] display both vibrant talent and compelling, singular voices."

WHO'S BLOGGING


RENT A PHOTO
Search Musical America's archive of photos from 1900-1992.