---
MA 30 The Innovators: Beth Morrison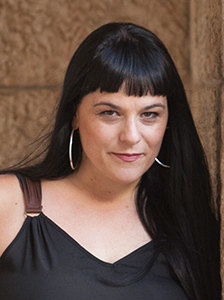 Creative Producer, Beth Morrison Projects
"I think that true innovation happens by creating space for artists to dream, explore, succeed and, if necessary, fail without worry," says Beth Morrison, who founded Beth Morrison Projects in 2006. Though she studied vocal music with the intent of being a singer—with degrees from Boston University and Arizona State University—she found herself dissatisfied with the traditional opera world and decided to implement a bold new vision, creating unusual productions that often defy categorization.
Among her biggest achievements to date is the Prototype Festival in New York, co-produced by HERE arts center, which— like Morrison—specializes in hybrids of music, theater, dance, and other disciplines. [See MA.com review, January 2016.] In January 2017 the festival, in its fifth season, will present seven cutting-edge productions by composers as diverse as Matt Marks (Mata Hari), Missy Mazzoli (Breaking the Waves), and M. Lamar
& Hunter Hunt-Hendrix (Funeral Doom Spiritual).
Like many visionaries, Morrison is expert at forging partnerships with like-minded institutions. In 2014, the Fort Worth Opera presented her production of David T. Little's Dog Days. The Los Angeles Opera has committed to two of her stagings each season, such as David Lang's anatomy theater last June, and in2017, The Source, an experimental installation by composer Ted Hearne. In September, Boston's Arts Emerson offered Ouroboros Trilogy, by composers Zhou Long, Scott Wheeler, and Paola Prestini, all with librettos by Cerise Lim Jacobs.
As Adam Wasserman writes in the August issue of Opera News, "her success in establishing the company's brand of operatheater with both downtown audiences and mainstream opera companies testifies as much to her longtime business model as to her role as a tastemaker."
Morrison is firmly focused, even philosophical, and wants to create both a process and environment where artists are encouraged to experiment. "As producers, it is our responsibility to let the artists lead us where the art form(s) should go. It is up to us not just to follow, but to link arms and walk the path together."

WHO'S BLOGGING


RENT A PHOTO
Search Musical America's archive of photos from 1900-1992.