---
A LOOK INSIDE: Opera House Arts' Digital Marketing (annual budget: $650K)

Deer Isle, Maine (pop. 2,000), home of Opera House Arts, is known as the No. 1 lobstering town in the state—and also perhaps the least digitally connected, since broadband Internet access and even cell-phone service has yet to reach about half the area.
Despite this, 25% of its tickets are digital purchases. Opera House Arts (OHA), which is the presenting arm of the Stonington Opera House, has accomplished this through a hands-on integrated marketing approach and relying on digital media to expand its reach beyond its modest resources—what the military calls a "force multiplier."
"Not everyone here is digitally literate, so we have to use multiple channels to get the word out: direct mail, email, Facebook, word of mouth, traditional PR and advertising in community and regional newspapers, meetings with community groups. And personal invitations are really important in our community," according to OHA Executive Director Linda Nelson. Board members will each take 10 names of individuals to invite to an event; Stonington volunteers also have even been known to use the good old-fashioned phone tree.
Small Venue, Large Programming
OHA's venue size (250 seats), staff (seven) and operating budget ($650,000) belies the quantity and quality of its programming and marketing effort. It operates year-'round with a mix of theater (30 live shows a year, some original), jazz, and classical concerts, first-run films (The Artist was playing there in early March) and more. OHA has commissioned a new musical to bow this summer, honoring the Opera House's 100th anniversary.
At the heart of the marketing effort is continual personal contact with the audience and the heart of the digital component is the email:
3,000 weekly emails
Email list segmented into 30 different groups to accommodate the diverse offerings
Send times: varied, but always midweek and midday
Email service provider: Constant Contact
The email addresses are acquired through signup opportunities on the website and at the weekly events. Nelson also does some Facebook and Google advertising.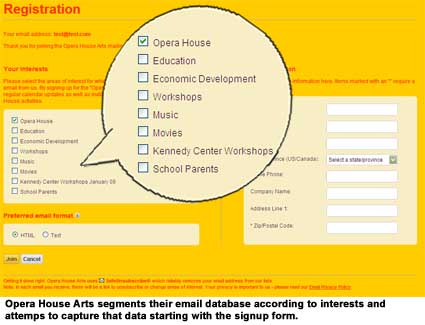 Stonington's rural location contributes to a large percentage of last-minute walk-up sales. "The 25% of tickets sold through the website represents a very large portion of those we do reach digitally [through email and Facebook]," she stated, so digital marketing has had a very high payback. As the island becomes more connected, OHA has increasingly relied on Facebook for last- minute updates, such as program cancellations due to weather.
"We have a following," she said. "It's kind of viral. People forward our emails to their friends and there's a button for 'join our list.'"
Integrated Ticketing and Email
Nelson said she's been mostly satisfied with Constant Contact, "but they're not the cheapest anymore, so I'm looking at other services, like Mail Chimp, or EasyContact." She said one benefit to Constant Contact, however, is the way it integrates with OHA's ticketing system, Total Info, which is also used for collecting and storing contacts in its database. "Total Info allows you to sync with Constant Contact," she said, "and Constant Contact provides the graphics and interface needed to create and manage good looking emails."
Beyond Constant Contact and Total Info, everything is handled in-house, including design and production of emails, newsletters, and the videos on its website. OHA also its own YouTube channel, with a thumbnail embedded on its website. A recent eight-minute video to be used in the electronic newsletter ("the more video the better, these days" she said) took a total of about 70 staff hours.
Nelson breaks it down: "shooting the video, editing, compilation, voice-over—that's 40 hours right there. Then another several hours writing and another several laying it out. So when you talk about expense, you have to talk in staff hours, not just dollars." Nelson said the benefits of digital media marketing are clear: improved ticket sales, a growing subscriber and donor base, and improved consumer awareness. But the apparent ease of virtual marketing can be misleading from the other side of the coin. "Digital gives you reach but someone still has to put it together. You need more resources than you think."
Also in Special Reports' A Look Inside series:
Cal Performances' Digital Marketing Practices
Indianapolis Symphony Orchestra's Digital Marketing Practices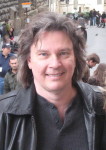 Winner of the American Society of Business Publication Editors (ASBPE) 2010 Gold Award for Feature Writing, Dan Daley is a journalist, author and composer. His work has appeared in theLondon Daily Telegraph, History Channel magazine, The Wine Spectator, and other publications.



WHO'S BLOGGING


RENT A PHOTO
Search Musical America's archive of photos from 1900-1992.