---
A LOOK INSIDE: Cal Performances' Digital Marketing
(annual budget: $13M)

Despite a budget 20 times that of the Stonington Opera House, Cal Performances has encountered a similar hurdle: a lack of staff resources to accomplish all their digital marketing initiatives.
However, as part of University of California at Berkeley, Cal Performances has tapped into a resource unavailable to Stonington Opera House: the UC/Berkeley student population.Fifteen to 20 student volunteers comprise the Student Marketing Committee, whose time is donated to Cal Performances' media relations and marketing endeavors. Their help is invaluable, according to Jenny Reik, marketing department manager, because they came of age in the digital environment—in addition to the work they get done, of course.
Looking over shoulders
"We do look over their shoulders a lot," Reik confessed, "and not just to see what they're doing but to learn how they do it. They live and breathe this stuff." [Editor's note: Key lessons learned have yet to be evaluated since the program began in earnest only last September.]
The students meet once a week and accomplish various tasks that the group decides upon. In all, each student probably spends a couple of hours a week and commits to the group from semester to semester. The committee coordinator, a paid work-study student herself, works 10 hours a week.
Cal Performances also frequently adds original content to its website, usually daily, which elicits a response from the digitally adept in their audiences. Typical of this content is a podcast audio interview between the venue's Director Matías Tarnopolsky and Charles Dutoit, who conducted the Royal Philharmonic Orchestra there in January.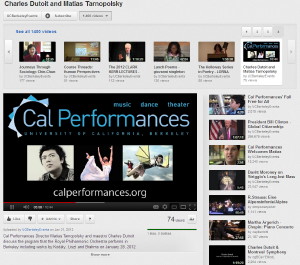 Emails were sent to draw subscribers to the podcast and others on the list to the website and Facebook posts drew in social media users.
Finding the right digital balance
Reik said the hardest part of her job is finding the right balance, "not just between print and digital and other media like radio and television, but also between digital formats." But digital has a big edge: "It's not easy to measure print advertising results," she says, versus the increasingly precise data that comes from Google Analytics, which is used to measure traffic and ticket purchases on the presenter's website, along with the TMS email service they use.
The way the balance looks now, new presentations often will generate a direct-mail print mailer and emails directly to the approximately 23,000 opt-in addresses they have on file, and to which they actively market on a regular basis. Other digital platforms, such as banner ads on area websites like San Francisco Gate (the web version of the Chronicle), are used seasonally.
Print will remain in the mix for the foreseeable future, in part, ironically, because its effect is so unquantifiable. Says Reik, "Even if we can tell that, in the end, a digital banner ad resulted in a click that resulted in a sale, we know that it's highly likely that it was not the only time the patron encountered information about the event, but rather a final impression that ultimately led to action. Response rates are always higher when many different channels are used and how exactly they reinforce each other is much less easy to quantify than the results of a particular digital advertising campaign."
As varied as their digital media marketing effort has become, it's still a work in progress, as protean as the nature of digital media itself. "It's changing constantly; for instance, Facebook and other social media demographics continue to skew older," says Reik. "Whatever the assumptions you have today about your strategy, even if they are correct now, they probably won't be tomorrow."
Also in Special Reports' A Look Inside series:
Opera House Arts' Digital Marketing Practices
Indianapolis Symphony Orchestra's Digital Marketing Practices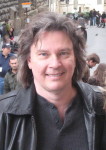 Winner of the American Society of Business Publication Editors (ASBPE) 2010 Gold Award for Feature Writing, Dan Daley is a journalist, author and composer. His work has appeared in the London Daily Telegraph, History Channel magazine, The Wine Spectator, and other publications.



WHO'S BLOGGING


RENT A PHOTO
Search Musical America's archive of photos from 1900-1992.