---
Top 10 Pandemic Pivots, No. 2:
Mainly Mozart at the Drive-in
Since last March, when California first went into lockdown because of the coronavirus, "Keeping Live Music Alive" has been the theme of Mainly Mozart in San Diego. Forced to cancel its annual orchestra festival in June, as well as a chamber music series and youth orchestra programs, MM shifted activity online. But CEO Nancy Laturno has been determined to find a way to get back to live, in-person music.
[This is the second in our year-end Pandemic Pivots series. See also No.I: Miracle in Car City USA]
"We started doing online happy hours and master classes and things like that, but I said from the first day that we are not experts at doing this," said Laturno, a co-founder of the festival in 1988. "So instead of putting our energies into streaming and online performance, we decided to commit to live performance because that has been, and always will be, our reason for being."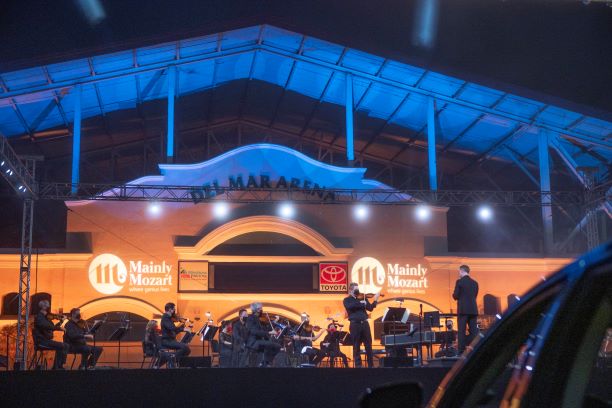 Mainly Mozart built its own stage at the Delmar Arena parking lot
Pioneers at the drive-in
In June, Laturno began exploring the idea of outdoor drive-in concerts that could meet safety requirements. She eventually landed on an overflow parking lot at the Del Mar Fairgrounds, located on the Pacific Ocean coastline north of San Diego. It was a workable site for a small stage facing rows of cars. There, on Saturday, July 11, MM gave an afternoon performance by eight musicians from the Los Angeles Philharmonic and the San Diego Symphony. Newsweek would call it "the first concert for a live audience given by a major classical music organization in the United States during the pandemic," although the Dallas Symphony might dispute that.
Audience members took in the concert from their socially distanced cars parked 10 feet apart. They listened to the amplified ensemble through open windows or on a designated radio frequency, accompanied by the background hum of traffic on nearby Interstate 5. At the end of the program of Mozart's Divertimento in D and the Mendelssohn Octet, a cacophony of horn honking expressed delight at hearing live music. "That first concert was so beautiful," Laturno said. "To realize we were accomplishing the impossible was incredibly emotional."
Moving out, then up
Mainly Mozart, which performed pre-pandemic at the historic Balboa Theater in downtown San Diego, gave 10 free drive-in concerts through the summer, with costs underwritten by an outpouring of donors. In October, performances moved to Del Mar's main parking lot, where MM erected a 3,400-square-foot stage to accommodate a full chamber orchestra for a week-long festival. It cost $120,000 to build the stage, equip it with sound and lighting systems and LED screens, and hire an operations crew.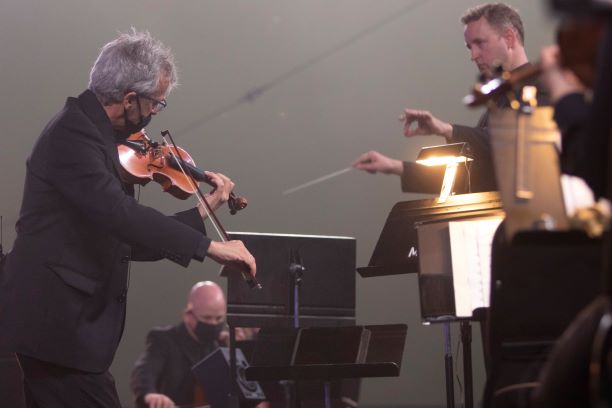 Music Director Michael Francis conducted an all-star orchestra made up of concertmasters and first-chair players from shutdown orchestras around the country. The opening concert on Oct. 17 featured five concertmasters—Martin Chalifour (LA Philharmonic), David Chan (Metropolitan Opera Orchestra), David Kim (Philadelphia Orchestra), David Coucheron (Atlanta Symphony), and Jun Iwasaki (Nashville Symphony)—as soloists in Vivaldi's Four Seasons and Piazzolla's Four Seasons of Buenos Aires.
The 40 musicians on the festival roster were put up at a hotel within walking distance of the fairgrounds and frequently covid-tested. Onstage, they wore masks and were spaced one player to a stand, six feet apart for strings, 10 feet apart for winds and brass. "The effect of performing live was very powerful," Francis said. "Musicians were moved to tears while playing. They were so grateful to be part of an orchestra again and making music."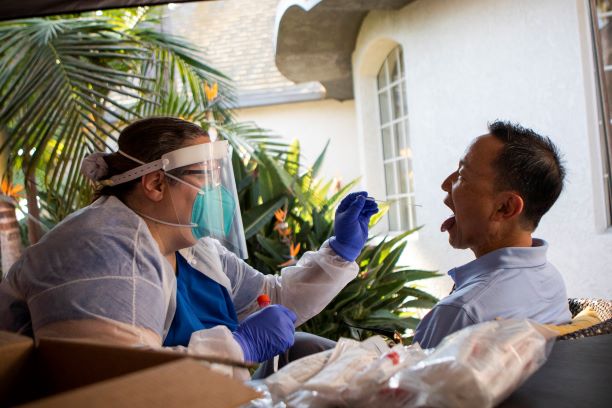 With single tickets priced per vehicle at $45 (general admission) and $100 (premiere parking), the festival's five concerts drew 1,500 vehicles. Three of the concerts sold out, and the other two played to 70 percent capacity. The enthusiastic car honking and flickering of headlights after a piece's final notes never failed to startle the maestro.
A deeper, if noisier, sense of connection
"It's something you never get used to, especially when the orchestra finishes in bright C-major and then you hear this slightly flat F-sharp coming from a Chevy," Francis said. "It's galling but funny – and profoundly moving in a way I never felt pre-covid. It's a sense of shared experience between patron and performer at the ridiculousness of our situation but also our power to overcome it. I feel a deeper connection to the necessity of our art form as a communicative tool than ever before."
With spread of the virus surging in early December, California issued a new stay-at-home order. Nevertheless, if public health conditions permit, MM plans an ambitious series of concerts in 2021, projecting an annual budget of $2.8 million, about 25 percent more than the pre-pandemic budget. On the agenda are a pair of drive-in festivals, one in February involving musicians of the LA Philharmonic and the San Francisco Symphony, and the other in April with members of the Met Orchestra and the National Symphony Orchestra. A third outdoor festival is scheduled for June.
"We've decided to double down," Laturno said. "Our decisions are not based on good business models necessarily. But the community needs live music, and the artists need it. We can't be paralyzed, waiting for covid to go away. We need to be brave and strong and innovative. We will find a way to come together and support these festivals."
Middle photo: Los Angeles Philharmonic concertmaster Martin Chalifour with MM Music Director Michael Francis; bottom: Philadelphia Orchestra concertmaster David Kim gets a pre-rehearsal Covid test

WHO'S BLOGGING


RENT A PHOTO
Search Musical America's archive of photos from 1900-1992.