---
Out of $900bn Package, 'Save Our Stages' Gets $15bn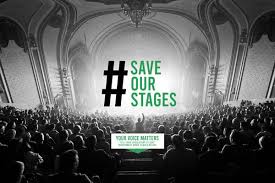 The imminent passage of a second, $900bn. stimulus package signals that help is on the way for the nation's independent music venues. The package includes the Save Our Stages Act, which establishes a $15bn. SPA (Small Projects) grant program to help support venue employees and those people working the largely gig economy that characterizes these businesses. According to Broadway News, the $15bn in grants for Save our Stages will this time include monies for museums, independent movie theaters, Broadway theaters, and live music venues.
"The legislation provides critical help to shuttered businesses by providing a grant equal to 45% of gross revenue from 2019, with a cap of $10 million per entity," the National Independent Venues Association said in a statement. "This grant funding will ensure recipients can stay afloat until reopening by helping with expenses like payroll and benefits, rent and mortgage, utilities, insurance, PPE, and other ordinary and necessary business expenses."
Speaking on the floor of the Senate, Schumer said, "I'm especially pleased this this bill will provide money for bars and restaurants, and $15 billion in SPA grants for theater operators and small venue operators through the Save Our Stages Act. These venues are so important to my state and so many other states across the country. They are the lifeblood of our communities. They were the first to close and will be the last to open. This bill gives them a fighting chance."
"We secured the Save Our Stages Act for indie music venues, Broadway, comedy clubs, indie movie theaters, and more," Schumer wrote on Twitter Sunday night. "These are people's jobs and livelihoods, and they need this help now. I won't stop fighting for them."
This past July Sens. John Cornyn (R-TX) and Amy Klobuchar (D-MN) and Reps. Peter Welch (D-VT) and Roger Williams (R-TX) introduced the Save Our Stages Act. Just a few months earlier industry leaders had created the National Independent Venue Association (NIVA), which now represents more than 3,000 independent venues and promoters in all 50 states and Washington, DC., to lobby on behalf of entertainment businesses that were the first to close due to the pandemic, and will be the last to reopen.
"We're thrilled that Congress has… provided us a crucial lifeline," said Dayna Frank, owner & CEO of First Avenue Productions and Board president of NIVA. "This bill provides Pandemic Unemployment Assistance, which will help the millions of people who lost their jobs through no fault of their own during this economic crisis."

WHO'S BLOGGING


RENT A PHOTO
Search Musical America's archive of photos from 1900-1992.