---
MA's Free Guide to (Mostly) Free Streams, October 12-19
We will be updating this list weekly. Please note that all times are given in U.S. Eastern Time (ET). To calculate in other time zones or counties, British Summer Time (BST) is currently five hours ahead of ET and Central European Time (CET) is currently six hours ahead. U.S. Central Daylight Time (CDT) is one hour behind ET. Mountain Time (MT) is two hours behind ET, while Pacific Time (PT) is three hours behind. Contact editor@musicalamerica.com.
Classical music coverage on Musical America is supported in part by a grant from the Rubin Institute for Music Criticism, the San Francisco Conservatory of Music, and the Ann and Gordon Getty Foundation. Musical America makes all editorial decisions.
---
Monday, October 12
8 am ET: Wigmore Hall presents Elisabeth Brauss. The BBC New Generation Artist plays Beethoven's Piano Sonata No. 7 in D Op. 10 No. 3, Mendelssohn's Variations sérieuses in D minor Op. 54, and Prokofiev's Piano Sonata No. 2 in D minor Op. 14. Register, view here and on demand for 30 days. LIVE

12 pm ET: Wiener Staatsoper presents Mozart's Die Entführung aus dem Serail. Conductor: Antonello Manacorda, director: Hans Neuenfels. With Christian Nickel, Lisette Oropesa, Emanuela von Frankenberg, Regula Mühlemann, Stella Roberts, Goran Juric, Andreas Grötzinger, Daniel Behle, Christian Natter, Michael Laurenz, and Ludwig Blochberger. Register for free and view here.

2:30 pm ET: Philharmonie de Paris presents Quatuor Ébène: Beethoven Cycle I. The Ébène Quartet begins its complete cycle of Beethoven's quartets with a concert bringing together String Quartets Nos. 7 and 13 as well as the Grosse Fuge. View here. LIVE
7:30 pm ET: Met Opera Streams presents Donizetti's Lucia di Lammermoor. Starring Anna Netrebko, Piotr Beczala, Mariusz Kwiecien, and Ildar Abdrazakov, conducted by Marco Armiliato. From February 7, 2009. View here and for 24 hours.

7:30 pm ET: Chamber Music Society of Lincoln Center presents The Art of Interpretation: Brahms Violin Sonatas. CMS musicians showcase how artists interpret specific musical passages and prepare to perform a piece of music. Streamed live from the Rose Studio, these events combine lecture and performance elements. Here, violinist Arnaud Sussmann and pianist Orion Weiss explore Brahms's Violin Sonatas Nos. 1 and 3. Tickets $13. View here and on demand for a week. LIVE
Tuesday, October 13
12 pm ET: Concert Artists Guild presents 2020 Competition Winners. Concert Artists Guild announces the 2020 CAG Victor Elmaleh Competition Winners. The announcement will include performances from finalists and a message from CAG President, Tanya Bannister. View here.
1 pm ET: Copland House & CUNY present Underscored: Copland's Violin Sonata. A deep dive into the lyrical, elegantly virtuosic composition Copland wrote during his downtime on a backlot in Hollywood while working on The North Star. Virgil Thomson called the work one of Copland's "most satisfying pieces [with] a quality of calm elevation and of buoyancy that is... irresistibly touching." With Michael Boriskin, piano and Magdalena Filipczak, violin. Includes live Q&A. Register and view here.

2:30 pm ET: Philharmonie de Paris presents Quatuor Ébène: Beethoven Cycle II. The Ébène Quartet continue its complete cycle of Beethoven's quartets with a concert bringing together String Quartets Nos. 1, 10 and 9. View here. LIVE
2:30 pm ET: Wigmore Hall presents Mariam Batsashvili. At just 26 years old, the Georgian pianist rose to international prominence at the Franz Liszt Piano Competition in Utrecht 2014. Here, she plays Franck's Prélude, fugue et variation Op. 18, Ravel's Sonatine, Thalberg's Grand caprice on Bellini's La Sonnambula Op. 46, Schumann's Fantasiestücke Op. 12, and Liszt's Paraphrase on a Waltz from Gounod's Faust S407. Register, view here and on demand for 30 days. LIVE

3 pm ET: Handel + Haydn Society presents The Magic of Vivaldi. Four of H+H's principal musicians plus soprano Amanda Forsythe perform Vivaldi's cantata Lungi dal vago volto, RV680, the Sonata for Violoncello and Basso continuo No. 4 in B-flat, RV45, and the Trio Sonata in D Minor, La Folia, RV63. Suggested donation $10. Register and view here.

6:30 pm ET: Orchestra of St. Luke's presents Schubert's Octet. OSL ensemble members take on the composer's largest scale chamber work. Through six movements and just over an hour of music, Schubert explores the musical possibilities within the structure of a traditional 18th-century serenade. With host David Hyde Pierce. Tickets $40 per household (suggested) but minimum donation $1 per concert. View here.

7:30 pm ET: 92Y presents Brentano String Quartet plays Mendelssohn & Haydn. The Brentano String Quartet opens 92Y's fall season with a live-streamed program of favorite works by Mendelssohn and Haydn. Program: Selections from Mendelssohn's Four Pieces, Op. 81, Haydn's String Quartet in D, Op. 17, No. 6, and Mendelssohn's String Quintet No. 2 in B-flat, Op. 87. Tickets $15. View here. LIVE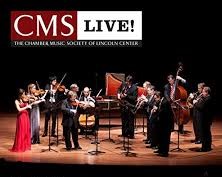 7:30 pm ET: Chamber Music Society of Lincoln Center presents Virtuoso Violins. Program: Telemann's Concerto in D for Four Violins (Original performance May 14, 2018), Strauss's Sonata in E-flat for Violin and Piano (Original performance April 19, 2018), and Fauré's Quartet No. 1 in C minor for Piano, Violin, Viola, and Cello (Original performance January 26, 2020). With Orion Weiss and Wu Han, pianos, Francisco Fullana, Paul Huang, Sean Lee, and Danbi Um, violins, Matthew Lipman, viola, and Clive Greensmith, cello. View here and on demand for a week. LIVE

7:30 pm ET: Nightly Met Opera Streams presents Donizetti's La Fille du Régiment. Starring Natalie Dessay, Felicity Palmer, Juan Diego Flórez, and Alessandro Corbelli, conducted by Marco Armiliato. From April 26, 2008. View here and for 24 hours.

8 pm ET: New York City Ballet presents Digital Fall Season: Classic NYCB. Program: Brahms-Schoenberg Quartet (First Movement) with Ashley Bouder, Russell Janzen, and Emily Kikta (Filmed on 5/15/2019); Due Concertant with Megan Fairchild, and Anthony Huxley (Filmed on 4/30/2019); Dances at a Gathering (Scherzo and Finale) with Megan Fairchild, Sterling Hyltin, Unity Phelan, Tyler Angle, Adrian Danchig-Waring, Peter Walker, Ashley Bouder, Lauren King, Gonzalo Garcia, and Roman Mejia (Filmed on 10/3/2019); and Symphony in C (Fourth Movement and Finale) with Erica Pereira, Troy Schumacher, Ashley Bouder, Maria Kowroski, Indiana Woodward, Joseph Gordon, Tyler Angle, and Sebastian Villarini-Velez. (Filmed on 9/28/2018). View here for seven days.
Wednesday, October 14
1 pm ET: OperaVision presents Covid fan tutte. On stage, singers are rehearsing Die Walküre when they are suddenly interrupted. As management has been laid off and the news of a global virus spreads rapidly, the Wagnerians are suddenly instructed to perform a modern satire on the situation. Covid fan tutte revisits Mozart's classic by adapting its storyline to reflect Finland's experience during the coronavirus crisis. Starring Karita Mattila and conducted by Esa-Pekka Salonen, the production lightheartedly follows ordinary Finns' lives amid press conferences by the government and pandemic experts. The music is (almost) 100% Mozart's. View here and on demand for six months.

1:15 pm ET: Dame Myra Hess Memorial Concerts presents Jenny Shin & Beilin Han. The flautist and pianist perform Copland's Duo for Flute and Piano and Jindrich Feld's Sonata for Flute and Piano. View here. LIVE

2 pm ET: Royal Liverpool Philharmonic presents Thomas Jung conducts Mozart, Pärt & Beethoven. The RLPO is conducted by Thomas Jung in Beethoven's Fourth Symphony, Mozart's Divertimento in D, and Arvo Pärt's Fratres. The concert will be preceded by a live pre-concert talk on Zoom and a post-concert Zoom Q&A with musicians and conductor in a sort of post-match analysis. Tickets £10 and view here for 30 days. LIVE

2 pm ET: Austrian Cultural Forum New York presents Trio Sapiace. Piano, cello, and saxophone trio Michael Krenn, Matthias Gredler, and Eugenia Radoslava were filmed in the Bank Austria Salon in the old town hall in Vienna. Program: Beethoven's Variations on a Theme from Händel's Judas Maccabäus for Piano and Cello, Schulhoff's Sonata for Alto Saxophone and Piano/Set 4, the world premiere of three of Rainer Bischof's Seven Bagatelles for Alto Saxophone and Cello, and works by Bruch and Rota. View here.

2 pm ET: IDAGIO presents Classical (R)evolution with Rachel. Join soprano Rachel Fenlon as she explores what breaking the rules, embracing uncertainty, and thinking "outside the box" does for classical music-making. In this episode: German composer, conductor, and pianist Christian Jost. View here. LIVE

2:30 pm Bournemouth Symphony Orchestra presents Eight plus Eight. Martyn Brabbins conducts a concert that begins with one of the most recognizable symphonic openings ever composed: Schubert's Eighth Symphony, Unfinished. Dvorák's buoyant Eighth Symphony completes the program. Tickets £6 and view here. LIVE

2:30 pm ET: Wigmore Hall presents Fretwork. The viol consort plays music by the Elizabethan master John Dowland as well as a 2004 work by Adrian Williams that reflects on Dowland's pavans. Register, view here and on demand for 30 days. LIVE

2:30 pm ET: Philharmonie de Paris presents Les Arts Florissants sings Gesualdo. Les Arts Florissants began their complete cycle of the Madrigals in 2018. In Book V (1611), composed two years before his death, Gesualdo demonstrates his originality and mastery of the genre with particular brilliance. View here. LIVE

3 pm ET: London Philharmonic Orchestra presents Storming the Heavens. John Storgårds conducts Beethoven's Seventh Symphony, Simone Lamsma plays Nielsen's Violin Concerto, and Julian Anderson plunges into the luminous, swirling imagination of Vincent van Gogh in his Van Gogh Blue. View here and for seven days.
7 pm ET: LA Opera presents Living Room Recital: Gabriela Flores. As the national, month-long celebration of Hispanic Heritage comes to a close, mezzo-soprano Gabriela Flores, a member of the company's young artist program, partners with guitarist Gilberto Amara for a performance of beloved Mexican songs like "Bésame mucho," "Cucurrucucú paloma" and "Cielito Lindo." View here and on demand.

7:30 pm ET: Nightly Met Opera Streams presents Donizetti's L'Elisir d'Amore. Starring Pretty Yende, Matthew Polenzani, Davide Luciano, and Ildebrando D'Arcangelo, conducted by Domingo Hindoyan. From February 10, 2018. View here and for 24 hours.

10 pm ET: Cal Performances at UC Berkeley presents Nathalie Joachim & Spektral Quartet. Haitian-American composer, flautist, and vocalist Nathalie Joachim collaborates with Chicago's Spektral Quartet in Fanm d'Ayiti (Women of Haiti), a suite of kaleidoscopic original compositions and arrangements that explore Joachim's Haitian heritage and celebrate the songs and stories of Haiti's compelling female artists. Tickets from $15. View here and on demand.
Thursday, October 15
1 am ET: Chicago Symphony Orchestra presents CSO Sessions Episode 3: Stravinsky, Saint-Georges & Dvorák. Stravinsky shocked audiences with his unexpectedly neoclassical Octet for woodwinds and brass; Chevalier de Saint-Georges captivated Parisian society with works like his violin duo; Dvorák's international career was launched with his Slavonic-hued Sextet for Strings. Tickets $15. View here and on demand for 30 days.

12 pm ET: Boston Symphony Orchestra presents Encore BSO Recitals. The concert opens with Beethoven's String Trio in G and continues with a potpourri of music for low brass ranging from Gabrieli's late 16th-century Canzona and the Contrapunctus IX from Bach's The Art of Fugue to a high-velocity work by West Virginia-born composer Kevin Day and a tribute to the musical society Phi Mu Alpha Sinfonia by Chad "Sir Wick" Hughes. View here and on demand for 30 days.

1 pm ET: IDAGIO presents Orchester Wiener Akademie at Brucknerhaus Linz. Orchester Wiener Akademie's concert, filmed at the Brucknerhaus Linz in August 2020, features Beethoven's Violin Concerto played by Benjamin Schmid as well as arias and songs by Beethoven and Schubert performed by baritone Thomas Hampson. Martin Haselböck conducts. Tickets 9.90 EUR. View here for seven days.

1 pm ET: IDAGIO presents Thursdays with Thomas. Join Thomas Hampson in conversation with colleagues, friends, and other major personalities of the classical music world. Every week, Thomas invites a special guest for a discussion around their favorite piece of the classical repertoire. View here and later on demand. LIVE

2 pm ET: Medici.TV presents Franz Welser-Möst conducts Strauss & Schubert. The Wiener Philharmoniker is conducted by Franz Welser-Möst in the Four Symphonic Interludes from Richard Strauss's 1924 opera Intermezzo, a work based on the lives of the composer and his wife. They finish the evening with Schubert's Symphony No. 3 in D, written shortly after the composer's 18th birthday (though never published in his lifetime). View here (subscription required).

2 pm ET: Gothenburg Symphony Orchestra presents Mendelssohn & Tchaikovsky. Elina Vähälä is the soloist with the Gothenburg Symphony Orchestra and chief conductor Santtu-Matias Rouvali in Mendelssohn's Violin Concerto. Tchaikovsky's Fourth Symphony completes the program. View here. LIVE

2 pm ET: London Mozart Players present Bows & Oboes. Richard Strauss's Oboe Concerto is exceptionally difficult to perform with circular breathing a pre-requisite. Olivier Stankiewicz is the soloist under the baton of conductor Mateusz Moleda. The program also includes Mendelssohn's Italian Symphony. Tickets £12. View here. LIVE

2:30 pm ET: Academy of St Martin in the Fields presents Re:connect. The third concert in the series explores themes of isolation and friendship. Featuring works by Britten and Prokofiev written specifically for friends of the composers, the performance will also showcase two new works by Welsh composer Huw Watkins. How is taken from new music project Eight Songs From Isolation, written during lockdown by eight contemporary composers, whilst his settings of three Welsh folk songs were written to celebrate the 60th birthday of HRH The Prince of Wales. View here. LIVE

2:30 pm ET: Wigmore Hall presents Independent Opera Scholars Recital 2020. Four of the UK's finest young singers perform alongside English pianist Christopher Glynn, celebrating the spirit of folk music through the works of the great song composers. Register, view here and on demand for 30 days. LIVE

7 pm ET: The Cleveland Orchestra presents In Focus Episode 1. The Orchestra's opening performance brings together souvenirs from the past with musical works created across history, places, and styles. Respighi's Ancient Airs and Dances take their departure from Renaissance lute music, while American composer George Walker's Antifonys was inspired by the collision of musical styles he experienced as a student in Paris. Tchaikovsky filled his Souvenir de Florence with ideas and melodies from a trip to Italy. Franz Welser-Möst conducts. View here until January 13.

7 pm ET: Sphinx Organization presents Lift Ev'ry Voice. For nearly a quarter of a century, the Sphinx Organization has been working to bring about positive change through the power of diversity in the arts. Its virtual gala aims to lift every voice for a more just and equitable future and includes a 6:45 exclusive Pre-Gala Toast for sponsors to meet virtually with Sphinx Artists and distinguished guests. The concert will include a world premiere by Sphinx Competition Laureate Xavier Foley and performances by the Sphinx Virtuosi, EXIGENCE Vocal Ensemble, and past Sphinx Medals of Excellence recipients. More information and view here.

7:30 pm ET: Detroit Symphony Orchestra presents Beethoven for Seven. DSO musicians play Beethoven's Septet for winds and strings. Written just a few years before the First Symphony, it was his most acclaimed work during his lifetime. Tickets $12 and view here.

7:30 pm ET: Chamber Music Society of Lincoln Center presents International Quartet Series: Calidore String Quartet. Safely recorded live in the Rose Studio, the Calidore String Quartet performs Dvorák's Quartet No. 12 in F, Op. 96, The American, Marsalis: Selections from At the Octoroon Balls for String Quartet, and Schubert's Quartettsatz in C minor, D. 703. Tickets $20. View here and on demand for a week.

7:30 pm ET: Nightly Met Opera Streams presents Donizetti's Anna Bolena. Starring Anna Netrebko, Ekaterina Gubanova, Tamara Mumford, Stephen Costello, and Ildar Abdrazakov, conducted by Marco Armiliato. From October 15, 2011. View here and for 24 hours.

7:30 pm ET: 92Y presents Tai Murray & Hee-Kyung Juhn play Beethoven & Jeffrey Scott. Avery Fisher Career Grant winner Tai Murray makes her 92Y debut in a program with pianist Hee-Kyung Juhn of two Beethoven sonatas: Spring, with its exquisite slow movement, and his masterpiece Kreutzer. Between the two, Murray's passion for new music is heard in Jeffrey Scott's Sonata Transparencia, inspired by Brazilian dances. Tickets $15 and view here.

8 pm ET: The Philadelphia Orchestra presents Ax plays Mozart Piano Concerto No. 14. Emanuel Ax joins Yannick Nézet-Séguin and the Orchestra for Mozart's Piano Concerto No. 14. The work is intriguingly set up by the world premiere of Jessica Hunt's Climb, a letter-through-time to Beethoven expressing her gratitude for his work. The performance concludes with Brahms's Serenade No. 2, a work that delighted Clara Schumann. Tickets $15. View here.

8 pm ET: PARMA Live Stage presents Apollo Chamber Players play Leo Brouwer. Apollo Chamber Players present Episode 15 of their Virtual Festival 20×2020 featuring a reimagined performance of Nostalgia de las Montañas, their string quartet commission by Cuban composer Leo Brouwer. Featuring new choreography by Houston Ballet Principal dancer Melody Mennite, with Cuban-born Houston Ballet artists Monica Gomez, Estheysis Menendez and Gretal Batista. View here.

10:30 pm ET: San Francisco Conservatory of Music presents Telegraph Quartet. A livestream from Sol Joseph Recital Hall featuring String Quartet No. 2 by composer and pianist Eleanor Alberga (recently awarded the Paul Hamlyn Foundation Award for composition). The quartet will also perform Korngold's String Quartet No. 3 and Beethoven's String Quartet No. 14 in C-sharp Minor, Op. 131. Register and view here. LIVE

10:30 pm ET: Seattle Symphony presents Shostakovich & Haydn. Shostakovich's impish First Piano Concerto is followed by Haydn's London Symphony, full of bold statements and jaunty folk tunes. Also on the program is Carlos Simon's An Elegy: A Cry from the Grave. Joseph Young conducts with Tengku Irfan, piano, David Gordon, trumpet. Annual passes from $9.99 per month and view here.
Friday, October 16
10 am ET: The Violin Channel presents Menuhin Competition Festival. The Menuhin Competition presents a two-day festival in anticipation of the 2021 Competition (to take place May 13-23 in Richmond, VA). Six concerts over two days from past Competitions feature young violinists who participated in Cardiff (2008), Oslo (2010), Beijing (2012), Austin (2014), London (2016), and Geneva (2018). Footage will be complemented by interviews and discussions with past participants who have gone on to successful careers. View here with the second instalment at 10 am on Saturday October 17.
12 pm ET: DG Stage presents Nemanja Radulovic. The French-Serbian violinist and Ensemble Double Sens perform a range of music, from the Allemande from Bach's Solo Partita No. 2 to Bloch's Nigun. The film, directed by Sébastien Lefèbvre, sets the musicians against the backdrop of the prehistoric landscape—home to thousands of ancient standing stones—at the megalithic site of Carnac, France. With documentary content about artists and location. Tickets 9.90 EUR. View here.
1 pm ET: IDAGIO presents Jean-Guihen Queyras: Bach Cello Suites. Queyras takes a journey into the secrets of one of the most famous works for cello solo. In this episode—Suite 4, Bourrées: Stretching and dancing—he explores how to overcome technical challenges and focus on the pulse. View here. LIVE

1 pm ET: LA Phil Soundstage presents Andra Day. Soul, jazz, and R&B singer Andra Day has been compared to Billie Holiday and Nina Simone for her ability to weave a narrative with masterful musicality and raw emotion. This set includes Day's debut hit "Gold" and a rendition of Simone's powerful protest anthem "Mississippi Goddam." View here and on demand.

2:30 pm ET: Wigmore Hall presents Schumann Quartet. The Quartets Op. 41 are Schumann's only string quartets, composed after studying the quartets of Haydn, Mozart, and Beethoven. The ensemble pairs the third with the first of Beethoven's set dedicated to Prince Razumovsky, the Russian ambassador to Vienna, with its variations on a Russian theme. Register, view here and on demand for 30 days. LIVE

3 pm ET: Petworth Festival presents London Mozart Players & Howard Shelley. Petworth Festival opens with a celebration of Beethoven's 250th anniversary. Pianist, communicator, and conductor laureate of the London Mozart Players Howard Shelley directs a performance of Beethoven's Piano Concerto No. 3. The concert opens with the opening movement from Haydn's Surprise Symphony. Tickets £4.99. View here.

7:30 pm ET: Nightly Met Opera Streams presents Donizetti's Maria Stuarda. Starring Elza van den Heever, Joyce DiDonato, Matthew Polenzani, Joshua Hopkins, and Matthew Rose, conducted by Maurizio Benini. From January 19, 2013. View here and for 24 hours.

7:30 pm ET: Detroit Symphony Orchestra presents DSO Chamber Ensembles. A DSO low brass quartet plays a variety of works by Kevin Day, Allen Chase, Bach, Ilja Reijngoud, and Tomasi. In addition, Joseph Becker and Andrés Pichardo-Rosenthal perform music for duo percussion (TBA). Tickets $12 and view here.
8 pm ET: Boston Early Music Festival presents Nevermind. The young French ensemble Nevermind—Anna Besson, flute, Louis Creac'h, violin, Robin Pharo, viola da gamba, and Jean Rondeau, harpsichord—met while studying in Paris. Following their BEMF début in 2017, they perform from the historic Rosario monastery in the heart of the Belgian countryside, with a program of chamber music by Marias, Telemann, and Bach, including selections from The Art of Fugue. View here until October 30.

8 pm ET: Bowling Green State University presents Third Coast Percussion. Program:
Augusta Read Thomas's Con Moto (World Premiere) and Resounding Earth (Movement 2), Tyondai Braxton's Sunny X, Jlin's Perspective, and Philip Glass's Perpetulum (Movements 3 and 5). View here.

8 pm ET: CAIC Collaborative Works Festival presents Les Parisiennes. The Collaborative Arts Institute of Chicago Collaborative Works Festival's second concert features the works of trailblazing women composers during the years of the Parisian Belle Époque, including Nadia Boulanger, Cécile Chaminade, Germaine Tailleferre, and Pauline Viardot. A highlight of this program is a rare complete performance of Lili Boulanger's epic song cycle Clairières dans le ciel. View here until October 18.
Saturday, October 17
1 pm ET: San Francisco Opera presents Verdi's Attila. SFO's 2012 co-production with Milan's Teatro alla Scala was staged by Gabriele Lavia. Ferruccio Furlanetto sings the title role, the legendary 5th-century ruler of the Huns, with Samuel Ramey as Pope Leo. Lucrecia García is Odabella, with Quinn Kelsey and Diego Torre as Ezio and Foresto. Former SFO Music Director Nicola Luisotti conducts. View here until midnight the following day.
1 pm ET: Berliner Philharmoniker Digital Concert Hall presents Marc Minkowski conducts Haydn & Beethoven. Prometheus is one of the most important figures in Greek mythology, a shining example of the Enlightenment. Beethoven reworked Prometheus's advocacy of mankind through his theft of fire into a heroic-allegorical ballet. It is preceded by a thematically related work, Haydn's so-called Fire Symphony. Tickets 9.90 EUR. View here. LIVE
2 pm ET: Lincoln Center New Stages presents Jennifer Koh: Alone Together. Violinist Jennifer Koh presents a contemporary program comprised almost entirely of works she commissioned from living composers in the first months of this year's shelter in place order. The program features pieces that have never before been performed for a live audience, and includes works by Ellen Reid, Tania Léon, and Qasim Naqvi. View here.
2:30 pm ET: Royal Opera presents 4/4. Four short operas take to the stage: Handel's Apollo and Daphne directed by Olivier Award nominee Adele Thomas and starring Alexandra Lowe and Jonathan McGovern; Frankenstein!! H.K. Gruber's wild and irreverent opera with tenor Allan Clayton and directed by Richard Jones; Soprano Masabane Cecilia Rangwanasha will perform Barber's Knoxville Summer 1915, directed by Antony McDonald; and Britten's Phaedra with mezzo-soprano Christine Rice directed by Deborah Warner. Tickets £16, view here and on demand. LIVE

2:30 pm ET: Wigmore Hall presents Stephen Kovacevich. The American musician made his European debut at Wigmore Hall in 1961 and has gone on to become one of the most revered pianists of his generation. His program consists of Bach's Partita No. 4 and Schubert's final sonata, written in the last year of his life. Register, view here and on demand for 30 days. LIVE

3 pm ET: Petworth Festival presents Sheku and Isata Kanneh-Mason. Brother and sister perform Beethoven's Cello Sonata in C, Op. 102, No. 1, Bridge's Mélodie for Cello and Piano in C-sharp minor, and Rachmaninov's Cello Sonata in G minor, Op. 19. Tickets £4.99. View here.

3 pm ET: Concerts at Saint Thomas presents The German Chorale: Masterworks of Bach, Distler, and Reger. Featuring both the Loening-Hancock and Miller-Scott organs, Assistant Organist, Nicholas Quardokus, performs music from the German tradition—from Bach to Distler and Buxtehude to Reger. The program is framed by Bach's monumental partita on "Sei gegrüsset, Jesu gütig" and Reger's thunderous fantasia on "Straf mich nicht in deinem Zorn." View here.

7 pm ET: PARMA Live Stage presents Déjà Flute. Flautist Lindsey Goodman performs a 30-minute electroacoustic recital exploring things "already seen," or, in this case, heard. Works by American creators Mark Zanter, Eve Beglarian, and Russell Pinkston, ask us to probe our memories and hearts through kaleidoscopically shifting electronic music. This online benefit supports Ms. Goodman and charitable funds organized by New Music USA. View here.
7:30 pm ET: Nightly Met Opera Streams presents Donizetti's Roberto Devereux. Starring Sondra Radvanovsky, Elina Garanca, Matthew Polenzani, and Mariusz Kwiecien, conducted by Maurizio Benini. From April 16, 2016. View here and for 24 hours.

7:30 pm ET: Syracuse Friends of Chamber Music present Akropolis Reed Quintet. A lively and adventurous ensemble featuring oboe, clarinet, bass clarinet, alto saxophone, and bassoon. Program: Marc Mellits's Splinter, Jeff Scott's Homage to Paradise Valley, Stacy Garrop's Rites for the Afterlife, and Gershwin's An American in Paris. Tickets from $25 and view here.

7:30 pm ET: National Museum of Asian Art presents 32 Bright Clouds: Beethoven Conversations around the World. Israeli American pianist Yael Weiss performs Beethoven's Sonata No. 27, Op. 90 and No. 32, Op. 111 as well as new works connected to Beethoven's piano sonatas and his Missa Solemnis by composers Malek Jandali (Syria), Saed Haddad (Jordan), Sidney Marquez Boquiren (Philippines), and Milad Yousufi (Afghanistan). Register and view here.
8 pm ET: A Far Cry presents Dawn Breaks. Juantio Becenti's string quartet, The Forest at Dawn, is at the heart of this programmatic journey from struggle and discord to hope and promise. The concert begins with Shostakovich's String Quartet No. 11 followed by the lilting Allegretto from Mozart's K. 590. The program culminates with A Far Cry's own arrangement of George Harrison's Here Comes the Sun. Tickets from $8. View here.
8 pm ET: IDAGIO presents Orpheus Chamber Orchestra performs Egmont. Beethoven, an unyielding critic of despots, channeled his ardor and rage into music for Goethe's historical drama about a local hero defying foreign occupiers. Liev Schreiber narrates a new translation by Philip Boehm, while soprano Karen Slack and Orpheus illuminate the eternal truths of Egmont. Tickets 15 EUR. View here. LIVE

8 pm ET: Royal Conservatory of Music in Toronto presents The Resounding Concert. A virtual gala with footage of artists including Lang Lang, Danilo Pérez, Brian Blade, John Patitucci, Zakir Hussain, Rhiannon Giddens, Gerald Clayton playing Oscar Peterson, Barbara Hannigan, Chilly Gonzales, Meryl Streep, Jan Lisiecki, James Ehnes, Daniel Hope, Sondra Radvanovsky, all of whom have performed in Koerner Hall since it opened in 2009. Register and view here.
8:30 pm ET: Chicago Sinfonietta presents Common Ground: Collective Stories. Program: Copland's Fanfare for the Common Man, Kathryn Bostic's Portrait of a Peaceful Warrior (World Premiere), Enoch Mankayi Sontonga's "N'Kosi Sikeleli' iAfrika" (South African National Anthem arranged by Valerie Coleman), Florence Price's Andante Moderato from String Quartet in G, Piazzolla's Libertango (arranged for woodwind quintet by Jeff Scott), and Movements from Beethoven's Piano Sonata No. 8 in C minor, Op. 13 arranged for string orchestra by Jeffrey L. Briggs. Tickets $45 or $85 for 3 concerts. View here for 24 hours.

9 pm ET: Houston Symphony presents Live from Jones Hall: James Ehnes plays Mendelssohn. Violinist James Ehnes joins the Houston Symphony for Mendelssohn's concerto and Vaughan Williams's The Lark Ascending. The Symphony's strings also perform Philip Herbert's poignant Elegy, a reflection on racial injustices, past and present. Tickets $20. View here. LIVE

9 pm ET: St. Paul Chamber Orchestra presents Love's Longing. At the center of this program is Billy Childs' Third String Quartet titled Unrequited. Childs wrote this work as a response to Janácek's Intimate Letters, a piece in which Janácek memorialized his unrequited infatuation with a younger married woman. Also featured is flautist Alicia McQuerrey in the world premiere of a work by Adolphus Hailstork and Brahms's Clarinet Quintet. View here and repeated October 18 at 3 pm. LIVE
Sunday, October 18
2 pm ET: IDAGIO presents Gil Shaham Live in Concert. The violinist plays a solo recital live from Fraser Performance Studio at WGBH in Boston. Program: Bach's Sonata for Solo Violin No. 1 in G minor BWV 1001, Scott Wheeler's Isolation Rag, Max Raimi's Anger Management, Reena Ismail's When the violin, and Bach's Partita for Solo Violin No. 3 in E BWV 1006. Tickets 9.90 EUR. View here and for three days.
2:30 pmET: Wigmore Hall presents Gweneth Ann Rand & Simon Lepper. Rand and Lepper perform Messiaen's Harawi. Rand's performance of the work for the Oxford Lieder Festival last year made it into the Observer critics review of 2019 for the best classical music of the year. Register, view here and on demand for 30 days. LIVE
3 pm ET: Petworth Festival presents Mitsuko Uchida. One of the most celebrated artists of our time performs Beethoven's Diabelli Variations, the monumental work that stands alongside Bach's Goldberg Variations as one of the two greatest sets of variations for piano ever composed. Tickets £4.99. View here.

3 pm ET: Bang On A Can presents The Fourth Bang On A Can Marathon. The six-hour live Marathon will be hosted by Bang on a Can Co-Founders and Artistic Directors Michael Gordon, David Lang, and Julia Wolfe, kicking off with a special birthday tribute to composer George Crumb (91 years young), and closing with a solo sonic adventure featuring guitarist-composer Bill Frisell. Includes nine world premieres commissioned especially for the day, a rare solo appearance by David Longstreth of Dirty Projectors, plus music and performances by Hauschka, Nathalie Joachim, Tania León, William Parker, Nels Cline and Yuka C. Honda, Du Yun, and many more. This is a free concert, but please consider purchasing a ticket here.

4 pm ET: The Gilmore presents Chaeyoung Park. The Gilmore's Rising Stars series continues with a recital by Chaeyoung Park, who performs Brahms's Piano Sonata No. 3, Debussy's Pour le Piano, Unsuk Chin's Etude No. 5 (Toccata), and selections from Ligeti's Musica Ricercata, the latter of which she performed on WQXR last year in advance of her debut at Carnegie's Weill Hall. View here.

5 pm ET: Chamber Music Society of Lincoln Center presents Winds from Different Lands. Program: Selections from Don Giovanni for Two Oboes, Two Clarinets, Two Bassoons, and Two Horns (Original performance April 7, 2017), Balakirev's Octet for Flute, Oboe, Horn, Violin, Viola, Cello, Bass, and Piano, Op. 3 (Original performance March 10, 2019), Barber's Summer Music for Flute, Oboe, Clarinet, Bassoon, and Horn, Op. 31 (Original performance February 25, 2020), and Poulenc's Sextet for Flute, Oboe, Clarinet, Bassoon, Horn, and Piano (Original performance October 25, 2015). View here and on demand for a week.

6 pm ET: New West Symphony presents A Tour of Japan. From Ronald Reagan Presidential Library, Michael Christie conducts with Anne Akiko Meyers and Alyssa Park, violins, Reiko Obata, koto, and Benjamin Krasner, piano. Program: Miyagi's Haru No Umi (Sea in Spring), Takemitsu's Three Film Scores, Yuize's Concerto No. 2 for Koto and Strings (3rd mvt.), Schubert's Ave Maria, Beethoven's Für Elise, Bach's Concerto for Two Violins in D minor, and Mozart's Serenade in D. Tickets from $15. View here.

7 pm ET: Celebrity Series of Boston presents Chucho Valdés. The jazz pianist will perform a streamed concert of solo works from the New World Center in Miami. The concert is followed by a live chat with the artist. Concert $20 or $90 for series of six. Purchase and view here and for 72 hours. LIVE

7:30 pm ET: Met Opera Streams presents Donizetti's Don Pasquale. Starring Anna Netrebko, Matthew Polenzani, Mariusz Kwiecien, and John Del Carlo, conducted by James Levine. From November 13, 2010. View here and for 24 hours.
Monday, October 19
8 am ET: Wigmore Hall presents Ashley Riches & Sholto Kynoch. The young British rising star sings Dvorák's Gypsy Songs, Poulenc's Chansons villageoises, Ravel's Chants populaires, and songs by Charles Ives. Register, view here and on demand for 30 days. LIVE

2:30 pm ET: Wigmore Hall presents Francesco Piemontesi. The Swiss pianist presents three works by Schubert: the powerful A minor sonata (1823); the incomplete Reliquie (1825), once mistakenly thought to be Schubert's last composition; and one of his final three sonatas (1828). Register, view here and on demand for 30 days. LIVE
7:30 pm ET: Met Opera Streams presents Rossini's Il Barbiere di Siviglia. Starring Joyce DiDonato, Juan Diego Flórez, Peter Mattei, John Del Carlo, and John Relyea, conducted by Maurizio Benini. From March 24, 2007. View here and for 24 hours.
7:30 pm ET: Pittsburgh Symphony Orchestra presents Our Love for Pittsburgh. The PSO's first virtual concert opens with Tchaikovsky's Serenade for Strings, a piece written just a decade before the founding of the PSO. The concert continues with works by Jessie Montgomery, Francesco Geminiani, Ennio Morricone, and Billy Strayhorn, as the Orchestra salutes Pittsburgh through a musical exploration of our dramatic geographic setting and the people drawn to it—the innovators, the immigrants, the trailblazers, and the artists. Register and view here.

7:30 pm ET: SalonEra presents Latin Baroque. Soprano Nell Snaidas and gambist Laury Guttierez share their performances of Latin Baroque and Afro-Baroque music, while violinist Karin Cuellar Rendon explores 19th-century Peruvian and Bolivian salon music. Suggested donation $10, register and view here.
Artists and Organizations Offering Free Content
The following are all accessible during the coronavirus pandemic:
Academy of Ancient Music
The most listened-to period instrument ensemble, directed by Richard Egarr, has made a number of streams available on its website. Guest artists include Louise Alder, soprano, Nicola Benedetti, violin, Mary Bevan, soprano, David Blackadder, trumpet, Iestyn Davies, countertenor, Tim Mead, countertenor, Christopher Purvis, bass, and Tenebrae, directed by Nigel Short. Explore here.
American Opera Project
American Opera Project presents Opera Comes Home, three world premiere English-language productions. As One is a chamber opera by composer Laura Kaminsky, librettist Mark Campbell and librettist/filmmaker Kimberly Reed in which two voices trace a transgender protagonist from her youth in a small town to Norway. Three Way, with music by Robert Paterson and libretto by David Cote, is an opera on the present and future of sex and love. Harriet Tubman, with music and libretto by Nkeiru Okoye, tells how a young girl born in slavery becomes Harriet Tubman, the legendary Underground Railroad conductor. View here.
American Symphony Orchestra
American Symphony Orchestra releases weekly recordings from its archives with content alternating between live video recordings of SummerScape operas and audio recordings from previous ASO concerts. Ethel Smyth's The Wreckers, Richard Strauss's Die Liebe aus Danae, and Korngold's Das Wunder der Heliane, all conducted by Leon Botstein, are all highly recommended and available now. **
Apollo's Fire: Music for the Soul
The Cleveland-based baroque orchestra founded by Artistic Director Jeannette Sorrell is offering a series of video streams entitled "Music for the Soul." New episodes are posted here.
Australian Chamber Orchestra
ACO Home Casts are curated by Artistic Director Richard Tognetti with an emphasis on content that reflects the ACO's artistry, dynamism, and sense of adventure. Musicians have been equipped with a mini in-home studio and training, enabling them to record, produce, and broadcast directly from their homes. This includes full-length ACO concerts broadcast as Facebook Watch Parties hosted by an ACO musician, intimate solo performances filmed live from musicians' homes, and "Ask-Me-Anything" Instagram interviews. Each week's schedule is announced Monday mornings here.
Baltimore Symphony Orchestra
BSO musicians are putting live-streamed concerts on the orchestra's Facebook page on Wednesday and Sunday nights "for the near future."
Bard SummerScape & Fisher Center
Archival works highlight Bard's wealth and breadth of programming, including performances from its SummerScape Opera and BMF archives. Recent include Bard SummerScape's 2011 production of Strauss's rarely performed Die Liebe der Danae and last year's Daniel Fish directed staging of Michael Gordon's Acquanetta. More details here.

Beijing Music Festival
Beijing Music Festival celebrates its 23rd edition with the theme, "The Music Must Go On" and a selected concert available each day. Highlights include the Opening Concert, which features the world premiere of Dedicated to 2020, a choral symphony composed by Wuhan composer Ye Zou, and performed by the Wuhan Philharmonic, the Beijing Symphony, and the Wuhan-born musicians of the China Philharmonic; the BMF debut of the Suzhou Chinese Orchestra; Beethoven's violin sonatas performed by 10 rising-star Chinese violinists; piano recitals by Yuan Shen and Jiayi Sun; a children's concert performed by the BMF Children's Festival Orchestra; and the Closing Concert, which celebrates China Philharmonic's 20th anniversary with the theme "We Were Born in 2000" with soloists all born that year. View here.
Lisa Bielawa's Voters' Broadcast
A participatory performance for unlimited voices and instruments. The work is directed, conceived and composed by Lisa Bielawa, with text excerpted from Sheryl Oring's I Wish to Say. Voters' Broadcast will be premiered in three virtual events hosted by the University of Michigan, Ann Arbor and Kaufman Music Center in New York on September 30, October 14, and October 28, and one day of outdoor performances presented by Kaufman Music Center and Brooklyn Public Library on October 24 at 11 am, 12:30 pm, and 2 pm. Bielawa's mission is to stimulate voter engagement, political awareness, and community participation through the act of giving voice to the concerns of fellow citizens during the lead-up to the 2020 Presidential election. All events are free and open to the public. See here for updates.
Carnegie Hall
More than 200 teen musicians hailing from 41 states across the US came together in July 2020 as an online virtual community to form three musical ensembles: the National Youth Orchestra of the United States of America (NYO-USA), NYO2, and NYO Jazz. All three ensembles recorded exuberant virtual performance videos during the residency, directed by Emmy Award-winner Habib Azar. The first four videos—Valerie Coleman's Umoja by the musicians of NYO-USA; a unique adaptation of Grieg's Morning Mood by NYO2; and Thad Jones's Cherry Juice and Wycliffe Gordon's We're Still Here by NYO Jazz—are now available for viewing. Explore here.
The Cleveland Orchestra
The Cleveland Orchestra is offering archival videos, daily Mindful Music Moments videos, and videos from musicians performing from home. Explore here.
Cliburn Kids
The Cliburn launches its expanded, robust online music education program for elementary-school students. Created as a resource for school districts, teachers, and parents, the initiative includes 27 lesson plans to date, each with a seven- to ten-minute video, and corresponding individual and class activities that meet objectives of the Texas Essential Knowledge and Skills (TEKS). New episodes and lesson plans are released every Tuesday of the 2020–2021 school year for a total of more than 50 by May 2021. Explore here.
Daniel Hope
In Hope@Home on Tour, British violinist Daniel Hope took his livestreamed TV series out of his Berlin living room and on the road. The 27 half-hour episodes of live musical performance and conversation in English, all professionally produced for the German/French ARTE TV network, were filmed at a succession of visually compelling locations, many of which are not open to the public. All episodes have now been archived until October 31 in the ARTE Media Library here.

Detroit Symphony Orchestra
The Detroit Symphony Orchestra has made its webcast archive available for free. The collection features 200+ works going back three years, and highlights include Leonard Slatkin conducting John Luther Adams's climate change-inspired Become Ocean from 2019, several world premieres, and a host of bite-sized encores. Explore here.
Deutsche Grammophon Yellow Lounge
The German classical music giant is streaming Yellow Lounge broadcasts from its archives. Recent additions include clarinetist Andreas Ottensamer, pianists Alice Sara Ott and Chihiro Yamanaka, and cellist Mischa Maisky. Performances are broadcast in rotation, one video at a time, adding a new performance every few days. DG communicates the start of each new performance by newsletter at the start of each week. To keep updated sign up here.
Finnish National Opera
Finnish National Opera presents Stage24, a series of streamed archived performances on its website, which are then available for the next six months. Recent content includes a staged version of Sibelius's Kullervo, Stravinsky's The Rake's Progress, Caspar Holten's staging of Wagner's Der Fliegende Holländer with Camilla Nylund, and Christoff Loy's Tosca. An excellent company and some interesting and original work worth investigating ** Explore here.
Handel and Haydn Society
Boston's Handel and Haydn Society has created the H+H Listening Room where you can hear and watch H+H performances including Mozart's Requiem, Handel's Messiah, and Purcell's Dido and Aeneas filmed at New York's Met Museum. There are also more than a dozen videos of musicians performing from their homes, a special video of principal flutist Emi Ferguson teaching people how to make their own baroque flute, and a new podcast called "Tuning In". In the first episode Principal Cellist Guy Fishman interviews Artistic Director Harry Christophers about Bach's St. Matthew Passion. Explore here.
Kennedy Center
The Kennedy Center is offering a free, live digital performance initiative, Couch Concerts, to help inspire, uplift, heal, and bring the performing arts into homes across the country and around the world during these difficult times. Couch Concerts stream direct from artists' homes on the Kennedy Center website. Audiences can discover a wide range of other at-home programming through the Kennedy Center at Home webpage.
La Scala/RAI
Italy's RAI presents five productions from La Scala Milan including the world premiere of Kurtág's Fin de Partie, Daniel Barenboim conducting Götterdämmerung, Lisette Oropesa in Verdi's I Masnadieri, Montedervi's Orfeo conducted by Rinaldo Alessandrini, and Les Vêpres Siciliennes conducted by Daniele Gatti. A wide range of concerts are also available. Explore and register here.

Les Arts Florissants
Les Arts Florissants's annual Festival in Thiré, France included a series of 10- to 15-minute "Meditation" concerts recorded earlier this summer. Now available to enjoy online, the Meditations include performances by students of Juilliard's Historical Performance program in the spirit of their annual participation in the Festival. View here.

Lincoln Center
From the archives of Lincoln Center's resident organizations comes a trove of video, including rarely seen footage from decades of Live from Lincoln Center, more recent performances from across campus, and live streams wherever performances are still happening. Lincoln Center Pop-Up Classroom broadcasts on Facebook Live every weekday at 10 am ET and is led by some of the world's best artists and educators. #ConcertsForKids teams up with top artists to bring world-class performances and diverse musical perspectives from their homes to yours. Explore here.
Los Angeles Chamber Orchestra
LACO AT HOME offers streaming and on demand performances, including a full showing of the orchestra's critically acclaimed West Coast premiere of Dark with Excessive Bright for double bass and strings by LACO Artist-in-Residence Missy Mazzoli. View streaming here and on demand here.
Los Angeles Master Chorale
Videos recorded as part of the "Offstage with the Los Angeles Master Chorale" series from April 24 to June 19 included interviews conducted by Artistic Director Grant Gershon and Associate Conductor Jenny Wong with notable performers—including special guests Reena Esmail, Morten Lauridsen, Anna Schubert, Peter Sellars, Derrick Spiva—as well as Master Chorale singers. Available on demand here.
Metropolitan Opera Live In Schools
The Metropolitan Opera's HD Live in Schools program has launched a new series for the 2020–21 school year, creating cross-disciplinary educational opportunities across the country. For the 2020–21 school year, students and teachers will receive free subscriptions to the Met Opera on Demand service, with a catalogue of more than 700 Live in HD presentations, classic telecasts, and radio broadcasts. Ten operas have been selected for the HD Live in Schools program, and will be presented in five educational units, with two thematically paired operas per unit. The series opens with Beethoven's Fidelio and Donizetti's La Fille du Régiment (September 28–October 16), both of which explore the intersection of music and politics. The Met will continue to offer teachers HD Live in Schools Educator Guides and access to Google Classroom materials that can be adapted for virtual learning lesson plans. In addition, the Met's National Educators Conference will be hosted on a virtual platform this year and take place on five Saturdays throughout the 2020–21 school year. Two conferences, scheduled for October 10, 2020, and October 17, 2020, will also feature live conversations with Met artists. More information here.
Minnesota Orchestra
Minnesota Orchestra at Home shares video, audio, and educational materials through the categories of Watch, Listen and Learn, including videos from the orchestra's archives and newly created "mini-concerts" directly from the homes of Orchestra musicians. Explore and view here.
National Sawdust Digital Discovery Festival, Volume One
With more than 65 events, featuring over 100 artists premiering in a four-month span, National Sawdust Digital Discovery Festival: Volume One was a bright spot in NYC's post-COVID live music world. Featuring post-COVID performances from Robert Wilson, Julian Lage, Tyondai Braxton, Emel Mathlouthi, Matthew Whitaker, Dan Tepfer, Ashley Bathgate, Emily Wells, Brooklyn Rider, Joel Ross, Conrad Tao, Andrew Yee, and Lucy Dhegrae, and recently recorded Masterclasses with Tania León, Ted Hearne, Vijay Iyer, Jamie Barton, Lawrence Brownlee, Trimpin, and Lara St. John. Archival performances include David Byrne, Lara Downes and Rhiannon Giddens, and Ryuichi Sakamoto. Explore here.
New World Symphony
The New World Symphony presents a web-based series called NWS Archive+. Michael Tilson Thomas moderates discussions with NWS Fellows, alumni, guest artists, and visiting faculty about archived recordings. Performances will be available here. NWS Fellows also play live, informal chamber music concerts from their homes in Miami Beach and broadcast via Facebook Live. In addition, the NWS online archive contains master classes, tutorials and town halls, which can be found here. Finally, for the past 10 years, the Fellows have performed one-hour concerts for local school children. These concerts and preparatory material will be available free to students and parents. NWS Educational concerts can be found here.
Opera Australia
OA | TV: Opera Australia on Demand is the Sydney-based company's new digital space. Alongside the world's largest collection of Dame Joan Sutherland on video, OA will offer exclusive content from the OA back catalogue, productions from Handa Opera on Sydney Harbour, and a new series of chat show-style interviews conducted by AD Lyddon Terracini. The first posted full show is Sutherland in The Merry Widow, and the fileted aria's in the section labelled "The Best of Dame Joan Sutherland" are even better. ** View here.
Opéra National de Paris
The Palais Garnier and Bastille Opera have made their digital stage, "The 3e Scène," free. The platform is a pure place of artistic adventure and exploration, giving free rein to photographers, filmmakers, writers, illustrators, visual artists, composers, and choreographers to create original works. Visit here. Some of Opéra National de Paris's productions are accessible on the company's Facebook Page. In addition, Octave, the Paris Opera's online magazine, is posting articles, videos, and interviews here.
Opera North
One of Britain's most respected smaller opera companies, Opera North has put its acclaimed semi-staged concerts of Wagner's epic Ring Cycle online. "Beg, borrow, or be like Wotan and steal a ticket for this show," said the UK's Times of Das Rheingold. "You'd be lucky to hear as good at Bayreuth," said The Telegraph of Die Walküre. Richard Farnes proves a seriously impressive Wagner conductor. Watch here.
OperaVision
OperaVision offers livestreams of operas available for free and online for six months. Previous offerings include Barrie Kosky's visually spectacular Moses und Aron, David McVicar's superb Die Entführung aus dem Serail from Glyndebourne, and Deborah Warner's thoughtful Death in Venice for English National Opera. View upcoming and past content here. **

Orli Shaham Bach Yard Playdates
Pianist Orli Shaham brings her acclaimed interactive concert series for kids to the internet. Bach Yard Playdates introduces musical concepts, instruments, and the experience of concert-going to a global audience of children and their families. A number of 10-minute episodes are already available for on-demand streaming. Programs and performances range from Bach's Two-Part Invention to Steve Reich's Clapping Music. Explore here.
The Sixteen
The Sixteen and founder Harry Christophers launched Quarantine with The Sixteen, a regular schedule of digital content. The Sixteen Virtual Choir's performance of Sheppard's Libera nos involved each part being recorded at each singer's home. Other features include: Choral Chihuahua, a podcast by The Sixteen and I Fagiolini; Stay at Home Choir performing Sir James MacMillan's O Radiant Dawn; Archive performances, including MacMillan's Stabat Mater performed in the Sistine Chapel and Bach's St Matthew Passion with Streetwise Opera; Recipes for isolation; Video diaries providing insight into daily lives during lockdown; Weekly playlists. Explore here.
Trinity Wall Street
New York's Trinity Church Wall Street introduces daily weekday "Comfort at One" (1 pm ET) streaming performances on Facebook with full videos posted here. Tune in for encore performances of favorite Trinity concerts, professionally filmed in HD, along with current at-home performances from Trinity's extended artistic family.
Voices of Ascension
New York choir Voices of Ascension, which celebrates its 30th anniversary next season, is posting a daily offering of choral beauty on its website. Music is chosen by staff, members of the chorus and orchestra, and listeners. View here.
Warsaw Philharmonic
The Warsaw Philharmonic has made a selection of video recordings available on its YouTube channel. Recent offerings include Saint-Saëns's Organ Symphony and Arvo Pärt's Swansong conducted by Artistic Director Andrzej Boreyko, as well as rarities by Polish composers like Grazyna Bacewicz. It's an excellent orchestra very much in the Eastern European tradition and concerts have been master edited for posting online.

Shai Wosner's Diabelli Variations Project
Starting Tuesday, September 8, Shai Wosner begins on a month-long journey through Beethoven's Diabelli Variations. Beginning with the work's famous theme—a waltz by Anton Diabelli—Wosner performs and provides insight into one variation per day until he has completed all 33. View here.
Paid Digital Arts Services
Berlin Philharmonic Digital Concert Hall
The BPO Digital Concert Hall contains over 600 orchestra concerts covering more than ten years, including 15 concerts with the orchestra's new Chief Conductor Kirill Petrenko, interviews, backstage footage.
Medici TV
Thousands of classical music videos are available by subscription, as well as hundreds of events that are broadcast live for free each year, available for 90 days. Subscriptions cost $83.85 per year. www.medici.tv
Archived Recent Performances
The following broadcast events have occurred since the start of the COVID-19 crisis and are still available for viewing:
March 12
The Philadelphia Orchestra and Music Director Yannick Nézet-Séguin performed BeethovenNOW: Symphonies 5 & 6 as well as Iman Habibi's Jeder Baum Spricht to an empty Verizon Hall for live broadcast. An outstanding concert captured in excellent visuals and sound. www.philorch.org/live
Miller Theater's Bach Collection was performed live for a virtual audience. The program included Jesu, Joy of Man's Desiring (arr. Hess), Concerto for Violin and Oboe in C minor, BWV 1060 (arr. Fischer), Chorale Prelude Ich ruf zu dir, Herr Jesu Christ, BWV 639 (arr. Busoni), and Cantata Ich habe genug, BWV 82, with Kady Evanyshyn, mezzo-soprano, Rebecca Fischer, violin, Alecia Lawyer, oboe, Simone Dinnerstein, piano, Baroklyn. View here.
March 14
Canadian pianist Garrick Ohlsson played an impressive selection of works by Beethoven, Prokofiev (the Sixth Sonata), and Chopin to an empty house at New York's 92nd Street Y. View here.
March 16
In front of an empty auditorium (very visible thanks to excellent camerawork) Melbourne Symphony Orchestra was conducted by Forth Worth Symphony Music Director Miguel Harth Bedoya in dynamic performances of Bloch's Schelomo with soloist Timo-Veikko Valve, and Rimsky-Korsakov's Scheherazade. Available here.
March 26
92nd St. Y presents Jonathan Biss playing Beethoven's last three piano sonatas. Written, as Beethoven said, "in a single breath," these pieces represent the apotheosis of his piano writing, showing his mastery of the variation form (in Op. 109), his expertise in the forms of the musical past (the fugue, in Op. 110), and an ability to be cutting-edge (considering Op. 111 as a whole, but especially the famous 'boogie woogie' moments in the second movement). Available here.
April 10
Handel's Messiah with The Tabernacle Choir and Orchestra at Temple Square and soloists Amanda Woodbury, Tamara Mumford, Tyler Nelson, and Tyler Simpson. Recorded in 2018 but archived for a rainy day such as this. Available here.

Bach's St. John Passion, performed by Bach Collegium Japan conducted by Masaaki Suzuki from the Cologne Philharmonic. View here.
April 14
92nd St Y presents Marc-André Hamelin who streamed a characteristically elegant program from his home, with the timely inclusion of Liszt's Bénédiction de Dieu dans la solitude. The repertoire also included C. P. E. Bach, Enescu, Fauré, Scriabin, and six selections from Debussy's Preludes, Book II. View here.
May 8
The Berliner Philharmoniker's European Concert. In order to comply with social distancing rules and hygiene requirements Kirill Petrenko conducts the orchestra in chamber music formation from the empty Philharmonie Berlin. Federal President Steinmeier to deliver opening address. Program: Pärt's Fratres, Ligeti's Ramifications, Barber's Adagio for Strings, Mahler's Symphony No. 4 (arrangement for chamber ensemble by Erwin Stein) with Christiane Karg, soprano. Subscribe or trial for free and view in the Digital Concert Hall.

June 28
San Francisco Symphony Orchestra presented MTT25: An Online Tribute for Michael Tilson Thomas. Hosted by famed vocalists Audra McDonald and Susan Graham, the event featured contributions and tributes by musicians of the San Francisco Symphony and Chorus, an array of distinguished guest artists, and many surprises. View here.

June 30
Live At Carnegie Hall presented Russian pianist Daniil Trifonov discussing his career with fellow pianists Emanuel Ax and Sergei Babayan and the venue's Executive and Artistic Director Sir Clive Gillinson. Interspersed with excerpts from Trifonov's performances, one newly recorded at home and others previously captured at Carnegie Hall. On demand here.

**Highly recommended



WHO'S BLOGGING


RENT A PHOTO
Search Musical America's archive of photos from 1900-1992.