---
A Few Roster Updates: IMG, Unbound, CAMI Music
The ever adventurous string quartet ETHEL has joined Unbound Artists, having been on the roster of Baylin Artist Management, which announced in February that it would be closing its doors within the next year. Founded in 1998, the New York based quartet is currently the resident ensemble at The Metropolitan Museum of Art's Balcony Bar, ensemble-in-residence at Denison University, and was Creatives-in-Residence at the Brooklyn Public Library in 2019-20. The group--Ralph Farris (viola), Kip Jones (violin), Dorothy Lawson (cello), and Corin Lee (violin)—boasts nine feature recordings, 225 premieres, a Grammy award, and any number of national and international tours often incorporating a variety of musics and formats in its shows.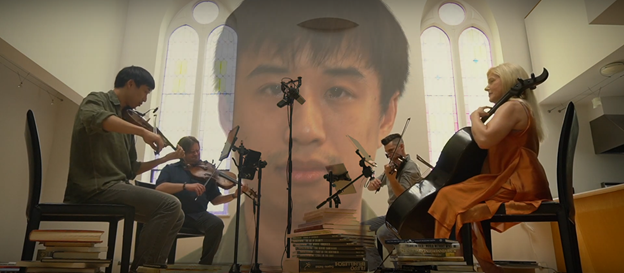 ETHEL in its element: Corin Lee, Ralph Farris, Kip Jones, Dorothy Lawson
Columbia Artists shut its doors at the end of August and its artists are moving on; among the higher profile of them is Japanese pianist Joe Hisaishi, who has moved to CAMI Music, which was one of several divisions of CAMI (Columbia Artists Management Inc.) that spun off after the death of Ronald Wilford, CAMI's longtime chief. In Japan, Hisaishi will continue to be managed by Wonder City, with which he has been affiliated from the beginning of his career; CAMI President Jean-Jacques Cesbron will be his PM elsewhere.
A composer, conductor, and pianist, the Nagano-born Hisaihi has issued some 40 albums over the course of his career and scored over 80 Japanese and international films, for which he has earned numerous awards. He made his debut as a film director for Quartet, for which he also wrote the music. He was the first music director of the New Japan Philharmonic's "Word Dream Orchestra (W.D.O.)," and he counts the likes of Philip Glass, David Lang, the Hong Kong Philharmonic, and the American Symphony Orchestra among his collaborators. Hisaishi is artistic director of Nagano City Arts Center, composer-in-residence with New Japan Philharmonic Orchestra, and, as of April, principal guest conductor of the Japan Century Orchestra.
The London based Castalian String Quartet, coming up on its tenth anniversary, has joined the roster of IMG Artists for global general management, remaining with Massachusetts-based David Rowe for North America. Recognized with the 2019 Royal Philharmonic Society Young Artist award, the group won the Borletti-Buitoni Trust Fellowship Award in 2018 and was scheduled to make its Carnegie Hall debut last March, just as the pandemic shut the world down. The preceding season saw its North American debut recitals at The Philips Collection (Washington D.C.), Lincoln Center (N.Y.), Middlebury College (Vermont), Salle Bourgie (Montreal), Vancouver Recital Series, and Banff International String Quartet Festival. It is also among the recitalists in Wigmore Hall's current daily live streamed performances. The group has been the resident ensemble at the Esbjerg International Chamber Music Festival in Denmark and Festival Musique d'Été à Suzette, near Avignon. It has also toured Europe, China, and Colombia.

WHO'S BLOGGING


RENT A PHOTO
Search Musical America's archive of photos from 1900-1992.