---
The 59th Annual Musical America Awards
The warm, celebratory atmosphere of the Musical America Awards, deemed by many as the industry's annual holiday party, belies the logistical challenges for the organizers. First, the event has to take place in December, when the annual Musical America International Directory of the Performing Arts is published. Second, it has to be a night when all five of the awardees are available—not easy, when this year, for instance, their homes stretched from upstate New York to Copenhagen, Salzburg, and "1,000 kilometers from Stockholm." Third, Carnegie Hall has to be open and its CEO on hand, along with MA's CEO and its full- and part-time staffers. Last, but certainly not least, sponsors must be signed on to defray the cost.
This year there was an added scheduling challenge, and that was finding a night when longtime WQXR host Annie Bergen could serve as MC.
And so, the 59th annual Musical Awards took place on December 4, kicked off by Bergen with a list of some of the past Musicians of the Year, from the first, Leonard Bernstein in 1961, to Jessye Norman in 1982, Riccardo Muti in 2010, and Daniil Trifonov, in 2019. She also provided a brief history of the publication, whose origins date to the late 1800s, when Musical America was a biweekly newspaper.
After thanking the party's sponsors—which this year were the Athens Philharmonic, the Global Foundation for the Performing Arts, Meyer Sound, and Steinway and Sons—Bergen introduced Musical America Features Editor Sedgwick Clark, who began by presenting the Composer of the Year Award to Joan Tower.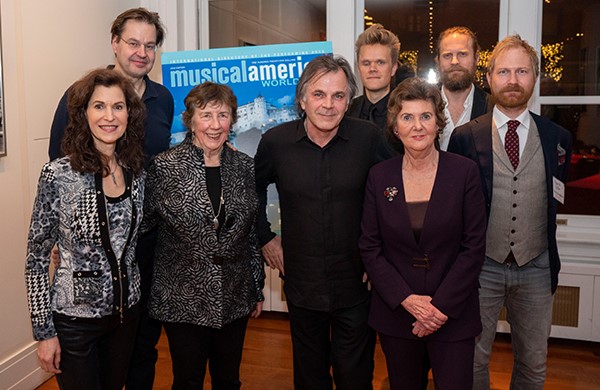 Front row: Sharon Isbin, Instrumentalist of the Year; Joan Tower, Composer of the Year; Markus Hinterhäuser and Helga Rabl-Stadler of the Salzburg "Festival of the Year."
Back row: Peter Mattei, Vocalist of the Year; The Danish String Quartet, Ensemble of the Year: Frederik Øland, Asbjørn Nørgaard, and Fredrik Schøyen Sjölin.

"Awards don't matter"
Noting that she was a woman composer long before it was fashionable, Clark touched on the 81-year-old Tower's many achievements, from being the first woman to receive the Grawemeyer Award, for Silver Ladders, in 1990, to being the League of American Orchestras' Gold Baton award recipient earlier this year. Tower, in turn, never one to mince word, was quick to point out in her remarks, "It's the music that matters, not the awards." She did remember the bad old days when her male colleagues were receiving commissions and acknowledgements and she was not. Today, Tower's work is among the most performed of any living American. "By the way is there any money involved here?," she asked Clark. "I don't have a manager—composers are too poor to have managers." She then thanked MA Instrumentalist of the Year guitarist Sharon Isbin and flutist Carol Wincenc for commissioning pieces from her, and noted that it was performers like them that made it possible for composers to ply their trade.
The original "Guitar Hero"
Isbin, the first guitarist ever to be named MA's Instrumentalist of the Year, is in fact hugely active commissioning new work, adding to the repertoire pieces by John Corigliano, Lukas Foss, Tan Dun, Aaron Jay Kernis, Ned Rorem, the late Christopher Rouse, and many others. And while she is a "classical" guitarist, Isbin does not limit herself to the genre, having collaborated and recorded with Antonio Carlos Jobim, jazz guitarist Larry Coryell, folk singer Joan Baez, country fiddler Mark O'Connor, and rock guitarists Steve Vai and Steve Morse. Isbin traced her interest in the instrument back to early lessons at age nine while living in Italy and her first award at age 14, from the Minnesota Orchestra. She remembered how it took eight years to convince Corigliano to write something for her but said that, in the end, "it was worth the wait and taught me the importance of perseverance." She also recalled playing for the first 9/11 memorial as the names of the dead were read aloud. "It made me realize that healing is a big part of what we do," she said, a thought that has remained with her ever since.
"Any questions?"
Vocalist of the Year Peter Mattei arrived fresh from rehearsals for Wozzeck, which opens December 27 at the Metropolitan Opera and marks his tenth major role for the house since his 2002 debut as the Count in Mozart's The Marriage of Figaro. A consistently solid and assured presence on stage, the Swedish baritone traced his now stellar career to a love of Elvis as a teen. While his friends were all listening to Deep Purple and their ilk, he said, "Elvis blew me away." There was no music in his home, growing up as he did in a town 1,000 kilometers from Stockholm. So the journey from Elvis has been "a dream," he said. He then asked, to a captive crowd's delight, "Are there any questions?"
The personal connection makes the difference
Humor was never far from the surface of any of the honorees' remarks, each of which were gracious to a fault. Ensemble of the Year the Danish String Quartet--Frederik Øland (violin); Rune Tonsgaard Sørensen (violin); Asbjørn Nørgaard (viola); Fredrik Schøyen Sjölin (cello)—made its debut in 2002 and by 2006 had been named Artist-in-Residence by Danish Radio. Three of its members flew in from Copenhagen for the occasion, with spokesman Øland recalling how the group first met when they were kids in summer camp. "We used to take all the music we could find and when it became difficult, we skipped that part." The Ravel quartet was a particular favorite. "We'd play the opening over and over again, but no more [than that]—we even recorded it for ourselves to listen to."
"We want to play only the music we love," he continued, "and we want to have a good time. We might spend as much time playing Guitar Hero [video game] or hanging out as rehearsing." He emphasized the importance of the personal bond shared among its members. He also was quick to thank his management, Kirshbaum and Associates, and ECM recording.
The Salzburg Centennial
Honoring the Salzburg Festival's 100th anniversary in 2020, Musical America deemed it the "Festival of the Year," with President and CEO Helga Rabl-Stadler and Artistic Director Markus Hinterhäuser on hand to accept the award. Widely regarded as the preeminent arts festival in the world, it was launched in 1920 as "a project for freedom," according to Rabl-Stadler, intended to bring hope and cultural stability to post WWI Europe. Today, it boasts over 200 opera, concert, and drama performances, jam-packed into six weeks and 16 venues and boasts performances by some of the top names in the field—Riccardo Muti, Anne-Sophie Mutter, Simon Rattle, and Anna Netrebko.
"This is the most entertaining award ceremony I have ever attended," said Rabl-Stadler in her remarks. She provided the detail to MA's definition of the Vienna Philharmonic as the Festival's "house band," noting the orchestra had performed for over 2,250 operas and 800 concerts since first arriving in Salzburg. She nodded to visiting artists such as Netrebko ("We invented her in Salzburg") and Peter Mattei and said she would be returning in January to see his Wozzeck at the Met. Rabl-Stadler said the festival had been founded as a peace project--still very relevant in today's volatile world—and closed by saying that both the festival and Musical America are firm believers in the power of the arts.
Photo by: Richard Termine

WHO'S BLOGGING


RENT A PHOTO
Search Musical America's archive of photos from 1900-1992.