---
MA Top 30 Professional of the Year: Alexander Lloyd Blake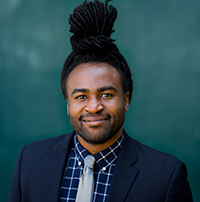 Founder and Artistic Director
Tonality
Tonality is a Los Angeles-based choral group founded in 2016 by Alexander Lloyd Blake to promote peace, unity, and social justice through choral music. Proudly diverse in background, age, and professions, its members sing in a range of languages and musical styles to help unify a fractured and divided community.
"I began singing in choirs in church from a very young age," Blake relates. "My first choral experience in school was my first engagement with classical music in sixth grade, and I have been hooked ever since. While most of my work is classical, I find that my original passion for singing with others has been the more consistent."
Holding a PhD in Choral and Sacred Music from USC Thornton School of Music, Blake wears many hats. He is director of classical choirs at the Los Angeles County School for the Arts, chorusmaster for the Los Angeles Opera Camp, and principal associate conductor for the National Children's Chorus, traveling bi-weekly to conduct students in Los Angeles and New York. He is also a freelance conductor and session singer, having sung on films like Jordan Peele's US and Disney's The Lion King.
"As one of few musicians of color in many of my choral settings (with even fewer conductors of color), I felt it was time to start something that would become more inclusive," he says. "After that, using these different perspectives to speak on issues of marginalization and social justice was a natural evolution."
Among Tonality's achievements to date, Blake cites participation in the Los Angeles March for Our Lives in 2017, performing at the 2018 ASCAP Screen Music Awards, and recording the group's first album, Sing About It. Tonality has commissioned new works around issues like gun violence—including mass shootings, and incidents with police and people of color—and looked at refugees and immigration through the lens of Jesus, Joseph, and Mary as refugees.
Today the group performs in a multitude of venues, from churches and concert halls to schools and in under-served areas in Southern California and beyond. "I hope using choral music as a catalyst for activism and further understanding of social justice issues becomes more widespread," he says. "I also hope that the steps we have taken to create a truly diverse and inclusive environment for composers, singers, and the audience become the new norm."

WHO'S BLOGGING


RENT A PHOTO
Search Musical America's archive of photos from 1900-1992.