---
MA Top 30 Professional of the Year: Synneve Carlino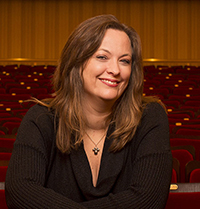 Chief Communications Officer
Carnegie Hall
Synneve Carlino has led the large Carnegie Hall communications team since 2007, overseeing the advancement of the Hall's reputation as a world-class concert venue and leader in the field of music education. She also directs the Carnegie Hall Archives staff, which supports the rich collection of materials documenting the 129-year-old Hall's history.
A native of Stoughton, MA, Carlino grew up playing piano and flute in a town with a strong school music program. "The first time I heard a live orchestra was a free outdoor performance by the Boston Pops; later on, I would grab every student ticket I could to hear the BSO," she says. Entering college to study music, she soon became interested in the business side of things, graduating from Boston University with a degree in public relations and communications. Positions prior to Carnegie include VP of public relations for the Chicago Symphony Orchestra, and before that management positions with the Pittsburgh Symphony and ALEA III, a Boston-based contemporary music ensemble.
Carlino's tenure has coincided with a time of significant growth in the Hall's activities, including citywide festivals, a free concert series in New York City neighborhoods, a vastly expanded education program, the launch of three new national youth ensembles, and new digital projects, including the digitization of the Hall's historic legacy collections. "The volume of what goes on, and the increasing number of ways information is delivered to the public, means that, no matter how much we accomplish, we always feel there is even more that we can do," she says.
Today, Carnegie hosts over 700 events per year, nearly 200 of them presented and promoted by the Hall. "It's been exciting to see how increasingly versatile the communications team continues to become, whether working with journalists who are music specialists or helping create stories for print, radio, TV, or digital platforms," she says. "Every day I can feel the Hall's history and traditions all around me, and I feel proud to play a role in sharing this place and everything it has to offer with as many people as possible."

WHO'S BLOGGING


RENT A PHOTO
Search Musical America's archive of photos from 1900-1992.