---
New Artist of the Month: Conductor Lidiya Yankovskaya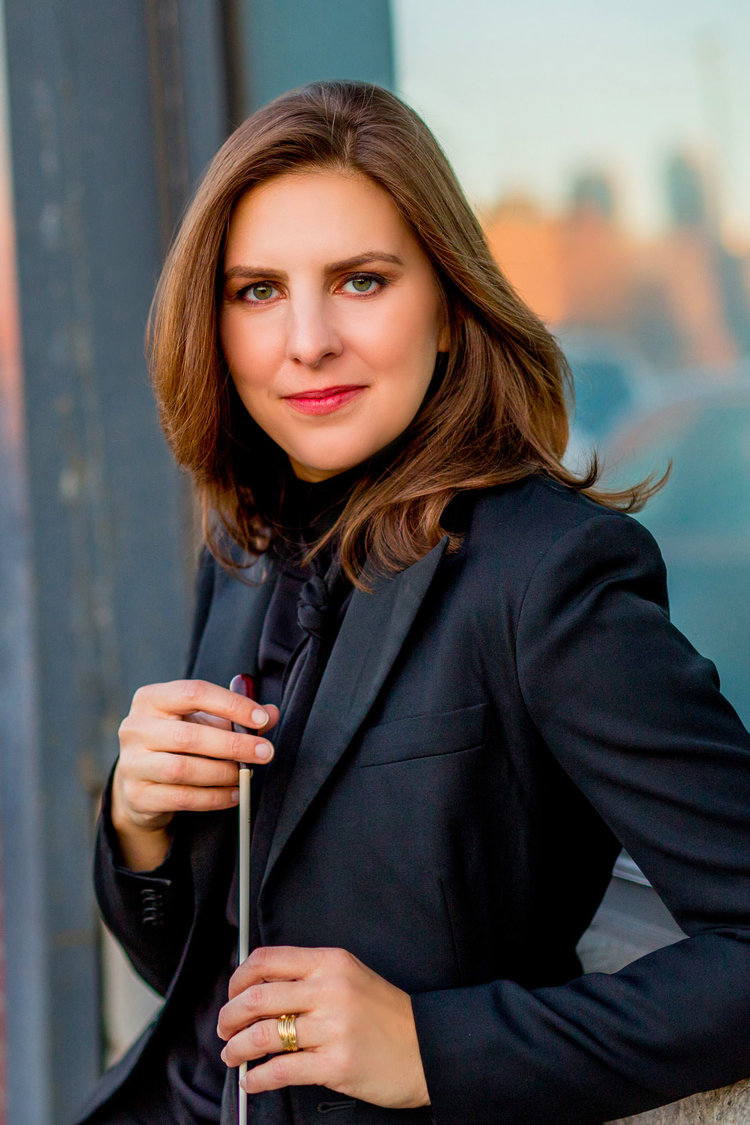 "I couldn't have imagined a better job for myself right now," said conductor Lidiya Yankovskaya. "It's always amazing when a job lines up at exactly the right time with your personal interests, your professional interests, and your career trajectory. Where the people in the organization line up with your own approaches. This was definitely the case."
Yankovskaya's career trajectory has been rising since she was a little girl in St. Petersburg, Russia, studying piano, violin, voice, and ballet. In its latest leap, the 32-year-old conductor has landed in Chicago. Last month, she made her debut as music director of Chicago Opera Theater, conducting the local premiere of Tchaikovsky's rarely performed final opera, Iolanta. She returns in April, to lead Jake Heggie and Gene Scheer's Moby Dick.
Music has always been Yankovskaya's focus, and in some ways her career thus far traces the path of a big talent successfully finding its footing. Arriving in the U.S. as a nine-year-old with her mother and settling in upstate New York, she was a standout musician in high school. Studies at Vassar College and a master's degree in conducting at Boston University followed. Her credits glitter with big-name institutions and artists. As a guest choral conductor, Yankovskaya frequently prepared the Tanglewood Festival Chorus for performances with the Boston Symphony. There were conducting fellowships at the Dallas Opera, Marin Alsop's Taki Concordia project, and a Solti Career Assistance grant. She has conducted at the Spoleto Festival USA, Wolftrap, Washington National Opera, and served as music director of two Boston-area opera companies: the Commonwealth Lyric Theater and Harvard's Lowell House Opera. Yankovskaya was assistant conductor to Lorin Maazel at his Castleton Festival and will work as a conducting fellow at the London Philharmonic in the spring. Well aware of her own roots, she founded the Refugee Orchestra Project in 2016 in response to the Syrian refugee crisis.
Early on, Yankovskaya was intensely fascinated by new music and neglected works. In 2010 she became music director of Boston's Juventas New Music Ensemble, devoted to showcasing young composers. She served as artistic director from 2014 to 2017, and during her tenure Juventas regularly worked across musical genres, often with programs featuring dancers, circus performers, puppets, and visual art. She was artistic director of the annual Boston New Music Festival and is currently an artist-in-residence at National Sawdust in Brooklyn.
Yankovskaya worked her way slowly toward opera, especially as a conductor of new operas and neglected works by Russian composers. With her mezzo-soprano voice and piano and violin skills, her career could have gone in several different directors.
"I went to the opera regularly as a child," she recalled in a recent interview shortly after moving to Chicago and settling into an apartment near downtown. "But I never thought I would pursue a career in opera, not until much later, in graduate school. I sang starting in early childhood, and I studied voice seriously in high school and college and graduate school. But it was never a career I wanted to pursue; it's so difficult to be a singer for so many reasons."
Life as a solo pianist didn't hold much appeal either. Friendly and fearsomely articulate about her personal goals and plans for COT, she clearly relishes opera's non-stop interaction with colleagues, from singers and musicians to administrative personnel, from stage directors to stagehands.
When it was time for college, she says, "I quickly realized that [the conservatory] wasn't the right path for me. I would have gone as a pianist, and solo piano is a very lonely life. It's very focused on one thing. For many people that is right, but for me, it certainly was not.
"I wanted a liberal arts education, and I still wasn't certain that music was what I would pursue. Of course, when I went to college and I had the choice, I always chose music," she said with a hearty laugh. "But I also did other things as well—philosophy and languages."
The piano, however, did open the opera world for her.
"I started discovering opera in college," she said. "Because I was a pianist, I ended up working regularly with singers in many contexts. I was performing as a vocalist, I was working with vocalists at the piano regularly. Then I started conducting opera and musical theater. I was always interested in a variety of disciplines and I realized that in opera I could combine them all. Plus I could use my love of languages and literature and philosophy and politics and sociology and psychology. And I love working with people. There is no more collaborative field than opera."
Yankovskaya is firmly upbeat about opera's future. Large, historic companies like the Metropolitan Opera may have trouble filling their very large theaters for grandly scaled productions of standard repertoire. But smaller companies like Chicago Opera Theater, she said, can more easily capitalize on a growing interest in new or rarely performed works.
"Opera in America is in such a special place right now," she said. "There's a lot of change happening, and I think it's exciting change. A lot of new work is being produced, and a lot of reimagining of what opera is and what opera means.
"There's a great opera company in town," she said, referring to Lyric Opera of Chicago, "that does almost entirely traditional repertoire on a large scale. COT is a position to do something different, works that have not been seen in Chicago. My mission has been to bring these lesser-known works to light and to work with living composers."
As one COT board member mused a few years ago, "Why should we do a La Bohème when Lyric does it so beautifully"?
COT's 2018-19 season is the first planned by Yankovskaya. After opening with Iolanta, a rarity by a household-name Russian composer, the season continues with two productions in February. The Scarlet Ibis, by Stefan Weisman, is an import from the Beth Morrison Project's PROTOTYPE Festival. On Feb. 15 Yankovskaya conducts a concert version of The Life and Death(s) of Alan Turing by Justine F. Chen and David Simpatico. The new work is being developed by COT's brand-new Vanguard Initiative and American Lyric Theater. The season ends in April with the eagerly awaited Chicago premiere of Heggie's 2010 opera, Moby-Dick.
"I've always loved challenges," said Yankovskaya. "Even when I was a kid I loved new music. I remember being maybe 11 or 12 and my piano teacher trying to assign me some smaller Haydn pieces. All I wanted to play was Scriabin, and the late, late Scriabin. I love the challenge of working with living composers. It's so exciting to be part of the development process."

WHO'S BLOGGING


RENT A PHOTO
Search Musical America's archive of photos from 1900-1992.