EUGENIA ZUKERMAN'S VERBIER VLOG 2013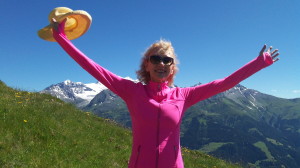 Au revoir Verbier
It's been a delight and an inspiration to come again to the Verbier Festival, especially for its 20th-anniversary celebrations.To work with some amazing artists and to do the Verbier Vlog 2013 has been a privilege. I've heard fabulous concerts and enjoyed meeting people from so many different countries. Being in these exquisite surroundings is a dream. I want to thank Martin Engstroem for inviting me back, and asking me to continue my video blogs. I also was enormously helped and supported by an extraordinary young woman from the Festival staff, Emilie Sanclemente, who assited me with camera, uploads, and the mysteries of Swiss WiFi. Merci mille fois, Emilie. Thanks also to Stephanie Challener at MusicalAmerica.com. This has been another amazing Alpine adventure for which I am deeply grateful!
An interview with Martin T:son Engstroem
Born in Sweden, Martin's passion for music was apparent at an early age. With a degree in music history from the University of Stockholm, he worked first in management in London, then Paris where he represented many major artists including Birgit Nilsson, Jessye Norman, Leonard Bernstein, and Michael Tilson Thomas. In 1991 he moved to Switzerland with his family and started to put together the Verbier Festival, for which he's still artistic and executive director. Charismatic, charming, caring, he is not only treasured by all the artists who participate in the Festival, but also praised for his vision, his dedication, and his sense of joy and fun. Martin is omnipresent during the Festival, greeting everyone, listening to everyone, asking questions, always eager to discuss new ideas. On the 20th anniversary of Martin's "crazy idea" that has become one of the most important and popular music festivals in the world, we say Chapeau! to him. Bisous!  And may the force be with you for the next 20 years!
An interview with Emanuel Ax, pianist
When I asked pianist Emanuel Ax, "What is the meaning of life," he answered, "A really good spaghetti al pesto after a concert where you haven't missed too many notes." One of the most cheerful, beloved, and honored artists of our time, Manny says that the Verbier Festival, "invited famous and great artists to participate from the very beginning, which attracted other great artists. It's very beautiful here, and very busy. I've met and worked with artists I haven't known before, as I did this summer with Renaud and Gautier Capuçon. The young orchestras work with famous conductors. The audiences are wonderful, incredibly respectful and attentive, and the festival, at age 20, has become very popular, and that speaks for itself."
An interview with Leonidas Kavakos, violinist/conductor
A violinist and artist of rare sensibilities, Leonidas Kavakos is known for his virtuosity, committed musicianship, and the integrity of his playing. A superb soloist and a remarkable chamber musician and recitalist, Leonidas is also a conductor. Leading an evening of Bach and Mozart with the Verbier Chamber Orchestra and violinist Janine Jansen, his interpretations were sensitive and insightful. Born and still based in Athens, this Greek artist now takes some time off in the summer, but he always comes to Verbier, where he is energized by working with young musicians, and with his colleagues and friends. "Verbier is a wonderful festival," he says, "and just to walk down the street, to listen to different music being practiced ─ because you hear it everywhere ─ if I were at the stage of dreaming to become successful in music, this is the place I would set as a priority to come to."
An interview with Menahem Pressler, pianist and sage
The legendary pianist Menahem Pressler is now 89 years young.He said to me, "When I was asked by a German magazine, 'Would you tell us how a pianist at the Biblical age feels,'I was stunned. But then I thought about it and I said, "I tell you,when I play the piano I don't feel older than 50. When I teach, I don't feel older than forty. But when I go up the stairs, I feel my age." Busier than he's ever been, he's relishing his golden years. Fleeing Nazi Germany in 1939 and emigrating to Palestine, his subsequent career and accomplishments are staggering. He has played and recorded nearly the entire piano chamber music literature, performed with all the great artists of his time, and been honored all over the world. For more than 50 years he was the pianist of the Beaux Arts Trio; for 60 years he has taught at the Indiana University Jacobs School of Music. He is now in constant demand as a soloist with orchestra and a partner for collaborations with great artists of all ages. A warm and delightful presence, he delights in people and music. Menahem Pressler is the icing on the cake of the Verbier Festival's 20th-anniversary celebrations!
An interview with Yuja Wang, pianist
The dazzling young pianist Yuja Wang seems to be able to conquer any technical demands, and she is also recognized for her imaginative musical insights and vibrant interpretations. Yuja has already performed with many of the world's most prestigious orchestras. She has collaborated with many esteemed conductors, and regularly gives recitals in major cities throughout Asia, Europe, and North America. A favorite here at the Verbier Festival, she enjoys the beauty of the setting, and the satisfaction of playing chamber music with old and new musical friends.
An interview with Martin Fröst, clarinetist
The Swedish clarinetist Martin Frőst has an astonishing technique coupled with a commanding range of tone colors and breath control that allows him to spin out endless lines of gorgeous sound. A virtuosic classical artist, he's also interested in expanding his reach. "I'm a curious musician," he told me, "So I try to sometimes collaborate with artists who are not in my field." He's at home with baroque and romantic music, modern and postmodern, klezmer, jazz, country, rock, and more. Having rehearsed and performed Schoenberg's Pierrot Lunaire, with Martin ─ a first time for each of us ─ I can say that he's the dream colleague, always searching for solutions, incredibly helpful and fun, yet intensely dedicated. He's a Festival favorite in Verbier, and loves being here. "I think the audiences are open and love music. I can feel it at every single concert, regardless of repertoire, and they really want to be a part of the experience."
An interview with Georges Gagnebin, president of the Verbier Festival Foundation
The charismatic Georges Gagnebin has been part of the Verbier Festival since the beginning. He says that his connection to the Festival has been "a magnificent journey." Having truly enjoyed his collaboration with Martin Engstroem and "the entire Verbier family," he says there have been "countless moments of strong emotion." Responsible for having set up the Foundation in 2005 that has propelled the Festival into its current place of worldwide esteem, he is stepping down in September. Proud of what the Foundation has achieved in the past 8 years, he will certainly remain an important presence and force in the future, and looks forward, with confidence, to the Verbier Festival's third decade.
(you can watch the entire Gala anniversary concert, and it's free.)
An interview with Dan Krekeler, bass coach
The Verbier Festival Music Camp is a brand-new orchestral training program for 15- to 17-year-olds led by the dynamic British conductor Daniel Harding. 56 talented instrumentalists from 19 different countries are immersed in an exciting Verbier Festival experience. Professional musicians are in residence to coach each section and Dan Krekeler is the double bass section coach. From New York City, Dan played in the Verbier Festival Orchestra 2001-04 and is currently in the Metropolitan Opera Orchestra. He hopes this Verbier opportunity will be a life-changing musical experience for those attending the Festival camp. Besides orchestral training, there are opportunities to attend many Festival concerts and events, as well as to explore hiking, biking, kayaking, and other Alpine delights. The Verbier Festival is known for the excellence of its educational initiatives, and the debut of the Festival Camp for young students reaffirms Verbier's commitment to mentoring the next generation of superb musicians.
An interview with Michel Beroff, pianist/conductor
Considered one of the greatest interpreter's of Olivier Messaien's music, Michel Beroff performs worldwide with the greatest orchestras and conductors. A popular chamber musician, he has collaborated with Martha Argerich, Barbara Hendricks, Lynn Harrell, and many others. One of the most recorded artists today, Beroff is also an active conductor and professor of conducting. Born in France, he studied in Paris where he was quickly regarded as a tremendous talent. Besides his affinity for Messaien and Schoenberg, he's also celebrated for his interpretations of Beethoven, Brahms, Bartók, Prokofiev, Mozart, Debussy, Mussorgsky, Stravinsky, Schumann, and Schubert. In other words, Michel is a man for all music.
An interview with Hans Bolsterli, president of the American Friends of the Verbier Festival
Elected president of the American Friends of the Verbier Festival in 2011, Hans Bolsterli is a Swiss citizen, from Baden. He's been involved in the Verbier Festival for 20 years, and is passionate about building support for it. "In our large youth orchestra there are 120 musicians, 50% of whom have an American passport. The same is true for our chamber orchestra," he says. Hans seems dedicated to convincing more Americans to come to the Festival, to hear for themselves how special it is, and to support its mission, which includes strengthening the ties between the Verbier Festival and the American public and fostering cultural activities that promote cooperation between the Verbier Festival and the artistic community in the United States.
Now semi-retired, Hans spends his free time in New York (his wife Barbara is a New Yorker) and in Florida. But Verbier in the summer is a place Hans Bolsterli has adored for 20 years, and to hear him talk about it, he'll surely feel the same for at least the next 20.
An interview with Lisa Batiashvili, violinist
Lisa Batiashvili is one of the busiest violinists in the world married to an equally busy oboist husband, the delightful François Leleux. Parents of two young children, they are all at the Verbier Festival together. "Nature and the relaxed atmosphere here have a positive influence on our mood," Lisa says. " We musicians listen to each other, we're immersed in the music, surrounded by it all the time, so we're comfortable performing." Winning prestigious international competitions at an early age, Lisa is now in constant demand as a soloist from all the great orchestras and festivals around the globe. She's a dedicated chamber musician, a champion of new music, and known for her virtuosity coupled with a profound sensitivity. She praises Verbier's founder, Martin Engstroem and says, "He knows exactly how to put a festival together─to have a music camp, the orchestras, the youth orchestras, solo concerts, recitals. There's everything here in this small place, and during the two weeks of the festival, people can come and truly enjoy music."
An interview with Mischa Maisky, cellist
The virtuosic and passionate cellist Mischa Maisky is one of the most popular musicians in the world. His deep affection for the Verbier Festival began twenty years ago at the Festival's very first summer. "The atmosphere here is conducive to making music while feeling very much at ease," he says. "And I don't know another festival that has such a concentration of fantastic musicians." Mischa says that he gets "new energy and new ideas" here, and he very much enjoys playing concerts at Verbier with two of his gifted children, the pianist Lily Maisky and the violinist Sasha Maisky. To see this proud papa (of five children!) walking through Verbier in his flowing tunics and antique gold Indian necklace is to see a truly happy man who loves his family, loves making music, and gives so much pleasure to those who hear him play.
An interview with Barbara Sukowa, actor/narrator
The luminous actress performs at the Verbier Festival
One of the greatest actresses of our time, Barbara Sukowa also has a parallel career as a classical music narrator and speaker. Muse to many great filmmakers like Rainer Werner Fassbinder and Margarethe von Trotta, Barbara is here at the Verbier Festival inspiring a group of musicians who are rehearsing with her to perform Arnold Schoenberg's challenging Pierrot Lunaire. I am honored to be part of the group. To work with "our" Pierrot is to experience a great artist with an innate sense of rhythm, nuance, pacing and an astonishing ability to inhabit this dark and quirky character. Barbara's recent stunning performance as Hannah Arendt in the new film by von Trotta has garnered rave reviews. Those of us privileged to work with her here in Verbier are simply in awe of her extraordinary talents. And she's also a total delight to work with.
An interview with Lera Auerbach, composer/pianist
One of the most exciting and daring composers of our time, Lera Auerbach's evocative and thrilling music is played by great orchestras and artists around the world. Born in the Ural Mountains of Russia, at the gateway to Siberia, she wrote her first opera at the age of 12, and came to the United States, where she stayed to continue studies in piano and composition at the Juilliard School in New York. Awarded many international prizes and fellowships, she was recently honored as a Young Global Leader by the World Economic Forum in Davos, Switzerland. Down to earth, warm, and enthusiastic, Lera says, "In Verbier music is not isolated in the contemporary ghetto, but rather it is scheduled in the mainstream, which is very important because it's the only way the audience can feel the continuity and importance of continuing the musical language."
An interview with David Aaron Carpenter, violist
One of the world's leading violists, David Aaron Carpenter says his experiences at the Verbier Festival helped shape who he is, and how he makes music. Since his first inspiring summer at the Festival ten years ago, David has grown into a soulful, powerful, dazzling performer, with a vast musical range. An avid musical entrepreneur, with a deep desire to make a difference, he has not only formed his own acclaimed orchestra—The Salome Chamber Orchestra—but he's led them in a concert at Alice Tully Hall in New York City for the FEED Foundation, with Bill Clinton as speaker, and he continues to involve himself in many charitable missions, all tied to music. Winner of the First Prize at the Walter E. Naumburg Viola Competition of 2006, and many other prestigious awards, David is dedicated to expanding the viola repertoire. Besides his musical prowess, he received an A.B. degree in Political Science and International Relations in 2008 from Princeton University. He's also a gifted painter, and at 27, David Aaron Carpenter is certainly a force to reckon with.
Back to the Alps for the Verbier Festival 2013
I am thrilled and honored to be taking part in the Verbier Festival's auspicious 20th anniversary summer. I'll be performing with superb colleagues and interviewing some of the most stellar musicians at the festival. I'm excited to be sending a 2nd Verbier Vlog out into cyberspace via MusicalAmerica.com.
For twenty years the Verbier Festival has attracted great musicians and devoted music lovers. Among the superstars appearing this summer are Maxim Vengerov, Charles Dutoit, Barbara Hendricks, Emanuel Ax, Bryn Terfel, Anna Netrebko, Andres Orozco-Estrada, and many more. Martin Engstroem, Verbier's visionary founder and executive director designed his festival with an ambiance of intimacy and excellence, breaking down the boundaries between artist and public. In fact, Verbier is more like a performing arts village where listeners can go to rehearsals and master classes and feel connected to the process leading to performance. Young artists flock to Verbier and 2013 marks the launch of the Verbier Festival Music Camp—a brand new orchestral training program for 15 to 17 year olds. There are many free events to attend , mountains to hike, fabulous food and spectacular views, and so much music to enjoy.
I can almost taste the cheese and chocolate and the lovely local fendant white wine. Do join me!
NETWORK
FIND:
Updates to artist manager rosters
»MORE

RENT A PHOTO
Search Musical America's archive of photos from 1900-1992.