THE GUIDE TO TOP COMPETITIONS
Thomas and Evon Cooper International Competition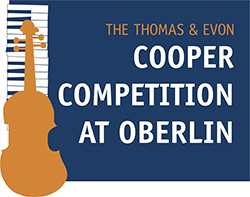 ABOUT THIS COMPETITION
Oberlin Conservatory of Music and the Cleveland Orchestra collaborate on this international competition for musicians ages 13 to 18, which alternates annually between violin and piano.
MAIN OFFICE
Oberlin Conservatory of Music
77 West College Street
Oberlin, OH 44074
cooper.competition@oberlin.edu
WEBSITE
http://www.oberlin.edu/cooper
ELIGIBILITY
Open to musicians between the ages of 13 and 18 at time of competition, and who have not won one of the top three prizes in a previous Cooper Competition. Applicants must provide: (1) letter of recommendation from their current teacher; (2) $80 entrance free; (3) completed application form; (4) DVD or other video format of continuous unedited performances of prescribed pieces.
ARTISTIC DISCIPLINE(S)
Piano •
Strings
DETAILS

Travel Covered?

Yes

Frequency

Annual - piano and violin alternate years

Cash prizes

$10,000 to $50,000

Jury chair(s)

Gregory Fulkerson, director, Cooper International Violin Competition; professor of Violi

Jury size

6 to 10

Application deadline

May 1, 2015 for 2015 violin competition

Application notes

Application notes

SEMIFINALS (live rounds)

Solo violin: July 25-27, 2015; Concerto July 28, 2015 Venue: Oberlin Conservatory of Music Warner Concert Hall Oberlin, OH

FINALS (live rounds)

Violin recital: July 29, 2015, Oberlin Conservatory of Music, Warner Concert Hall, Oberlin, OH Concerto finals with the Cleveland Orchestra: July 31, 2015, Severance Hall, Cleveland, OH
COMPETITION OPEN TO THE PUBLIC?
✔

Live

✔

Web (live streaming or recorded)
SOCIAL LINKS


RENT A PHOTO
Search Musical America's archive of photos from 1900-1992.