100 YEARS AGO IN MUSICAL AMERICA (156)
"FIRSTS" IN AMERICAN MUSICAL HISTORY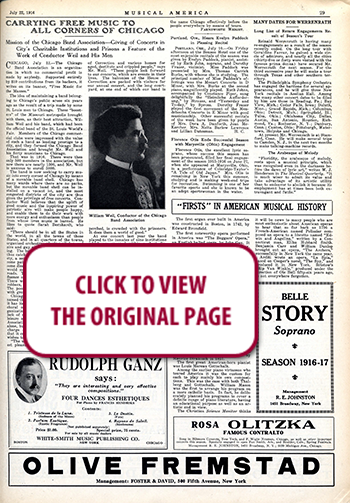 ---
The first organ ever built in America was constructed in Boston, in 1742, by Edward Bromfield.
The first noteworthy opera performed in America was "The Beggars' Opera," an English ballad opera, by John Gay. It was produced in London, 1727, and offered to the New York public in 1750. Other early operatic attempts in New York, cited by The Musician, include Bickerstaff's comic opera "Love in a Village," 1768, and the same composer's "Maid of the Mill," 1773.
In 1823 was produced for the first time John Howard Payne's dramatic opera, "Clari, the Maid of Milan," which contained the immortal "Home, Sweet Home."
The first notable attempt to produce a German opera in America was a performance of Weber's "Der Freischütz," in 1825.
The first attempt to found Italian opera in America was that made by Manual Garcia, in New York, 1825. His company included Crivelli, the tenor, his own son, Manual, the basso Angrisani, De Rosich, Mmes. Barbieri and Garcia and Marie Garcia, afterward better known as Malibran. The first opera produced by Garcia was Rossini's "Il Barbiere."
The first really European piano virtuoso to visit America was Sigismund Thalberg, who was brought over by Maurice Strakosch in 1857.
The first great American-born pianist was Louis Moreau Gottschalk.
Among the earlier piano virtuosos who toured America it was the custom for each to play mainly his own compositions. This was the case with both Thaiberg and Gottschalk. William Mason was the first to arrange his program on a more catholic basis. In fact, he deliberately planned his programs to cover a definite range of piano literature, having an educational purpose as well as an artistic end in view.
The Christian Science Monitor thinks it will be news to many people who are most enthusiastic about American operas to hear that so far back as 1796 a French-American named Pelissier composed an opera to a libretto named "Edwin and Angelina," written by a Connecticut man, Elihu Hubbard Smith. Benjamin Carr and William Dunlop brought out an opera, "The Archers," successfully in New York the same year.
Arditi wrote an opera, "La Spia," based on Cooper's novel, "The Spy," and produced it in New York. Bristow's "Rip 'Van Winkle," produced under the direction of Ole Bull fifty-six years ago, is not everywhere forgotten.

RENT A PHOTO
Search Musical America's archive of photos from 1900-1992.