VOCALIST OF THE YEAR 2017: ERIC OWENS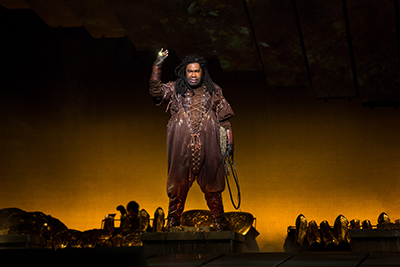 Eric Owens as Alberich in the Metropolitan Opera production of Wagner's Das Rheingold, 2010. © Marty Sohl/Metropolitan Opera
By Heidi Waleson
The American bass-baritone stole the show as Alberich in the Met's Ring in 2010, and last October he scored as Wotan at Chicago's Lyric Opera. In 2014 he was praised for his bass solos in the Sellars/Rattle/Berlin Phil St. Matthew Passion. Last season he was the NYPhil's artist-in-residence.
In September 2010, at 41, Eric Owens became the unexpected star of the Metropolitan Opera's new Das Rheingold. The story was supposed to be the revolutionary Robert Lepage Ring production, or one of the more experienced members of the cast, but it was Owens, in his first-ever Wagner role, the villain Alberich, who stole the show. Alex Ross's New Yorker review said it all: "The chief glory of this production is Eric Owens's performance as Alberich, which announces the emergence of a new major Wagner singer. Owens's portrayal is so richly layered that it may become a part of the history of the work."
The musical acuity and theatrical complexity of Owens's Alberich was not a surprise to anyone who had been following the bass-baritone's artistic progress. A Philadelphia native who switched from oboe to singing and honed his skills at the Curtis Institute and the Houston Grand Opera Studio, Owens triumphed in the 2006 Elliot Goldenthal/Julie Taymor opera Grendel, poignantly embodying the haunted monster of the Beowulf story. There was also the attention-grabbing cameo role of the sputtering yet introspective General Leslie Groves in John Adams's Doctor Atomic, and a Porgy that explored the character's dark side.Owens was clearly a singer to watch.
In addition to singing the rest of the Met's Ring Alberichs (growling and frustrated in Siegfried; a nightmare demon in Götterdämmerung), Owens was quickly snapped up for the role in Europe. Some important opera houses offered him Wotan, but in cycle productions that would mean learning all three operas at the same time. Then Lyric Opera of Chicago invited him to portray the king of the Opera of Chicago invited him to portray the king of the gods in its brand-new production of the cycle, helmed by first-time Ring director David Pountney, in which the operas are premiering in successive seasons, starting in October 2016.
In the summer before the Wotan debut, Owens lightly summed up the switch in roles: "Alberich is running around all night long, while Wotan just kind of saunters. It's good to be the king!" He has already sung the heartbreaking final scene of Die Walküre in concert several times, and has a sense of how to tackle the mountains that lie ahead. "Knowing how to pace with that body of sound on the stage with you may make it easier when the orchestra is in the pit," he says. "The worst thing you can do is try to compete with 80-odd people playing instruments. The key for me is not to try to make a big sound. You have to sing it like you sing Mozart." Keeping that mantra in mind takes focus. "It's so easy to be sucked in—this is a really intense scene, with intense delivery of text, your body is doing intense things, so let me start singing it that way. I have to stop myself: 'Eric, you're pushing a little bit, stop it. Hmm—the force is strong with this one!'"
Owens communicates an unusually profound depth of feeling from the stage. Some of it stems from the richness of his instrument: The luxuriant bass timbre that resonates even in his speaking voice is matched by an electrifying upper register. Some of it has to do with his command of text and his understanding of how the words fit with the music, subtleties of expression that are especially evident in his recitals. In addition, for all his imposing physical presence, Owens projects openness, a willingness to be vulnerable, that gives a tragic dimension even to characters from whom you might not expect it, such as Alberich. At the Glimmerglass Festival, his bereft Stephen Kumalo in Lost in the Stars was lyricism laced with raw pain. As yet another unhappy father, the Water Goblin in Rusalka at Lyric Opera of Chicago, he joined menace with sorrow. It's no surprise that he wants to sing the wounded knight Amfortas of Parsifal someday. "I really love his music," Owens says. "You can feel that glorious pain that he's going through."
Now firmly ensconced in the world of Wagner, Owens is not confined to it. He performed the title role of Verdi's Macbeth at Glimmerglass—and warmed up for two hours before each performance so that his voice would be properly placed to sing comfortably in that baritone range. He sang the bass solos in the recent tour of the shattering Peter Sellars/Simon Rattle/Berlin Philharmonic St. Matthew Passion, a dream come true, especially since the St. Matthew has been his favorite piece of music since he first heard a live performance by the Philadelphia Orchestra when he was 14. Now, he says, "I don't think I can ever do it any other way."
Owens will take on the challenging role of the Troubadour when Kaija Saariaho's L'Amour de loin has its Metropolitan Opera premiere in December 2016. In the summer of 2017, he gets the rare chance to play comedy as the dimwitted Tsar Dodon in Rimsky-Korsakov's The Golden Cockerel. Some "serious" Rossini is also on the horizon: Owens used to sing comic Rossini characters, "with fierce coloratura, like Sam Ramey, but one season it just packed its bags and moved away." He is philosophical about such things. "I miss it a lot, but you change, your body changes, your voice changes. Now I sing Wagner."
For him, characters are forged in the rehearsal room, with the give and take of colleagues. One extraordinary experience was the Met Elektra of spring 2016, when he sang Orestes. "It was so unusual, because the entire cast, from Nina [Stemme] to the last super, was there for the piece and one another. By day two, we were a family. Not the dysfunctional one that we were portraying, but a really tight-knit group of people. I couldn't wait to go to rehearsal, and that's not something I say all the time! There weren't egos in that room, and anything someone wanted to do or change was for the piece, and colleagues, and the performances were the fruit of that."
And important moments can arrive on unexpected stages. In the summer of 2015, Owens went with director Francesca Zambello and two of his co-stars from the Glimmerglass Macbeth to perform for prisoners at Attica. It was a profoundly moving experience for him. "I don't think I've ever encountered such an appreciative audience," he says. "At the Q&A afterwards, the first person to have the microphone said, 'I just want to say thank you for bringing this to us. I've never experienced opera, and that you would even consider coming here to do this for us, is amazing.' It gives you an appreciation for what you do. There are times I think, we're just sort of singing. But if you can spread some joy around the planet, it's a pretty high calling."•
Heidi Waleson is opera critic of the Wall Street Journal.

RENT A PHOTO
Search Musical America's archive of photos from 1900-1992.