CONDUCTOR OF THE YEAR 2017: SUSANNA MÄLKKI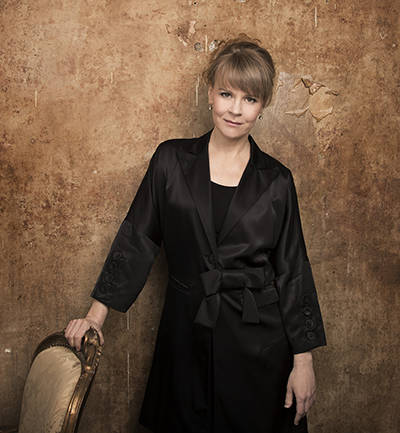 Photo: © 2014 Simon Fowler.
The Finnish maestra became chief conductor of the Helsinki Philharmonic this season, will make her Met Opera debut conducting Kaija Saariaho's L'Amour de loin in December, and led major debuts with U.S. orchestras. She becomes principal guest conductor of the LAPhil next season.
At the Lucerne Festival in late August 2004, a young conductor, not widely known at the time, made a packed concert hall sit up by creating thrilling, vital music with the Ensemble InterContemporain in a program of works by the English monumental modernist Harrison Birtwistle. Memory stirred. Yes, this was the very individual who had, two years before, and also at Lucerne, done the same thing conducting Rimsky-Korsakov's Scheherazade. That a musician could be equally adept—and equally remarkable—in new music and in one of the great but so often under-rehearsed and undervalued standards was astonishing. This was the kind of artistry that had made people pay attention to David Robertson a decade or so earlier. Now there was a new, more exotic name to learn: Susanna Mälkki.
Belonging to the 50 percent of world-ranking conductors these days who are Finnish, Mälkki studied, like the rest of that cohort, with Jorma Panula. He was, she says, "a very important person in my becoming a conductor," though the decision had been made before she joined his class at the Sibelius Academy in Helsinki. There she also trained as a cellist, and it was with her cello on the plane or train seat beside her that she began her professional career, while continuing her conducting studies.
She was, most importantly, principal cellist of the symphony orchestra in Gothenburg, Sweden, between 1995 and 1998, when she was in her late twenties. Neeme Järvi was the music director then, but Gothenburg also attracted outstanding guest conductors, and Mälkki observed them all. "It was interesting to see and hear how the orchestra changed, and how the all-important interaction worked, the collaboration between conductor and players."
After Gothenburg, she began gaining wider experience on the podium, and got her start as a music director with the orchestra in Stavanger, Norway, in 2002. The Birtwistle concert in Lucerne, two years later, was her first with the Ensemble InterContemporain, and led to a position as its music director, between 2006 and 2013.
It was a role for which she was suited. "I had already found as a cellist," she recalls, "that there was a totally different energy when I was playing new music. I felt more directly in contact with the music and also more liberated, not so bound by what I had been told by my teachers—though Panula, I should add, was so important partly because he encouraged you to find your own way. Also, I think as a musician you may respond more immediately to music composed by someone of your own time, living in the same world as you do."
However, the hallmark of a Mälkki performance is the fresh expressiveness she brings to music whether new or old, as those 2004 Lucerne concerts demonstrated. "What really interests me in music," she says, "is the subtext, the reason why the notes are as they are. In the case of new music, there is a reason why composers do all these crazy things; they mean something, express something." Does she, then, feel it useful to explore period techniques in order to retrieve what music may have meant and expressed in the past? "It's very important to be informed about these things, but what's essential is not to force the music in any particular direction, to let the music have its own flow."
Since the beginning of this season she has been chief conductor of the Helsinki Philharmonic, her first such position with a major orchestra. There she has the chance to build programs that reflect her taste and experience, most often including at least one piece from the last 50 years or so in each concert. Her season opener had newish works by two leading Finnish composers of today, Kaija Saariaho and Magnus Lindberg, in a triple-decker sandwich with Ligeti, Sibelius, and Ravel.
Certainly her most daring combination this season, however, is that of Messiaen's monumental Et exspecto resurrectionem mortuorum with the Rachmaninoff Third Piano Concerto. "Well," she insists, "I love both these works, and I think you could justify putting them together as opposites: the spirit and then the senses. Or yes, you could turn it around and see them as the grieving earth and then heaven. What matters is that you treat both scores with the utmost seriousness. The Rachmaninoff, which can suffer so much from tasteless performances, is highly refined, very classy music."
Other concerts in Helsinki this season have her conducting two symphonies by Mahler, a composer for whom she has been waiting: "I wanted to develop my tools." Something else she has been developing her tools for is more operatic repertoire. Anything in particular? "Tristan."
She will make her Met debut (December 1) in Saariaho's opera L'Amour de loin, and is becoming increasingly a presence on this side of the Atlantic. Her New York Philharmonic debut in May 2015, in a typical program of Brahms plus Jonathan Harvey (his meditative Tranquil Abiding), had her being mooted as a possible successor to Alan Gilbert, though perhaps a top post in this country is something for which, again, she wants to wait a little longer. And no doubt Helsinki will enable her to develop more tools for the challenge.
"I love working in the U.S. because the orchestras are so fantastic, and I feel I can come very close to my musical goals," she says. From next season, she will be principal guest conductor of the Los Angeles Philharmonic, with which she has worked occasionally since 2010. She has also established relationships in Chicago and San Francisco.
Someday it will happen. Some organization looking for a superb musician—one who knows the orchestra inside out, has great rapport with players, and, besides being able to make inspiring choices from the contemporary repertoire, can revivify the classics with her energy and immediacy—will know where to look. Oh, and she's a woman. •
Paul Griffiths was born in Wales in 1947 and worked for 30 years as a music critic in London and New York. He is known particularly as a writer on new and recent music, his Modern Music and After, now in its third edition, being the standard work on music since 1945.
NETWORK
FIND:
Updates to artist manager rosters
»MORE

RENT A PHOTO
Search Musical America's archive of photos from 1900-1992.