COMPOSER OF THE YEAR 2017: ANDREW NORMAN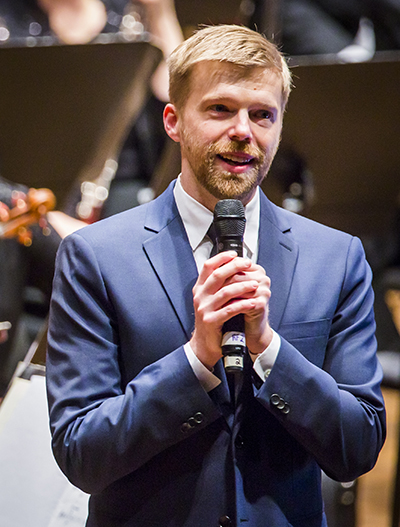 Composer Andrew Norman speaks to the New York Philharmonic audience about his 25-minute fantasy for piano and orchestra, Split, on December 9, 2015. © 2015 Chris Lee.
By Alex Ross
He has likened his start-and-stop rhythms and rapid-fire exchanges to video games, YouTube playback, and other digital-age phenomena. It is a voice singularly his own, and several major commissions from leading orchestras and soloists of our time have vindicated his vision.
Contemporary composers often find themselves caught between two groups that stand in stark opposition to each other. On one side is the mainstream concert-going public, which is notoriously conservative in its attitudes toward contemporary music. On the other is the community of composers, critics, and new-music aficionados, who often disdain the sort of tonal-leaning, Romantically inclined pieces that are thought to have the best chance of appealing to a broad audience. What delights one group disgusts the other, and vice versa. Such is the fate of new music in a performance-based classical culture that has been sidelining composers for a century or more.
Every once in a while, though, a significant talent manages to command respect on both sides of the great divide. Thomas Adès, Musical America's 2011 Composer of the Year, is one, having won applause both at the Metropolitan Opera and at European new-music festivals. Andrew Norman, this year's honoree, is emerging as another: He has received performances at leading orchestras while PhD students subject his work to analytical dissection. Later this month ((October 28-31), Gustavo Dudamel will lead the Los Angeles Philharmonic in performances of Play, a three-movement symphonic piece that stands as Norman's most ambitious statement to date. The outer movements are brilliant and buoyant—studies in kinetic thrill. The middle movement, by contrast, is almost experimental in character: Sonorities float in space like sculptural mobiles. In one formidable span, Play sums up the contrary tendencies of the music of our time.
"Part of being an orchestral composer is negotiating this landscape where very different expectations are at play," Norman told me last year. We were at his house on the east side of Los Angeles, where he lives with his partner. "When I talk to audiences, I get the sense I've walked into a generations-old feud between listeners and composers—people start venting at me about Schoenberg. It makes me wonder about the wisdom of even putting new music on a subscription program. But another part of me loves the challenge. If I can break through that skepticism, it's an amazing feeling."
The past couple of years have vindicated Norman's approach. He has fulfilled major commissions from the New York Philharmonic (a piano concerto for Jeffrey Kahane, entitled Split) and from the Utah Symphony (Switch, a percussion concerto for Colin Currie). Norman also composed the final section of Hopscotch, Yuval Sharon's wildly innovative car-based opera; and Frank's House, a tribute to the Santa Monica home of the architect Frank Gehry. With the encouragement of Simon Rattle, he is now planning a children's opera, which will have its premiere at the Berlin Philharmonic in June 2017. Back home in L.A., he runs the Philharmonic's Nancy and Barry Sanders Composer Fellowship Program and serves as the composer-in-residence for the Los Angeles Chamber Orchestra.
Norman was born in Grand Rapids, Michigan, but grew up in Modesto, California. His father was an evangelical pastor; in childhood, Norman played keyboards in church bands. It was repeated viewings of Star Wars, with John Williams's thrilling score, that first attracted him to the idea of composing. Lush neo-Romanticism infused much of his early work, which received performances at the Modesto Symphony. As his education proceeded, first at USC and then at the Yale School of Music, he underwent a crisis: His encounters with masterpieces of modernism caused him to reject what he had done up to that point and to doubt his forward path. In an interview with William Robin, for the New York Times, Norman recalled telling a professor: "I would rather quit composing, period, than be viewed as a neo-Romantic, or a reactionary, or a naïve composer."
The problem is a common one among young composers: how to find a voice that absorbs contemporary currents while retaining the expressive urgency that drew you to composing in the first place. In a series of works in the first decade of the 21st century—the orchestral piece Sacred Geometry; Gran Turismo, for eight violins; and an extended trio titled A Companion Guide to Rome—Norman not only solved this problem but found a voice singularly his own. He is the rare living composer whom you can recognize from just a few bars of an unknown piece. At the heart of a typical Norman passage, you find straightforward harmonic or melodic materials. For example, the final movement of Play is based around a bright little squiggle in the key of A major. But such half-familiar fragments are thrown into a kaleidoscopic swirl, fragmenting and reconstituting themselves before one's ears. An almost childlike simplicity is folded into musical processes of dizzying energy and complexity.
The fractured surface of this music is representative of the 21st-century condition. Norman has likened his stop-and-start rhythms and rapid-fire exchanges to video games, YouTube playback, and other digital-age phenomena. He likes to heighten the visual elements of a performance: String players may, for example, be directed to freeze their arms in mid-air. But he is more than a poet of nervous motion. Geometrically elegant patterns of expanding and contracting intervals give his structures an architectural solidity that is not always guaranteed in the work of in-demand younger composers. There are also spaces of repose amid the frenzy. Suspend, a piano concerto written for Emanuel Ax, dwells in what Norman calls a "slow and spacey" world, inspired by Ax's playing of the music of Morton Feldman. The opening section includes a short stretch in which the pianist moves his hands without making sound.
"I think about the audience all the time," Norman said to me. "I wonder about what they expect, what the orchestra expects. I overhear what people say about my music at intermission, and I sometimes think, 'Oh God, what did I just do to these people?' But, ultimately, I can only write what I hear in my head. Once I finally get into the world of the piece, that's the only world that matters." •
Alex Ross is the music critic of The New Yorker and the author of The Rest Is Noise (2007) and Listen to This (2010). He is now at work on a book titled Wagnerism.

RENT A PHOTO
Search Musical America's archive of photos from 1900-1992.