100 YEARS AGO IN MUSICAL AMERICA (267)
War Has Set Women Free, Says Mary Garden, Back From France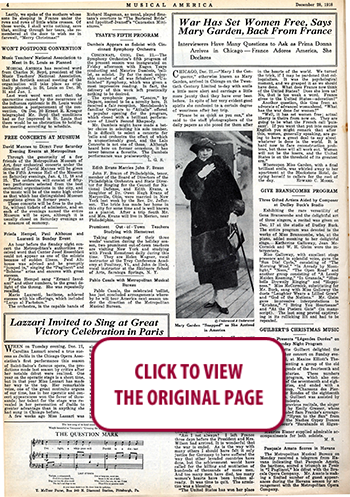 Interviewers Have Many Questions to Ask as Prima Donna Arrives in Chicago—France Adores America, She Declares
---
CHICAGO, Dec. 21. —"Mary I the Conqueror," otherwise known as Mary Garden, arrived in Chicago on the Twentieth Century Limited to-day with smile a little more alert and carriage a little more jaunty than they have ever been before. In spite of her very evident good spirits she confessed to a certain degree of weariness after her trip.
"Please be as quick as you can," she said to the staff photographers of the daily papers as she posed for them after alighting from the train. "I am very anxious to get to my hotel as soon as possible."
For some time she was kept busy answering a crossfire of questions.
"No, I am entirely unchaperoned this time," she said in answer to one. "I expect both my mother and my sister to be with me later, but neither will arrive until later in the season."
"There has been no chance for me to consult with Mr. Campanini about my first appearance in Chicago with the opera company," was her reply to another. "Of course I am planning for 'Ghismonda,' but both M. Fevrier and I were counting on having Muratore in the leading rôle. He is a great singer and a splendid artist, and I am truly sorry to hear of his bad health. If there is any way that I can persuade him to stay over and sing the part I am going to do it."
Another question: "Glad to be back in Chicago?" she repeated.
"Am I not always? I left France three days before the President and Mrs. Wilson had arrived. It is wonderful that the war is ended. As is the way with many others I should have felt it only justice for Germany to have suffered the way that other invaded countries have done, but the achievement would have called for the killing and mutilation of hundreds of thousands of more men. And too many men have died, too many women's hearts have been broken already. It was time to quit. The armistice was a blessing.
"The United States has won her place in the hearts of the world. We turned the trick, if I may be pardoned that colloquialism. It was the psychological moment, and we grasped it as we should have done. What does France now think of the United States? Does she love us? No, that is too weak a word. France gives to the United States—adoration!"
Another question, this time from an advocate of advanced womanhood. "What has the war done for women?"
"Well, it has set women free; actual liberty is theirs from now on. They are going to be what the French call 'puissant'. If you want that put into campus English you might remark that after this, women, generally speaking, are going to have a great deal to say about whatever is done in the world. It is hard now to face reconstruction problems, but these will all work out. Women will not be the losers, and the United States is on the threshold of its greatest era."
Whereupon Miss Garden, with a final brilliant smile, was whirled away to her apartment at the Blackstone Hotel, denying herself to callers for the rest of the day. —EDWARD C. MOORE

RENT A PHOTO
Search Musical America's archive of photos from 1900-1992.