100 YEARS AGO IN MUSICAL AMERICA (260)
CASALS RECOUNTS WORK SPAIN HAS DONE FOR THE ALLIED CAUSE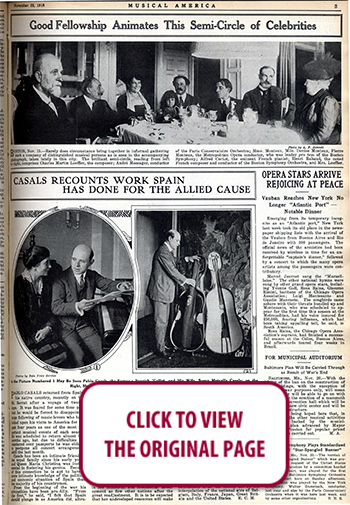 ---
PABLO CASALS
returned from Spain, his native country, recently on the Mt. Serrat after a voyage of twenty days. It was feared for some time past that he would be forced to disappoint a large following of music-lovers who have looked upon his visits to America for the past four years as one of the most important musical events of each season. He was scheduled to return almost two months ago, but due to difficulties encountered over passports he was obliged to postpone all concert arrangements until the last month.
Casals has been an intimate friend of the royal family since his early youth md Queen Maria Christina was instrumental in fostering his genius. Because of this connection he is apt to have a more intimate knowledge of the political and economic situation of Spain than the majority of his countrymen.
From the beginning of the war his sympathies have been pro-Ally. "From the first," he said, "I felt that Spain should plunge in as America did, altruistically, although the sinking of her ships was quite sufficient to have made her participation a defensive measure. My recent visit to Spain has given me a new angle on the situation, for I saw a Spain that was altogether astonishing. She had been converted into a vast camp for the Allies. She sent a steady stream of food, clothing and raw materials, especially iron, copper and steel, to the Allies and chiefly to America, which is of far greater use to them than her military assistance could ever have been, for she lacks the native energy and ability to make, great and hasty military preparations as did America.
"Many are wondering how this wave of democracy which is sweeping the world will affect the temper of the Spanish people. She is one of the few peoples still untouched by violent radicalism. And because of this political tranquility, engendered by her liberal government and just king, she will be unhampered in her industrial and commercial development as few other nations after the great readjustment. It is to be expected that her undeveloped resources will make a rich mine of treasures for Spain and the rest of the world."

RENT A PHOTO
Search Musical America's archive of photos from 1900-1992.