2021-22 GUIDE TO MUSIC SCHOOLS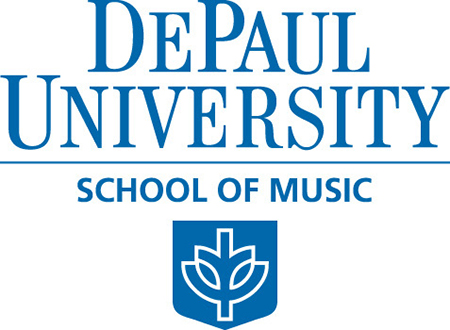 DePaul University School of Music
MISSION
The DePaul School of Music is an inclusive and compassionate community of musicians dedicated to artistry, excellence, diversity, and leadership in music. Guided by the university's values of social justice, we prepare students for dynamic 21st century careers.
WHAT DISTINGUISHES THIS SCHOOL
The DePaul University School of Music offers conservatory style, performance-based study within a large university in Chicago, a destination city for world-class arts. Students benefit from individualized study and rehearsal at the highest level among a supportive community of individuals striving to e their best.
LOCATION
Chicago, IL 60614
ADMISSIONS
773-325-7444
Audition Requirements
Audition requirements vary slightly depending upon the degree an applicant is seeking.
FINANCIAL INFORMATION
Scholarship details: $5,000 to $35,000 average a year
CAREER / POST-GRADUATION ASSISTANCE
Career Services
provides information and resources for School of Music students and alumni on various music and arts-related career opportunities. Career Services has a variety of different areas including assistance with freelance opportunities; 24-hour online access to opportunities in music and arts administration; career workshops, résumé, cover letter and bio writing assistance; job database for connections to audition and other musical opportunities; online resources for success in all areas of life and an Alumni Sharing Knowledge Network connecting DePaul students and graduates with alumni to explore college and professional transitions, life challenges and career questions.
KEY STATISTICS
(college level and above)
Music Faculty:
30
full time,
125
adjunct
AREAS OF STUDY
Arts Leadership • Brass • Collaborative Piano • Composition (Performance) • Jazz Studies & Contemporary Media • Media studies (including audio and video production) • Music Business • Music Education • Organ • Piano • Strings • Vocal Arts/Opera • Winds & Percussion
DEGREE PROGRAMS
Additional details: Bachelor of Arts in Music
BROCHURE / CATALOGUE
ONLINE COURSES
PANDEMIC & SAFETY: SCHOOL POLICIES
---

---

RENT A PHOTO
Search Musical America's archive of photos from 1900-1992.