2020-21 GUIDE TO MUSIC SCHOOLS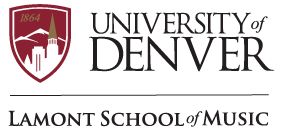 Lamont School of Music
University of Denver
MISSION
The mission of the University of Denver is to promote learning by engaging with students in advancing scholarly inquiry, cultivating critical and creative thought, and generating knowledge. Our active partnerships with local and global communities contribute to a sustainable common good. The Lamont School of Music is committed to providing students with the opportunity to gain the skills and experience necessary to succeed in today's dynamic arts world.
WHAT DISTINGUISHES THIS SCHOOL
Lamont is a premier music performance school within an internationally known university surrounded by a vibrant arts city. We are big enough to have a symphony orchestra, jazz orchestra, opera, and many other multi-genre ensembles, but small enough that our students receive an abundance of individual attention and performing opportunities.
LOCATION
Denver, CO 80208
ADMISSIONS
303-871-6973
Audition Requirements
FINANCIAL INFORMATION
CAREER / POST-GRADUATION ASSISTANCE
KEY STATISTICS
(college level and above)
Music Faculty:
32
full time,
40
adjunct
AREAS OF STUDY
Brass • Composition • Conducting • Jazz Studies & Contemporary Media • Music Technology (including production) • Musicology • Organ • Piano • Strings and Harp • Vocal Arts/Opera • Winds and Percussion
Other Areas of Study: Music Theory • Piano Pedagogy • Suzuki Pedagogy (violin & cello)
DEGREE PROGRAMS
PANDEMIC & SAFETY
✔
=Yes
✖
=No
◯
=Under consideration
Is the school considering:
✖
Shifting semester start and/or end dates?
✔
Changes to class and/or ensemble sizes?
✔
Shifting more coursework online?
✔
Requiring masks for students, faculty, staff?
✔
Reducing on-campus housing density, if provided?
Does the school plan to test all for COVID-19 at term start, then periodically?
✔
Does the school plan changes to tuition and/or room & board fees?
✖
SOCIAL LINKS

RENT A PHOTO
Search Musical America's archive of photos from 1900-1992.