2020-21 GUIDE TO MUSIC SCHOOLS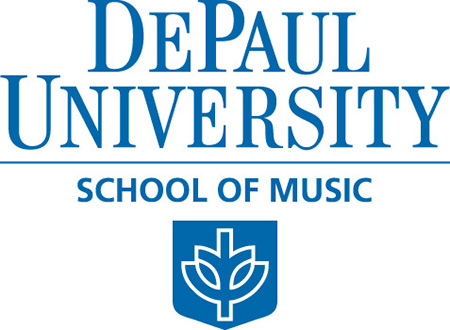 DePaul University School of Music
DePaul University
MISSION
For over 100 years, the DePaul University School of Music has been dedicated to excellence in music teaching and performance with a distinguished faculty including members of the Chicago Symphony Orchestra, Lyric Opera of Chicago and prominent music educators, composers, producers, jazz and chamber musicians. Study in a collaborative, performance-focused environment in the stunning new state-of-the-art Holtschneider Performance Center, collectively presenting more than 300 concerts each year. Fostering not only the next generation of performers, the School of Music also offers a robust musical studies department with majors in composition, music education, performing arts management and sound recording technology.
WHAT DISTINGUISHES THIS SCHOOL
The DePaul University School of Music offers conservatory style, performance-based study within a large university in Chicago, a destination city for world-class arts. Students benefit from individualized study and rehearsal at the highest level among a supportive community of individuals striving to be their best.
LOCATION
Chicago, IL 60614
ADMISSIONS
773-325-7444
Audition Requirements
FINANCIAL INFORMATION
Scholarships range from $5,000 to $35,000 a year
CAREER / POST-GRADUATION ASSISTANCE
Career Services
provides information and resources for School of Music students and alumni on various music and arts-related career opportunities. Career Services has a variety of different areas including assistance with freelance opportunities; 24-online access to opportunities in music and arts administration; career workshops, résumé, cover letter and bio writing assistance; job database for connections to audition and other musical opportunities; online resources for success in all areas of life and an Alumni Sharing Knowledge Network connecting DePaul students and graduates with alumni to explore college and professional transitions, life challenges and career questions.
KEY STATISTICS
(college level and above)
Music Faculty:
30
full time,
125
adjunct
AREAS OF STUDY
Arts Leadership • Brass • Composition • Jazz Studies & Contemporary Media • Music Education • Music Technology (including production) • Piano • Strings and Harp • Vocal Arts/Opera • Winds and Percussion
DEGREE PROGRAMS
Bachelor of Arts in Music
PANDEMIC & SAFETY
✔
=Yes
✖
=No
◯
=Under consideration
Is the school considering:
✖
Shifting semester start and/or end dates?
✔
Changes to class and/or ensemble sizes?
✔
Shifting more coursework online?
✔
Requiring masks for students, faculty, staff?
✔
Reducing on-campus housing density, if provided?
Does the school plan to test all for COVID-19 at term start, then periodically?
✖
Does the school plan changes to tuition and/or room & board fees?
✖
SOCIAL LINKS

RENT A PHOTO
Search Musical America's archive of photos from 1900-1992.