2017-18 GUIDE TO MUSIC SCHOOLS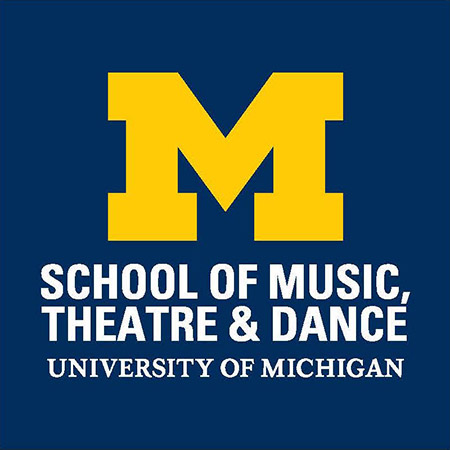 School of Music, Theatre & Dance
University of Michigan
MISSION
Founded in 1880, the University of Michigan School of Music, Theatre & Dance is one of the finest performing arts schools in the United States. Encompassing programs in dance, music, musical theatre, and theatre, we are consistently ranked among the top performing arts schools in the country when compared with performance-oriented conservatories or with prestigious academic departments of music.
WHAT DISTINGUISHES THIS SCHOOL
The School's unique relationship as a part of one the top universities in the U.S provides students with a vast array of options and opportunities All of our degrees require some academic coursework most of which can be selected from any area of the University.
LOCATION
1100 Baits Drive, 2290 Moore
Ann Arbor, MI 48109
ADMISSIONS
734-764-0593
Audition Requirements
FINANCIAL INFORMATION
CAREER / POST-GRADUATION ASSISTANCE
The School of Music, Theater & Dance EXCEL program (Excellence in Entrepreneurship, Career Empowerment & Leadership) provides entrepreneurship training and career services for all U-M students engaged in the performing arts. Our goal is to enable all our students to forge a viable career by exploring, developing, and leveraging their talents, training, skills, and ambitions. EXCEL offers students and alumni courses, co-curricular workshops, mentoring, and $100,000 in student project and venture funding.
KEY STATISTICS
(college level and above)
Music Faculty:
150
full time, 75

adjunct
AREAS OF STUDY
Applied Music (Performance) • Brass • Composition (Performance) • Harp • Jazz Studies & Contemporary Media • Music Education • Orchestral Conducting • Organ • Percussion • Piano • Strings • Theory • Voice/Opera • Woodwinds
Other Areas of Study: Performing Arts Technology • Dance • Musical Theatre • Theatre
DEGREE PROGRAMS
ADDITIONAL PROGRAMS
(non-matriculating/prep)
EVENTS & PERFORMANCES
BROCHURE / CATALOGUE
SOCIAL LINKS

RENT A PHOTO
Search Musical America's archive of photos from 1900-1992.