ABOUT US: HISTORY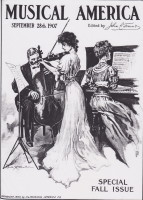 Founded by John C. Freund in 1898 as a weekly newspaper covering drama, music and the arts, Musical America Worldwide today (Musical America International Directory of the Performing Arts, MusicalAmerica.com, and the weekly E-newsletter) is the meeting place for the international performing arts community.
From October 8, 1898 to June 24, 1899, Mr. Freund published 36 issues of Musical America. A hiatus of six years followed during which he garnered financial support. On November 18, 1905, the newspaper returned, this time devoted exclusively to music. Musical America was subsequently published as a weekly newspaper for nearly a quarter of a century.
In 1921, Mr. Freund published the first edition of the Guide, the forebear of the current International Directory of the Performing Arts. The Guide was organized by state, listing cities and their local newspapers, managers, hotels, and railroads, as well as music schools and festivals. But the Guide really grew out of the annual Special Fall Issue, which first appeared in October 1907 and included predictions from various managers on the coming season and upcoming musical activities in cities such as Boston, Chicago, Baltimore, and Philadelphia, features that still exist in the Directory today.
When John Freund died in 1924, his business associate of many years, Milton Weil, carried on until 1926, when Musical America was sold to the Trade Publications Corporation. With new management, articles began to appear on dance, jazz, radio, and records; but the company went bankrupt in 1929, and John Majeski, former assistant treasurer to Milton Weil, bought Musical America. The Majeski era lasted about 30 years, until the magazine was sold to Theodate Johnson, a member of the advertising staff.
Musical America has since changed hands several times (High Fidelity, Billboard, ABC, Primedia Information Inc. and Commonwealth Business Media) and existed in various incarnations (an insert, a stand-alone bimonthly magazine, incorporating Opusmagazine).
The current directory format was begun in 1960, and the tradition of choosing a musician of the year was instituted at that time. Awards for Instrumentalist, Conductor, Composer, and Vocalist of the Year were first given in 1992; Ensemble of the Year in 1995.
With the launch of MusicalAmerica.com in December 1998, Musical America returned to its newspaper roots by posting approximately 30 news stories a week. And our weekly E-newsletter, begun in April 2004, continues the tradition of reaching out to our subscribers.
The Musical America archives contain original copies of the newspapers, magazines, and directories from 1905 on, several copies of Music and Drama, and thousands of priceless photographs.

RENT A PHOTO
Search Musical America's archive of photos from 1900-1992.