2018 GUIDE TO FESTIVALS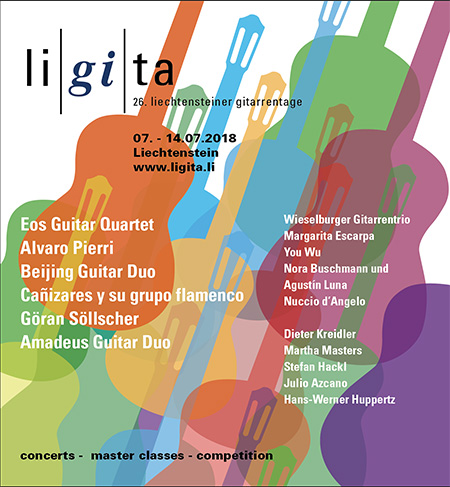 Liechtensteiner Gitarrentage ligita
WHAT DISTINGUISHES THIS FESTIVAL
A very nice atmosphere, very close to the artist, nice masterclasses, having lunch all together. Having the possibility to talk to the artist after the concert; having as well the possibility for nice masterclasses.
FESTIVAL HIGHLIGHTS
Bejing Guitar Duo; Eos Quartett; Alvaro Pierri; Göran Söllscher; Amadeus Guitar Duo; Canizares.
LOCATION
Principality of Liechtenstein
WEBSITE
DATES
July 7 - July 14, 2018
ARTISTIC DIRECTOR
Roger Szedalik
GENRES
Classical
TICKET PRICE RANGE
$20 to $20
TICKET PURCHASE INFORMATION
BOOKING CONTACTS
Fallsbretscha 35c
FL 9487 Gamprin - Bendern
Principality of Liechtenstein
Booking cycle date range
May 2018
SOCIAL LINKS


RENT A PHOTO
Search Musical America's archive of photos from 1900-1992.