2020 GUIDE TO TOP COMPETITIONS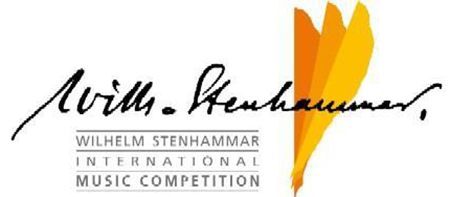 Wilhelm Stenhammar International Music Competition
ABOUT THIS COMPETITION
Wilhelm Stenhammar International Music Competition (WSIMC) was started in 2006 in Norrköping, Sweden, by Sonja Stenhammar and has since been held every second year. Contestants are required to perform a work of Wilhelm Stenhammar, the famous Swedish composer.
MAIN OFFICE
Holmengatan 14
602 32 Norrköping
SWEDEN
+46 11 218668 +46 11 218669 cell +46 706167806 cell +46 730356854
WEBSITE
ELIGIBILITY
Critera:
6 opera arias from different periods, 2 from WSIMC obligatory repertoire
3 arias from oratorio,passion, mass, cantata or concert aria repertoire
4 Lieder/songs in different styles
1 piece by Wilhelm Stenhammar
ARTISTIC DISCIPLINE(S)
Voice
DETAILS

Travel Covered?

No

Frequency

Biennial

First prize

€10,000 to €50,000

Smallest prize

Less than €5,000

Additional prizes

Performances

Jury chair(s)

TBD

Additional jurors

Nader Abbassi, conductor, Kairo/Geneva

Georges Delnon, opera director, Hamburg, Germany

Göran Gademan, casting director, Gothenburg, Sweden

Franziska Maria Kaiser, casting director, Copenhagn, Denmark

Olga Kondina, soprano/professor, Sankt Petersburg, Russia

Karin Veres, soprano/former artistic director, Norrköping Symphony Orchestra, Sweden

One more jury member will be named.

Jury size

6 to 10

Application deadline

February 15, 2020

SEMIFINALS (live rounds)

June 6-8, 2020, Louis de Geer Concert Hall, Norrkoping, Sweden

FINALS (live rounds)

June 10, 2020, 6 pm-9 pm, Louis de Geer Concert Hall, Norrköping, Sweden—finals and awards ceremony
COMPETITION OPEN TO THE PUBLIC?
✔

Semifinals

✖

Semifinals streamed

✔

Finals

✔

Finals streamed
PAST COMPETITION WINNERS
2018 Yohan Kim, tenor, South Korea
2016 Christina Nilsson, soprano, Sweden
2014 Chrystal E Williams, mezzosoprano, USA
2012 Daniel Johansson, tenor, Sweden and Alexandra Popandopulo, soprano, Russia
2010 Jeasig Lee, tenor, South Korea
SOCIAL LINKS
---
NETWORK
FIND:
Updates to artist manager rosters
»MORE

RENT A PHOTO
Search Musical America's archive of photos from 1900-1992.