2023 GUIDE TO SUMMER PROGRAMS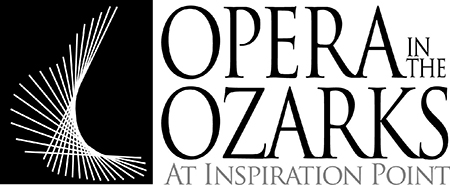 Opera in the Ozarks
Inspiration Point Fine Arts Colony
PROGRAM HIGHLIGHTS
Productions for 2023 are The Elixir of Love (eight performances), Orpheus in the Underworld (seven performances), and The Tender Land (seven performances) . All performed in original language with English supertitles.
Two Broadway cabarets performed in Eureka Springs and Fayetteville as well as a chamber music concert by orchestra members and other special events to be annoucned.
Recreational opportunities abound in the Ozarks. The campus is near Beaver Lake, near mountain bike trails, and six miles outside historic Eureka Springs, AR, which is filled with creatives.
WHAT DISTINGUISHES THIS PROGRAM
Three full-length opera productions complete with sets, costumes, and professional orchestra. All productions are double cast, so many roles available, but there will be a minimum of three performances of all roles. Children's opera—also double cast—is produced with Studio artists and travels to approximately 15 venues. Opera in the Ozarks is situated in the beautiful Ozark mountains.
LOCATION
Inspiration Point, Eureka Springs, Arkansas
MUSICAL FOCUS
Opera/Voice
ARTISTIC/MUSIC DIRECTOR
Thomas Cockrell
AGE & LEVEL
18 to 40; must have completed at least one year of college-level vocal training
DATES
May 24 - July 22, 2023
Date details:
Performances take place from June 23 through July 21. Productions for 2023 are
The Elixir of Love
,
Orpheus in the Underworld
, and
The Tender Land
. All are performed in original language with English supertitles.
Please see our website
for schedules.
Cost details
$5,000 for emerging artists, $4,000 for studio artists; generous scholarships available
Featured Teachers
Thomas Cockrell, Robert Swedberg, Catherine Cook, Lorraine Ernest, Linda Ade Brand, Louis Menendez
CONTACT INFORMATION
16311 Highway 62 West
Eureka Springs, AR 72632-3160
UNITED STATES
479-253-8595
SOCIAL LINKS
---

---

RENT A PHOTO
Search Musical America's archive of photos from 1900-1992.