2018 GUIDE TO SUMMER PROGRAMS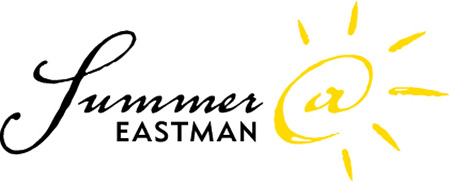 Summer@Eastman
Eastman School or Music, University of Rochester
PROGRAM HIGHLIGHTS
New this year:
Adventure Music Camp (full-day program for commuter students entering grades 5-9), Summer Wind Conducting Institute, Acting for Singers, Encouraging Ensemble (continuing education for music teachers), online courses "The Music of Alban Berg" and "Theory & Analysis of Rock Music."
Back by popular demand:
Eastman Cello Institute, Summer Academy for High School Organists, Dalcroze Level I - The Introductory Credential, Schubert to Sondheim: Pedagogy for the Male Voice, Singing Gregorian Chant and Renaissance Polyphony (San Francisco), Eastman Trumpet Retreat at Keuka, Alexander Technique for Musicians, Beyond Performance Anxiety: A Workshop, Theory and Analysis of Contemporary Music: Study Abroad Course in Paris, Orchestral Conducting Fundamentals.
Long-time summer favorites: Music Horizons (3-week intensive for classical musicians grades 9-12), Summer Jazz Studies (2-week intensive for jazz musicians grades 9-12), Summers-only Master's Degree in Music Education, Orff Schulwerk Teacher Education Course (Levels I and II), Eastman Summer Trombone Institute, Eastman Summer Saxophone Institute, Eastman Summer Trumpet Institute.
WHAT DISTINGUISHES THIS PROGRAM
The Eastman School of Music Summer@Eastman program offers students and the community an individualized, world-class music experience. Choose between residential music programs and camps for middle and high school students, week-long workshops and institutes for adults, and collegiate classes in Music Education, Music History, and Music Theory.
LOCATION
Eastman School of Music campus, Rochester, New York
MUSICAL FOCUS
International music camp for students of all instruments & voice; master classes & ensembles; classes in theory, improvisation, chorus, & Dalcroze Eurythmics.
Genres:
Classical • Contemporary Classical • Opera
AGE & LEVEL
Middle school, high school, collegiate, adult (intermediate to advanced)
DATES
June 25-August 3, 2018
Date details:
Programs range from three days to six weeks
Cost details
Student room and board not included in tuition, but available for students 14 and older for an additional fee.
STUDENTS
625 total students; each program contains between 8 and 60 students
TEACHERS
150 teachers across all programs
Featured Teachers
Alan Harris (Cello Institute), Mark Scatterday (Summer Wind Conducting Institute), David Higgs (Summer Academy for High School Organists), Neil Varon (Orchestral Conducting Fundamentals), Chien-Kwan Lin (Summer Saxophone Institute), William Weinert (choral conducting institutes), Monica Dale (Dalcroze Eurhythmics)
CONTACT INFORMATION
Sylvie Beaudette, Director
26 Gibbs Street, Box 36
Rochester, NY 14604
UNITED STATES
585-274-1074
SOCIAL LINKS

NETWORK
FIND:
Updates to artist manager rosters
»MORE

RENT A PHOTO
Search Musical America's archive of photos from 1900-1992.