100 YEARS AGO IN MUSICAL AMERICA (303)
American Music Has Not Yet "Arrived," Declares New Leader of Boston Symphony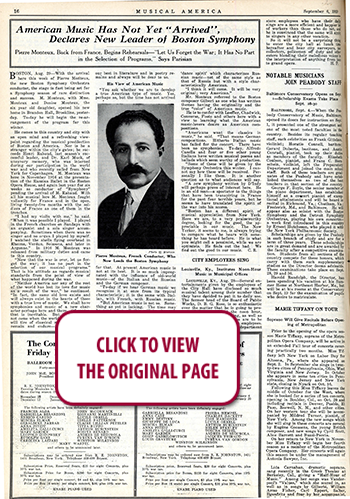 Pierre Monteux, Back from France, Begins Rehearsals—"Let Us Forget the War; It Has No Part in the Selection of Programs," Says Parisian
---
BOSTON
, Aug. 29—With the arrival here this week of Pierre Monteux, the new Boston Symphony Orchestra conductor, the stage is fast being set for a Symphony season of rare distinction and success. M. Monteux, with Mme. Monteux and Denise Monteux, the six year old daughter, opened his new home in Brandon Hall, Brookline yesterday. To-day he will begin the re-arrangement of the program for this winter.
He comes to this country and city with an open mind and a refreshing viewpoint regarding the musical predilection of Boston and America. Nor is he a stranger within the city's gates; he succeeds Henri Rabaud, last season's successful leader, and Dr. Karl Muck, of unsavory memory, who was interned during our participation in the world war and who recently sailed from New York for Copenhagen. M. Monteux was here in November 1916 at the presentation of the Russian Ballet in the Boston Opera House, and again last year for six weeks as conductor of "Symphony" pending the arrival of M. Rabaud. With all his musical lore M. Monteux fought valiantly for France and in the open, living twenty-five months with the soldiers of France as one of them 'in the trenches.
"I had my violin with me," he said. "When it was possible I played. I played in the French churches on Sundays with an organist and a solo singer accompanying. Sometimes when there was no singer and no organ I played by myself. I watched the shells flying overhead in Rheims, Verdun, Soissons, and later in Argonne." In 1916 M. Monteux was released from military duties and came to this country.
"Now that the war is over, let us forget the war; it has no part in the selection of our musical programs." That is his attitude as regards musical standards from the point of view of what happened during the war.
"Neither America nor any of the rest of the world has lost its love for music as a result of the war," he continued. "In fact, the same old love exists and will always exist in the hearts of those with a true love of music. We shall have symphonies and new music of a new character perhaps here and there. Of course, that is inevitable. But the time will not come when the world of music lovers will tire of classical music. That will remain and endure—just as some of our best in literature and in poetry remains and always will be dear to us.
His View of American Music
"You ask whether we are to develop a true American type of music. Yes, perhaps so, but the time has not arrived for that. At present American music is not at its best. It is so much impregnated with the influence of old-world music—of the Italian and the Russian and the German composer.
"To-day if we hear German music we recognize it at once from its typical characteristic; it is the same with Italian, with French, with Russian music.
"But American music is not so. Something as yet is lacking. The time may be near when all this will be changed. When the true America music comes—when we are able to present it in the scores of the symphony as such, it will be recognized. And it will possess the 'dance spirit' which characterizes Russian music—not of the same style as that of Russia but with a style characteristically American.
"I think it will come. It will be very original; very American."
Mr. Monteux referred to the Boston composer Gilbert as one who has written themes having the originality and the true "color" of American music.
He is to confer with Loeffler, Chadwick, Converse, F'oote and others here with a view to learning what the American music-lovers desire as American compositions.
"Americans want the classics in music," he said. "That means German compositions. Hitherto Italian music has failed for the concert. There have been no symphonies. To-day, Alfredo Casella and four or five other young Italians have written musical poems and ballads which seem worthy of production.
"Some of these will be given by the Symphony Orchestra this winter. I cannot say how these will be received. Personally I like them. It is another question as to what audiences will say.
"A new symphony written by D'Indy will perhaps prove of interest here. He is an old man—a spectator to the things that have been transpiring in France for the past four terrible years; but he seems to have translated the spirit of the war into his scores.
"Boston has a different spirit of musical appreciation from New York. Here we are, to a very praiseworthy degree, looking for the good, the appreciable in our music. The New Yorker, it seems to me, is always trying to compare what he hears with something he has heard before. He is what you might call a pessimist, while we are optimists. He finds out the bad. We find out the good in our music. —C. R.

RENT A PHOTO
Search Musical America's archive of photos from 1900-1992.