100 YEARS AGO IN MUSICAL AMERICA (345)
Braving Ruffo, Lion of Baritones, in His Dressing-Room Back Stage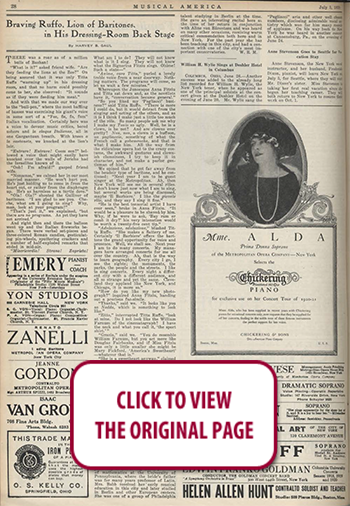 ---
THERE
was a roar as of a million bulls of Bashan!
"What is it?" asked friend wife. "Are they feeding the lions at the zoo?" On being assured that it was only Titta Ruffo "warming up" in his dressing room, and that no harm could possibly come to her, she observed: "It sounds as if they were feeding him meat."
And with that we made our way over to the "bull-pen," where the most baffling of basses was exercising his giant's voice in some sort of a "Fee, fie, fo, fum" Italian vocalization. Certainly here was a voice to devour music critics, bored ushers and la claque Italienne, all in one Gargantuan breath. With knees a Ia castanets we knocked at the lion's lair.
"Entrare! Entrare! Come in!" bellowed a voice that might easily have knocked over the walls of Jericho had the Israelites known of it.
"Ooh! I'm afraid!" gasped friend wife.
"Nonsense," we calmed her in our most marred manner. "He won't hurt you. He's just bidding us to come in from the heart out, or rather from the diaphragm up. He's as harmless as a turtle dove."
"Ola! Ola!" shouted the Gulliver of baritones. "I am glad to see you. Che-che, what am l going to sing? Why, man, look at your program!"
"That's just it," we explained, but there are no programs. As yet they have not arrived."
And right then and there the balloon went up and the Italian fireworks began. There were verbal set-pieces and three-colored Roman candles, gesticulating pin-wheels, sputtering crackers and a number of half-exploded remarks that ended in mid-air.
"Misericordia! Strano! Zaprista! What am I to do? They will not know what is it 1 sing. They will not know what the Signorina Fitziu sings. Ohime! Such a state"—
"Animo. caro Titta," purled a lovely treble voice from a near doorway. Nothing matters. The programs will come, so let us wait a few minutes."
Whereupon the Junoesque Anna Fitziu and Titta sat down and, as the novelists have it, "conversation became general."
"So you liked my 'Pagliacci' business?" said Titta Ruffo. "There is more I could do, hut it would detract from the singing and acting of the others, and as it is I think I make just a little too much of the rôle. So many people ask me why I make my Tonio so ugly. Well, he is a clown, is he not? And are clowns ever pretty? Non, non, a clown is a buffoon, un pagliaccio, something of what the French call a qobemouche, and that is what I make him. All the way from the ridiculous opera hat to the crazy costume, the awkward gestures and clownish clumsiness, I try to keep it in character, and not make a parlor gentleman of him."
We opined that he got far away from the boudoir type of baritone, and he continued: "Next year I am to be guest singer at the Metropolitan. Ah, then New York will see me in several rôles. I don't know just now what I am to sing, but several works are being discussed, maybe 'Il Barbiere.' I like the giovale rôle, and they say I sing it fine."
"He is the best tonsorial artist I have ever seen," broke in Anna Fitziu. "It would be a pleasure to be shaved by him. Why, if he were to ask, 'Bay rum or comb it dry?' his very intonation would be worth a twenty-five cent tip."
"Adulazione, adulazione", blushed Titta Ruffo. "She makes a flattery of me. Certainly 'I1 Barbiere' offers the baritone the grand opportunity for voice and presence. Well, we shall see. Next year I am to do many concerts. My managers have arranged concerts for me all over the country. Ah, that is the way to learn geography. Every city I go, I see the sights; the monuments, the parks, the people and the streets. I like to sing concerts. Every night a different city with a different audience, and all so strange and yet the same. C1eveland they applaud like New York, and Chicago, it is more so."
"How do you like my new photograph?" inquired Anna Fitziu, handing out a precious facsimi1e.
"Thanks," said we. "It looks like you as Nedda, which is something to look like."
"Zitto," interrupted Titta Ruffo. "look at mine. Do I not look like the William Farnum of the cinematoraph? I have the neck and what you call it, 'the sport shirt,'"
"Grazia," said we. "You do resemble William Farnum, but you act more like Douglas Fairbanks, and if Miss Fitziu was only a little smaller she might be Mary Pickford, 'America's Sweetheart'—whatever that is."
"She is a sweetheart anyway," claimed Titta Ruffo. "Wait until you hear her sing the Arditi 'Il Baeio,' then you will hear the real vocal kiss."
"That's all very well," we said. "but we don't like our kisses vocalized."
"Viva," said Miss Fitziu. "The programs have arrived. Let us get ready to begin."
And with a final bellowing and humming that sounded like an aeroplane motor getting under way, both singers "tuned up" preparatory to astonishing the bourgeoisie and knocking the 'boobery' (thanks Mr. Mencken!) right out of their six dollar seats.
In looking over the program we discovered that it wouldn't have made the slightest difference whether there had been one or not, as the audience knew every number on it, due to a Victrola education.

RENT A PHOTO
Search Musical America's archive of photos from 1900-1992.