100 YEARS AGO IN MUSICAL AMERICA (281)
Galli-Curci Declares Her Faith in the American Song Composer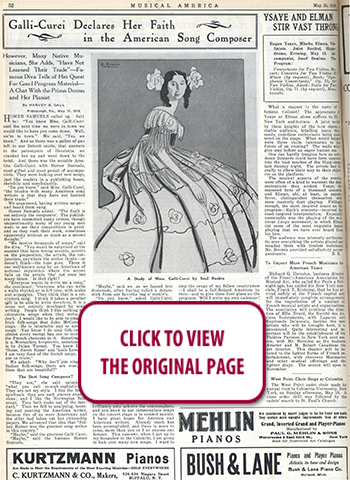 However, Many Native Musicians, She Adds, "Have Not Learned Their Trade"—Famous Diva Tells of Her Quest For Good Program Material—A Chat With the Prima Donna and Her Pianist
By HARVEY B. GAUL

Pittsburgh, Pa., May 19, 1919.
---
HOMER SAMUELS
called up. Said he: "You know Mme. Galli-Curci said the next time we were in town we would like to have you come down. Well, we're in town." We said, "Yes, we knew." And as there was a gallon of gas left in our Detroit cootie, that answers to the patronymic of Henrietta, we cranked her up and went down to the hotel. And there was the amiable Amelita Galli-Curci with Homer Samuels, most gifted and most genial of accompanists. They were looking over new songs, just like readers in a publishing house, sketchily and nonchalantly.
"Do you know," said Mme. Galli-Curci, "the trouble with many American song writers is that they have not learned their trade."
We acquiesced, having written songs—and heard them sung.
Homer Samuels added: "The fault is not entirely the composers'. The publishers have committed many crimes, though unquestionably many of our young men want to see their compositions in print, and so they rush their work, sometimes apparently without as much as a second thought."
"We receive thousands of songs," said the diva. "You would be surprised at the number that have wrong accents, accents on the preposition, the article, the conjunction, anywhere the writer thinks—or doesn't think—the tune goes. There is one well-known song by an American of national reputation where the accent falls on the article 'the' not once but many times. Is that right?
"Everyone wants to write me a song," she continued; "everyone who can write a waltz rhythm or in 6/8 time, with scales and arpeggios. They think that is a coloratura song. I think it takes a peculiar gift to be able to write fioratura, it is a sense not entirely developed by scale writing. People think I like nothing but coloratura songs when they write. I don't. I would like to be able to sing the Irish folk-songs that John McCormack sings. He is inimitable and so are his songs. You know I do sing folk-songs; almost every recital has one or more of the French chansons in it. Sometimes it is a Weckerlein bergerette, sometimes it is by Julien Tiersot. You know I use 'Home, Sweet Home' and 'Loch Lomond.' I am very fond of the Scotch songs, they are so triste."
We asked: "Why don't you sing the Italian folk-songs, there are many of them that are beautiful?"
The Best Song Composer?
"They are," she said quizzically, "what you call so-soph-sophisticated. They are not my style. I like the Negro spirituals, they are such sincere expressions; and I like the Norwegian folksongs. They both make use of the mordant." Then we fell to analyzing, boosting and panning the American writer, because two of us were Americans and the other had taken out her citizenship papers. We advanced that idea that "Sidney Homer was the greatest song writer in this country."
"Maybe," said the gracious Galli-Curci.
"Maybe," said the humane Homer Samuels.
"Maybe," said we as we lapsed into desuetude, after having rolled a dreamstick from our favorite bag o' makin's.
"Do you know," asked Galli-Curci, "Carl M. Beecher of Chicago? He has written some of the best songs I've seen. Then there's Murdock of St: Paul, Minnesota; he has composed many fine songs. John Alden Carpenter I consider the best American song writer. Frank La Forge has done some of the cantilena that anyone might be proud of, American or European."
"That is all very well." we observed, "but Sidney Homer has used the finest types of texts, and he has set them and gotten under the skin of them; furthermore, he doesn't depend on the omnipresent love motif for his muse."
"Maybe so," said the gentle Galli-Curci.
"Maybe so," said the hermetic Homer Samuels.
In sheer desperation we rolled another.
"Next year," interrupted the diverting diva, "I am going to use many American songs. I have many, many concerts booked. I wish I could find some brilliant songs that had merit and were not vulgar. So many writers in striving for brilliancy only achieve the commonplace, and you know to use commonplace songs on the concert stage is to commit suicide. I have great hopes for America and American writers. Already much has been accomplished, and there is more to come, more than you or I or anyone can foresee. This summer, when I get up to my bungalow in the Catskills, I am going to look over many new songs. I want to sing the songs of my fellow · countrymen—I shall be a full-fledged American by then—and to give them first place on the program. Will I write my own cadenzas." Tut, tut. It's a secret."
And then suddenly remembering that we left our motor going we said:
"Debbo andare."
"Arrivederci," said Galli-Curci.
"So-long," said Homer Samuels.
"Henry Ford," said we.

RENT A PHOTO
Search Musical America's archive of photos from 1900-1992.