100 YEARS AGO IN MUSICAL AMERICA (277)
Reveals Hofmann as Skilled Machinist and Inventor of Shock-Absorber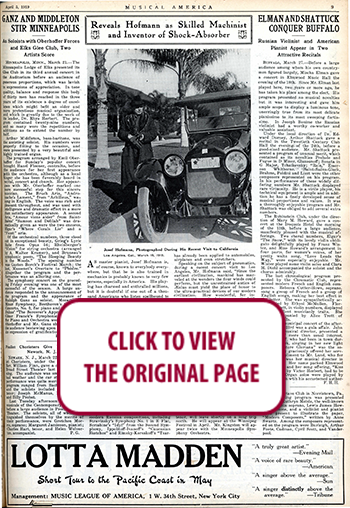 ---
AS
master pianist, Josef Hofmann is, of course, known to everybody everywhere, but that he is also trained in mechanics is probably known to very few persons, especially in America. His playing has charmed and enthralled millions, but it is doubtful if one out of a thousand Americans who listen spellbound to the exquisite tones his fingers coax from the piano knows that these same hands are likewise capable of complicated lathe work. In Europe he had fourteen years of practical machinist's experience, very largely in the operation of the lathe. Of course this was prior to his becoming a world-famous pianist.
More than this, Hofmann is an inventor. His invention, which has been patented abroad and is of comparatively recent date, is a shock-absorber which is said to be applicable to use in many different ways. Developed in Europe, the invention has not yet reached this country, but, having proved so successful there, it is to be introduced here soon. It has already been applied to automobiles, airplanes and even stretchers.
Speaking on the subject of pneumatics, during a recent concert visit to Los Angeles, Mr. Hofmann said, "Since the earliest civilization, mankind has marveled at the wonders the four winds could perform, but the unrestrained antics of Æolus must yield the place of honor to the ultra-practical devices of our modern civilization. How wonderful, for instance, is the work of the pneumatic drill, with the aid of which America built ships in her great emergency! More wonderful still, in this line, is the player-piano, undoubtedly the highest application of the science of pneumatics. This mechanism, with its tiny pneumatic fingers, is bringing joy to thousands of homes. With pneumatics recognized as a great force in the manufacturing world, the same principles applied to the artistic reproduction of the work of our modern concert pianists and possibly new comfort brought to travelers through my shock-absorber, who can say that my faith in the possibilities of the science of pneumatics is unfounded?" —CHARLES ALMA BYERS

RENT A PHOTO
Search Musical America's archive of photos from 1900-1992.