100 YEARS AGO IN MUSICAL AMERICA (308)
Emmy Destinn, Patriot, Tells of Life as Political Prisoner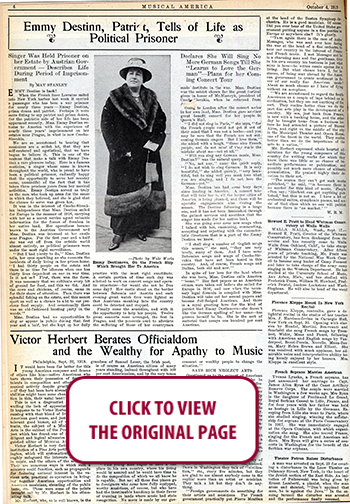 Singer Was Held Prisoner on her Estate by Austrian Government—Describes Life During Period of Imprisonment Declares She Will Sing No More German Songs Till She "Learns to Love the German" —Plans for her Coming Concert Tour
---
EMMY
Destinn is back! When the French liner Lorraine sailed into New York harbor last week it carried a passenger who has been a war prisoner for nearly three years—Emmy Destinn, prima donna and patriot. Perhaps it were more fitting to say patriot and prima donna, for the ·patriotic side of her life has been uppermost recently. Mme. Emmy Destinn returns to America with the experience of nearly three years' imprisonment on her estates near Prague, in what is now Czecho-Slovakia.
We are so accustomed to hearing that musicians are a selfish lot, that they are self-centered and egotistical, that we have begun to believe it. This is one of the reasons that make a talk with Emmy Destinn a rare pleasure today. Here is a famous musician, a singer whose name is known throughout the world, who is proud to have been a political prisoner, radiantly happy that the opportunity to serve her country came, unmindful of the fact that it has taken three precious years from her musical activities. Emmy Destinn served as truly as the men who took up arms for the cause in which they believed, and she is glad that the chance to serve was given her.
It was in the interest of Czecho-Slovakian independence that Mme. Destinn sailed for Europe in the summer of 1916, carrying with her as a secret service agent valuable information for the forces of freedom in her native land. Her operations became known to the Austrian Government and Mme. Destinn was interned at her castle near Prague. For the first year and a half she was cut off from the outside world almost entirely, as political prisoners were under the most rigid surveillance.
"But I had plenty to do," Mme. Destinn tells, her eyes sparkling as she recounts the incidents of daily living in her prison home. "I had thirty people on the estate and there is no time for idleness when one has thirty lives dependent on one in war time. Is it not so? First, there was the farm. It was necessary that we cultivate every bit of ground for food, and this we did. And the cows and chickens, of course, came in for their share of attention. Then there was splendid fishing on the estate, and this meant sport as well as a chance to add to our precious food supply. And occasionally there was an old-fashioned hunting party in the woods.
"Mme. Destinn had no opportunities to sing or appear in public during that first year and a half, but she kept up her daily practice with the most rigid exactitude. A certain portion of time each day was allotted to work on concert songs and operatic répertoire—for would she not be free some day? Her castle stood on the border between Bohemia and Austria and each evening great watch fires were lighted so that Austrians sneaking into the country could be detected and stopped.
Finally came the armistice, and with it the opportunity to help her people. Twelve great concerts were arranged, the first in Prague, and the proceeds used to alleviate the suffering of those of her countrymen made destitute in the war. Mme. Destinn was the soloist chosen for the great festival given in honor of Mr. Masaryk, president of Czecho-Slovakia, when he returned from Austria.
Going to London after the concert series in her own land, Mme. Destinn gave another great benefit concert for her people in Queen's Hall.
"I did not sing in Paris," she says, for the French people could not get it out of their mind that I was not a boche—and you may be sure that the French are not welcoming German singers. But I love them," she added with a laugh, "those nice French people, and do not mind if they made the mistake about me—not at all."
"Will you sing any German music, Mme. Destinn?" was the natural query.
"No, not any," came the quick reply, "I do not wish to sing German. It is very beautiful, she added quickly, "very beautiful, but to sing well you must love what you are singing, and I do not love the German—yet.
"Mme. Destitm has had some busy days since landing in America. A concert tour that will take her to all the larger cities of America is being planned, and there will be operatic engagements also during the season. The Destinn following is a large one, and it has not been diminished through the gallant services and sacrifices that the singer has made for her native land.
She was going over· some new songs when I talked with her, examining, commenting, accepting and rejecting with the characteristic directness that is a part of the Emmy Destinn we know.
"I shall sing a number of English songs this season," she said, "they are very lovely, many of them. And I have some Bohemian songs and songs of Czecho-Slovakia that have not been heard in this country. And, of course, French songs and Italian, both old and new."
In spite of her love for the land where she was born, Mme. Destinn calls America "home." Her first papers as an American citizen were taken out before she sailed for Europe in 1916, and now when the necessary legal formula is complied with Mme. Destinn will take out her second papers and become full-fledged American. And there is a royal greeting here for the kind of patriot that Emmy Destinnova—she doesn't like the German spelling of her name—has proven herself to be. She is the sort of material that assays one hundred per cent American.

RENT A PHOTO
Search Musical America's archive of photos from 1900-1992.